With Combell, you can now launch free e-mail campaigns
Establishing your online presence is not an easy task. That is why Combell wants to guide all its customers as best as possible, from the launch of a website to its promotion. Our collaboration with Flexmail allows us to do this even more efficiently, because from now on, we can offer all our customers a free e-mail marketing account. With such an account, you can send 5 professional e-mails to 200 contacts every month.
'Going digital' means more than just getting a website online. Once your website or web store is online, you also want to be able to communicate with your target audience. This way, your brand or name will stick in the minds of your contacts, thus ensuring that they will return to your website or web store. And Flexmail's e-mail marketing is an ideal tool for this.
Find out everything about your free e-mail marketing account
E-mail marketing?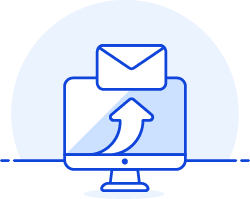 When you send out a newsletter, give an update about a new product or simply welcome new contacts via e-mail, you are engaged in e-mail marketing.
In other words, all forms of marketing activities that are conducted via e-mail are referred to as 'e-mail marketing': you send targeted e-mails that are useful to your contacts. And as a Combell customer, this service is free for you to use!
How does it work?
With your free Flexmail account, you can send 5 e-mails per month to 200 contacts. Once your account is activated, you can very easily manage your contact lists and launch your e-mail campaign.
User-friendly e-mail builder
You can build your e-mails effortlessly. Thanks to a drag & drop system, you can decide what your e-mail will look like.
Free templates
If you are in need of inspiration or want to find the perfect style for your e-mails, you can choose from a large selection of free templates. These can, of course, be customised to suit your specific needs, or include your own logos.
New subscriptions via your website
Of course, you do not have to go door to door to collect e-mails from your customers. You just invite them to subscribe to your e-mails, using a handy form on your website.
Segments
Not all e-mails are meant for all your contacts. Thanks to handy lists, you can decide who gets what.
E-mails in different languages
If your contacts speak different languages, you can create different versions of your e-mail. This way, your contacts will always receive e-mails in their own language.
Marketing control panel
Those familiar with clichés already know that you have to measure something to be able to fully understand it. That is why Flexmail provides you with an overview of your Customer Relationship Management on your control panel, giving you insights into how your e-mail campaigns are performing (among other things).
Activating your account
Each Combell customer can easily activate his or her free Flexmail account via the control panel available on my.combell.com. When you log in to it, you will find a link to the page about your Flexmail account on your homepage (under 'Free Services').
There, you can activate your free account. Once activated, you will receive an e-mail to log in to Flexmail, and you will be able to launch your first e-mail campaign right away!
Frequently Asked Questions
- How can I activate my free Flexmail account?
When you log in to your Combell control panel via my.combell.com, you can click the Flexmail button on your homepage (under 'Free Services'). There, you will find further information on what Flexmail is all about. Once you click on the 'Activate my free account' button, you are ready for your first e-mail campaign!
- What is Flexmail?
Flexmail is an online platform that allows you to engage in e-mail marketing. This means that, just like you have an e-mail client like Apple Mail or Outlook to create e-mails, Flexmail can be used to send e-mails on a much larger scale. This tool also gives you much more valuable information about your contacts or insight into how often your messages are read.
- Why do I need e-mail marketing?
With e-mail marketing (i.e. the sending of targeted e-mails to your contacts), you strengthen the bond between you and your contacts. If you use e-mail marketing wisely, you will be able to inform the right group of people each time, without coming across as intrusive or irrelevant.