What exactly is Microsoft 365? And what about Office 365? The collaboration tools explained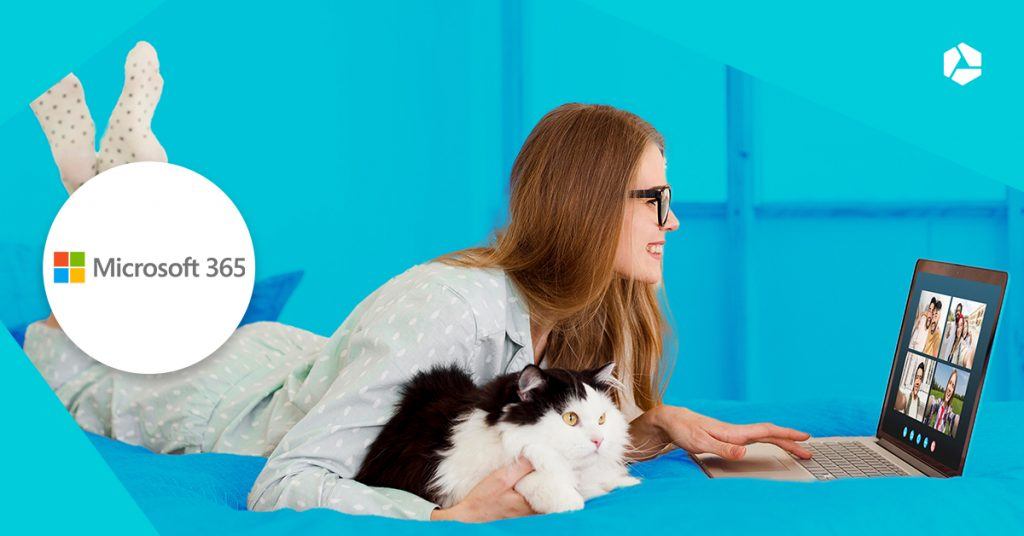 A photo of the cutest cat, your favorite but stained coffee mug ... Your employees may be attached to their workplace in the office, but nowadays you work (together) wherever you want and especially: online.
With Microsoft 365, you and your employees can work anywhere, and documents are always available thanks to OneDrive. Here you will find out what Microsoft 365 is and what the biggest advantages are for your company.
First, let's clear up a common misunderstanding. "Why use Microsoft 365 when Office 365 already exists, it's just the same thing, right?" Well, if you think that, you're wrong. In fact, Microsoft 365 is an expansion of the familiar Office 365.
What is the difference between Office 365 and Microsoft 365?
So what is Office 365? Well, a Microsoft product that, like the Microsoft 365 package, is focused on productivity and online collaboration with one another. The main difference between Office 365 and Microsoft 365 is in the capabilities of the packages and how you can use them in your business.
Office 365 is focused on day-to-day productivity and as a package includes the familiar Office programs such as Word, Excel, PowerPoint, Skype for Business and OneNote.
As an extension, Microsoft 365 extends one step further. All Office programs from Office 365 are included in our packages, but you get additional services and tools on top. Think Outlook Exchange Online (manage e-mail and calendar), SharePoint ( share knowledge and manage documents online), OneDrive (cloud storage and personal storage) and Microsoft Teams ( work and interact with each other). Thanks to security measures such as Advanced Threat Protection, you can count on higher security features.
If you are searching for a modern workplace with a complete collaboration tool, you will most likely choose one of our Microsoft 365 formulas. In fact, it is a more extensive package full of productivity and collaboration tools.
While Office 365 is rather the basic package focused on the well-known Office programs.
Why Microsoft 365 has been the new brand name since 2020
That familiar basic package may have its advantages, Office 365 was thanked as a brand name. In fact, Microsoft implemented a name change in 2020.
They are pushing Microsoft 365 as the tool you need for productivity and online collaboration. In this way, the company wants to make it clear to us that there is more to the world than Word or Excel. 🙂
Microsoft 365 offers several "plans". All the plans we offer contain the basics of Office 365, with other subscriptions you can count on a completely secure environment, additional services and various communication functions.
Not sure yet whether Microsoft 365 is the right fit for you?
Major advantages Microsoft 365 explained
Immediately discover the biggest benefits of Microsoft 365 to you and your (future) employees.
✅ Secure data in the cloud
A secure working environment for your company data? That's what you get with Microsoft 365. Because all company data is stored in the cloud and there are various high security measures associated with that virtual storage space, criminals have no chance of snooping on your data.
By default, you can count on protection against spam and other malicious actions. Microsoft identifies and stops malware threats immediately. So your data are well protected.
With Microsoft 365, you extend that level of security to your entire company. Because all your employees work in the same environment, so all files have the same protection.
✅ Extensive packages
The different subscriptions - in other words, 'plans' - of Microsoft 365 each have their own specifications. This is only logical, because employees usually need different applications.
Whatever you choose from our packages, the standard Office apps (i.e. those of Office 365) such as Word, Excel, PowerPoint ... are always included. With the extended packages, you get additional security, various communication features and larger cloud storage on top of that.
✅ Pay per user
The plan you sign up to will evolve with your business. You pay a fixed monthly fee per user. You can easily add and remove users. If your organization changes quickly, this is of course ideal. Are you welcoming new employees or are colleagues leaving your organization? The cost of your subscription adapts immediately. So you never pay too much.
✅ Working in the same file more easily thanks to Microsoft 365
Another great advantage of Microsoft 365: automated version management of files. Very handy if your employees are working in the same document at the same time.
No more different or wrong versions of the same file. Documents are automatically saved when you make changes.
Also, you no longer have to email incorrect files back and forth to work in them together. Your staff works in the same file simultaneously without changes being lost or being thrown out of the document. That's one of the big advantages of the Realtime co authoring feature.
✅ More effective meetings with Microsoft Teams
"Marc, you are still in mute!", with Microsoft Teams in your package, online meetings can truly begin. 😀 Teams offers a bunch of benefits such as easily scheduling online meetings, recording meetings to watch afterwards and easily sharing presentations, videos or photos.
Many companies use Teams software to meet with large teams 😉. Thanks to tools like Teams, for example, a hundred people or more can follow your company presentation. Everyone gathers in the virtual meeting room.
As a collaboration software, Microsoft Teams also focuses on intercommunication. You can even call and chat with colleagues, work together in the same file or take over each other's screen.
✅ Better teamwork
Most office workers have most likely already used Office programs such as Word, Excel and PowerPoint. That trusted work environment ensures that employees quickly find their way around Microsoft 365. After all, they already are familiar with most of the tools!
That trusted work environment combined with all the collaboration tools ensure better, faster, in short, stronger teamwork. Your employees will even make decisions faster thanks to this ease of use. Informal contact on the work floor is also very important. Someone who wants to share nice vacation photos? That is possible via Yammer, for example.
✅ Always the most recent version of Microsoft 365
Microsoft ensures that your work environment is always up-to-date. Thanks to automatic updates, you always work with and in the most recent version of Microsoft 365. Handy, so you do not have to take care of all those IT updates yourself.
✅ Anytime, anywhere access to your work environment
Use Microsoft 365 to always have access to your work environment. So you can work anywhere. Still, don't forget to stop in time. 🙂 All you need is a good - stable - Internet connection. For example, at home via your WiFi network or via a personal hotspot.
Even on your smartphone or tablet, your online workplace is never far away. You use the Microsoft Office Mobile app for that. This mobile app makes it easy for your employees to work remotely or from multiple locations.
With Microsoft Office Mobile, you combine the functions of Word, Excel and PowerPoint. Outlook and OneDrive apps give you instant access to your emails, folders and files.
"Thanks to Microsoft 365 hosted by Combell, I can easily manage my Office package. With no worries about updates or synchronization!"

Learn how Combell customer Decovry started using Microsoft 365
Microsoft 365: pricing and plans
Want to work productively within your company with Microsoft 365? Checking prices and plans is the key!
Combell's message is one of good news:
The packages you purchase from us are cheaper than from Microsoft itself. In fact, Combell offers you the lowest price, even lower than what you would pay with Microsoft.
In addition, Combell offers you 24/7 support in your own language and we link Microsoft 365 to your domain name. This way, you do not have to do that anymore, just like the configuration of your mailbox.
The Microsoft 365 packages for individuals and SMEs:
Business Basic
Business Standard
Business Premium
The Microsoft 365 packages for larger enterprises:
Office 365 Enterprise E1
Office 365 Enterprise E3
Office 365 Enterprise E5
As you can see, Combell offers you several Microsoft 365 packages. Which Microsoft 365 package is best for your company or organization, or even for home use? The questions in this blog post will get you started.
Of course, our specialists are also ready to give you free advice.
A quick start with Microsoft 365
Once you've purchased the plan that best suits your company's needs, of course you want to get started quickly.
And sure enough, you're off to a fast start! We explain in detail how to get started with Microsoft 365. Still have a question? Our support staff works just as online as you do, so help is never far away.
There's a good chance you'll find a solution on our help site. Setting up Microsoft 365 or mailboxes, creating users, managing your licenses ... Your answer is already on our site.