How can customers make an appointment online using Microsoft Bookings?
Allowing your customers to make appointments can lead to a huge logistical headache: how can a customer easily make an appointment, and how on earth can you manage all those appointments? Fortunately, there is Microsoft 365 Bookings, which is a very handy tool that will save you a lot of time.
Check out our Microsoft 365 solutions
Easy to use
The Bookings tool that is part of Microsoft 365 is very easy to use, both for your customers and for you as an administrator. 
Bookings consists of three primary components:
The Booking page: the page your customers see on your website or Facebook page. This is where your customers can easily book their appointments.
The Booking Dashboard: the control panel of your Bookings tool. This is where you can specify things like what your customers can choose on the Booking page. For instance, the names of available employees, your opening hours, the services for which your customers can make an appointment and so on!
The Mobile app: here, you can see all your customers' bookings and contact info at a glance. The app also allows you to adjust your booking schedule yourself.
No need to be a techie to start using Bookings
If you have a website or a Facebook page, you can easily connect the Microsoft 365 Bookings tool to it. The Bookings control panel is also pretty self-explanatory. And if things get too complicated despite all this, remember that Combell provides free 24/7 support on all its packages 😉.
How do I get started with Bookings?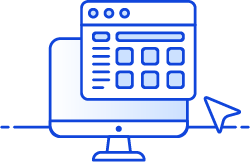 In order to start using Bookings, you will need the Microsoft 365 Business Standard package. Microsoft 365 is cheaper if you buy it from Combell (really!).
With Microsoft 365, you get Word, Outlook, as well as all the other handy programs that come with the Office Suite, but here we focus on Bookings alone. 
When you want to purchase a Microsoft 365 Business Standard package from Combell, you will notice that we ask you if you have a domain name. This is necessary to be able to receive e-mails on your personal address (e.g. info@myshop.be). If you do not want this, or if you already have a website, click on 'Order the licence(s) only, without a domain name'.
When all the administrative formalities have been completed, you can start setting up Bookings (and any other tools).
Bookings is very easy to set up:
1.    Sign in to Microsoft 365 via office.com, select Bookings from your list of apps and enter your company details.
If Bookings is not in your apps, you need to upgrade your Microsoft 365.
2.    Check all your details in the Bookings Dashboard.
You can also add your own appointments here, for example those made over the phone or in person.
If you want to make it possible for your customers to make an appointment with a specific person from your staff, you can do so on the 'Staff' page.
3.    After you have saved and published your Booking calendar, it can be embedded in your company's website or Facebook page.
You can easily embed your Bookings calendar in your website using an iFrame. The embed code can be found in the 'Page' tab in the Bookings app.
You can also share the link to your booking page on your Facebook page or any other social media platform. You can find that link in the 'Bookings page' tab.
Your customers only see the Bookings calendar that you publish online for the services, hours and staff that you want to register.
Do your customers (and yourself) a favour and enable your Bookings tool with Microsoft 365!
Discover Microsoft 365 at Combell
 With Combell, Microsoft 365 is cheaper than with Microsoft itself. And you get 24/7 support on top of that!