Follow Stavros and Katty's example and conquer the Internet!
Have you noticed? The brand-new video stars Stavros and Katty are currently taking over the Internet. Our tough sea dog, Stavros, and cat-loving saleswoman, Katty, are doing so in their own unique ways. Stavros by catching you with his own domain name and website. While Katty launches a webshop that splashes off your screen. Now it's up to you, do as they do: go big online!
PS: These are fictional characters telling their stories to spark your inspiration. Our services that can turn your ideas into reality are 100% non-fiction 😉
Stavros and Katty go online with their business
Sailor Stavros and sunglasses selling Katty don't know each other. Are they a good match? That's hard to predict. Although Katty's cats would love Stavros' fish 😀 Still, these two entrepreneurs have a lot in common.
They both have their own shop. Which they each run in their own way. With heart and soul, that's for sure! What they also agree on is that you have to go online with your business. Discover how Stavros and Katty score on the Internet. Along the way, you will pick up lots of tips for your own online story.
Meet tough sea dog Stavros
Ah, there is our favourite fisherman! Stravros has had his own shop in Ostend for years. Tough as he is, he won't like to hear this … but his fish shop is pretty cute! Still the very first wallpaper with shrimp motif on the walls. Paintings of his beloved North Sea hung here and there and, of course, a charming counter containing the tastiest fish from our Belgian coast.
Stavros opts for the open sea and catches his plaice and mackerel single-handedly. And whether he is proud of his catch every time! He wants as many fishing enthusiasts as possible to get a taste of that. So Stavros had been walking around for a while with the idea of bringing in another big fish: the day tripper in Ostend!
By registering his domain name with Combell, Stavros fishes free extras! This way, he finally has a professional e-mail address.
Stavros hooks you up with his own website
That is why our sea dog decides to give his fish shop its own, albeit modest, website. No webshop for Stravros. Once at sea, he cannot process orders and admit it: would you send a plaice by post? 😃
Domain name with Belgian touch
Stavros starts his online business by catching a domain name with Combell. Our rugged fisherman likes to keep it simple, so he prefers to register a classic .be domain extension. Via Combell's domain search engine, he discovers that viswinkeloostende.be is no longer free. So straffezeeduivel.be becomes the creative but available domain name of Stavros' website. Since he still chose .be, the Ostend fisherman adds a nice Belgian touch.
Free, but professional mail address
By registering his domain name with Combell, Stavros also gets free extras! This way, he finally has a professional e-mail address. No more devisvanstavros@hotmail.com as a clumsy e-mail address. From now on, he communicates via stavros@straffezeeduivel.be. Although he does have his e-mails automatically forwarded to Hotmail, as that is fished fixed in no time. And he doesn't need to change his familiar way of working. We totally understand!
Website as online business card
The biggest dilemma for Stavros: have his own website made or build it himself? According to his mates in regular pub Scholvis, that outsourcing will cost him a serious penny. No way back, Stavros thinks to himself, so he builds his own website with the Combell SiteBuilder. He turns it into his fish shop's online business card.
Tip
Stavros did not know it yet, but now you do: if you want to build your affordable webshop with SiteBuilder, use the SiteBuilder package. It always includes your web hosting. The first year, you even get your domain name for free!
With SiteBuilder, he builds his website in a simple and at the same time budget-friendly way. With SiteBuilder, you integrate a map on your website showing the location of your shop. Very important for Stavros, because he wants to attract day trippers, remember? 😉
His website is also linked to Google My Business, his free business profile on Google. A must if you want to attract customers to your shop. You can put a lot of information about your business there, add photos and thus immediately show that your business has a website.
Furthermore, his website consists of one clear page on which all his promotions shine. Everything is in the safe, reliable hands of Combell. So, even when there is a storm at sea, Stavros' website always remains online.
Quickly catch the domain name for your online story
Meet fierce saleswoman Katty
Time to introduce Katty. In her own village, she has not had to do that for a long time. Everyone knows this fierce madame! Don't call her a crazy cat lady, but a flamboyant cat mom. Indeed, wherever you see Katty, you also see her two cats: Ray and Ben. Colourful Katty loves dazzling outfits. According to her, that includes glitzy sunglasses. Katty has been selling those at the local shopping centre for several years.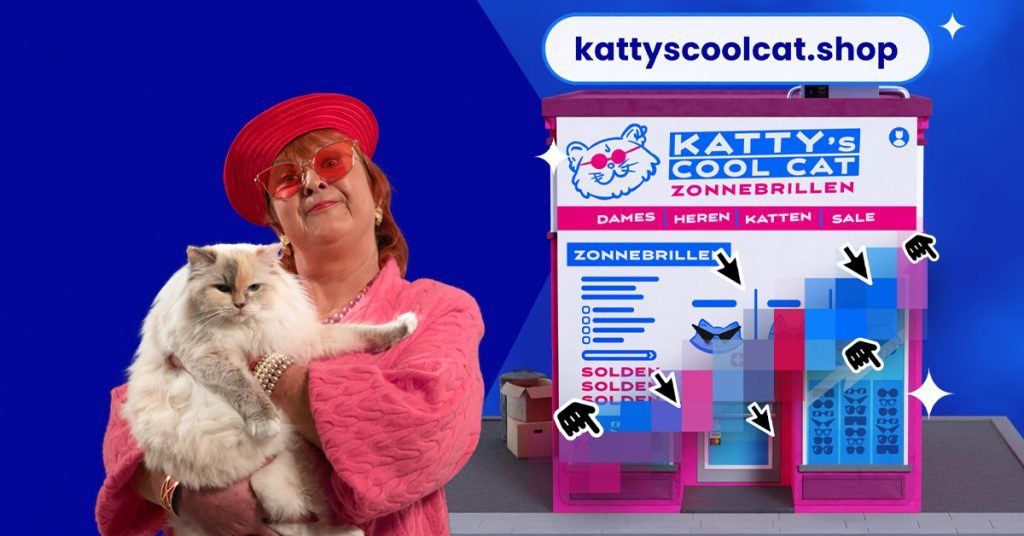 It is there that she noticed that more and more competing colleagues have started a webshop. Observing and waiting is not really this jovial saleswoman's style. Katty is not afraid of anything. The choice for an additional sales channel was quickly made: her bright sunglasses shop deserves an equally bright webshop.
Katty catches the eye with her web shop
Fortunately, Katty can count on Combell to launch her web shop. She also chose SiteBuilder. This way, she keeps the reins of her shop in her own hands. After all, Katty's entire web shop needs to catch the eye like she does herself.
The perfect template
So with her beloved fluff ball on her lap, she searches through all the visual templates on SiteBuilder. Although you can create a webshop with all SiteBuilder templates, Katty chooses the one for a shoe shop as a basis. That way, she can start building faster. That building process runs quite smoothly! If Katty still has a question, she can contact the Combell support collaborators who are literally ready to help her day and night. Meow!
Tip
As a starter it's interesting to combine several costs! With the SiteBuilder package, you get free hosting and access to our 24/7 support.
We've heard that Katty sees it big! She wants everyone to put on hip sunglasses. Or maybe she wants to outshine the other ladies in the shopping centre. 😉 So there is a chance that our fierce saleswoman will one day outsource the design of her web shop to a Combell partner. If her unique web shop starts to grow further, she might even switch to WordPress web shop software (CMS).
Tip
Is your website growing just like Katty's? Then, go for Managed WordPress with Combell. The constant updates of WordPress, your theme or plugins… Do not worry about it, we take care of everything!
Sufficient payment and shipping options
Before that happens, our glasses lady has other stuff to think about. After all, customers need to be able to easily order and pay on her webshop. At SiteBuilder, you choose all your shipping options yourself and, thanks to the integration with the Stripe payment gateway, her customers pay with Bancontact, PayPal and credit cards such as Mastercard, just like in her physical shop. Because as we all know, fancy sunglasses come at a price 😀.
Because Katty has placed an SSL certificate on her shop, customers pay via an encrypted and therefore secure connection. This way, criminals or hackers cannot find out or steal certain personal or payment details.
Announcing sales by e-mail
Who is popping there in your mailbox? It's Katty's bombastic newsletters! Since she chose a hosting package from Combell, she can start with free e-mail marketing. Using Flexmail as an e-mail marketing tool, she announces her sales and the latest sunglasses in no time.
Alternative domain name
Cat mom Katty also stands out because of her alternative domain name. Life is for the daring. So unlike Stavros, Katty did choose a domain extension other than .be. Her own webshop shines with kattyscoolcat.shop as its domain name. CATchy! 😃
Don't wait any longer and build your own webshop too
It's your turn: go big online!
As you read this, Stavros and Katty are conquering the internet. Fancy some fresh fish or would you rather pamper your cat? Go ahead! But don't forget: go big online and also score online! This webshop checklist will get you started, read about how to begin a webshop.
By the way, we leave you with one last thing: you can read real customer stories on our Combell blog. 😉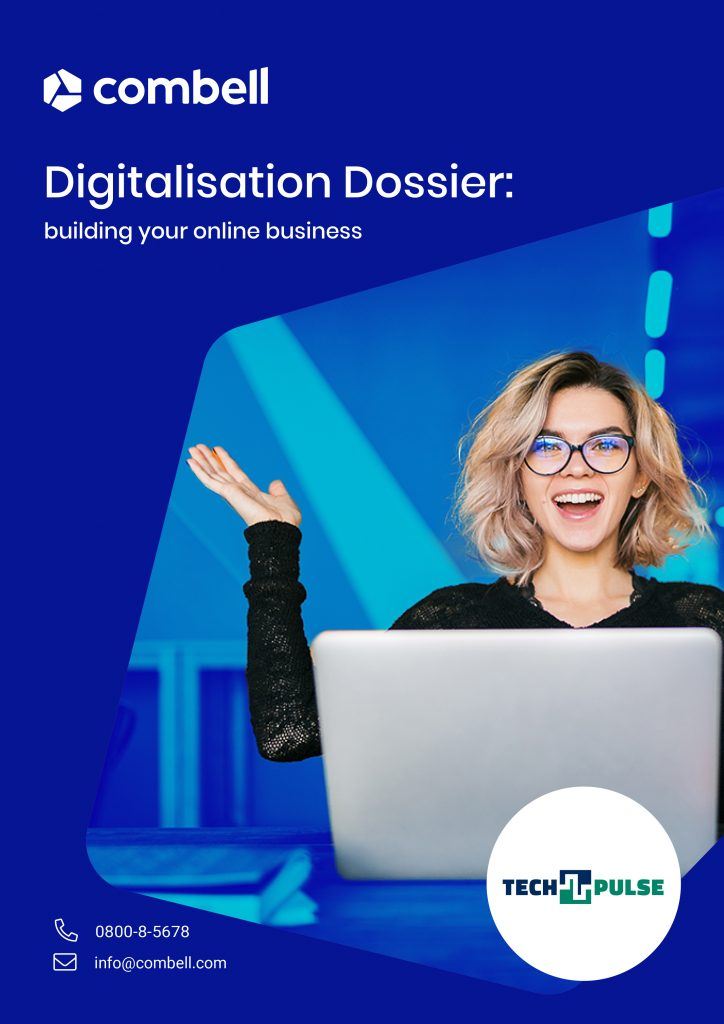 Download our digitalisation dossier
Use this e-book to follow in the footsteps of Stavros and Katty. Here's how to conquer the Internet with your business!