Build your own website or having it built: the various options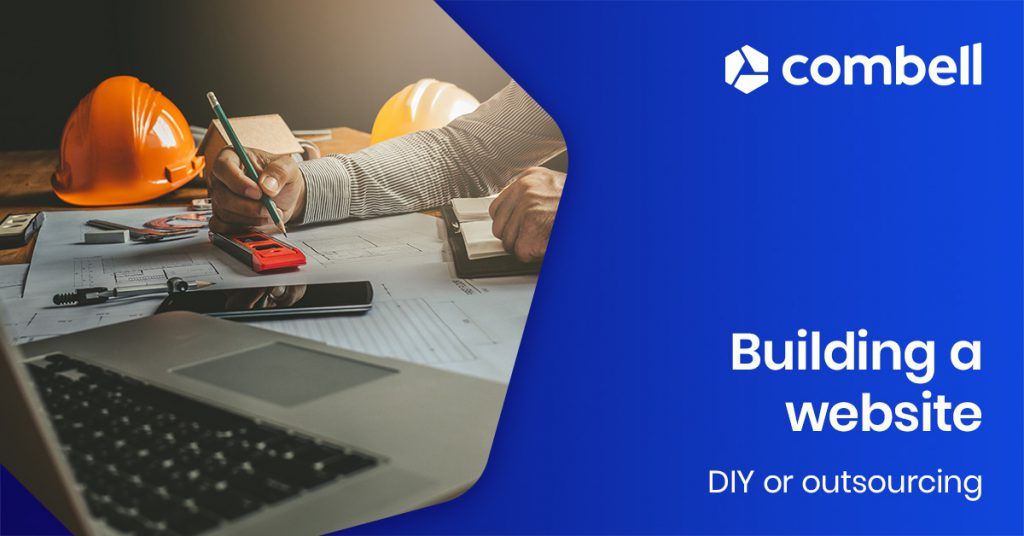 No business can afford not to have an online presence nowadays. You must have a website to promote and sell your services or products. In this article, we explain what options you have to build your own website, whether or not you do this yourself.
In our article 'What building blocks do you need for your website?', we showed you that for your online presence you need a domain name, an e-mail address with hosting for your mailbox, and hosting for your website. Now, though, you have to make an important decision: are you going to build your website yourself or are you going to outsource this task to professionals? Let us examine the various options available.
Download the make your website e-book
1. Programming a website all by yourself
Are you someone who likes to get your hands dirty and thinks it would be a nice challenge to teach yourself the necessary programming code to build a website? That is possible, of course. You will find no end of resources online for teaching yourself HTML code, JavaScript, CSS (Cascading Style Sheets), etc. You create the necessary source files on your own computer and monitor progress by viewing them in your browser.
Then you transfer it all over via FTP (File Transfer Protocol) to your hosting, using an FTP client such as Filezilla. As part of this process, do not forget to link your domain name to your hosting. Our support articles show you how to do that.
For: You have everything under your own control and the knowledge you build up could prove professionally useful to you – who knows, you might have a future lined up as a web designer?
Against: It will take time for you to master all the necessary techniques, and your web project could be months in the making. Moreover, a website is not just about code; SEO also plays an important role. There is a whole science involved in customising your website so that it ranks high in search results.
2. Building a website with a site builder
If you are a bit less technically minded but would still like a simple website for your business, you can use a site builder. This is a tool that enables you, without any knowledge of programming code, to build a website with ready-to-use building blocks.
You choose a theme, add some photos and text, adapt the layout, add widgets like links to social networks, look at a preview, and... hey presto, with the push of a 'Publish' button, your website is online. And there is more: thanks to the sophisticated layout, the website is immediately cast in the ideal 'responsive' form, so that it adapts automatically to your visitor's device (computer screen, smartphone or tablet).
Combell has an outstanding site builder. Even SEO tools and Google Analytics are included in the package. Depending on your needs, you can opt for 1, 5 or an unlimited number of pages, with 1 GB, 2 GB or 100 GB of space included. Furthermore, you will find a clear step-by-step explanation in our support pages.
For: Working with a site builder is really easy. Your website will be ready in just a few hours. Furthermore, the hosting is included – no extra costs, no extra worries!
Against: Your website is tied to the tool – you cannot detach your website from the SiteBuilder tool and move it to independent hosting.
Tip: If you opt for the Combell SiteBuilder, you will be able to kill two birds with one stone: using this extremely user-friendly tool, you can build your own website exactly the way you want it, and you benefit from Combell's outstanding hosting service!
Check out the tool here: take the SiteBuilder guided tour
3. Building a website with a CMS like WordPress
A Content Management System (CMS) is comparable to a site builder, but it gives you a choice of more building blocks that you are free to select on the web. With a site builder, on the other hand, you choose from the themes and widgets that you are offered – but there are a good many of these!
There are several CMSs, with WordPress (and its WooCommerce version for web stores), Joomla, Drupal and Magento being the most important. You can read about which would be best for your website in our article Which CMS should you choose for your website: WordPress, Joomla or Drupal?
You can build your website easily yourself with a CMS. If you opt at Combell for a WordPress or any other CMS hosting, then this is fully prepared for you, and you can get going with setting it up: you choose the layout, add images and widgets. And as soon as you click 'Publish' for the first time, your website is already proudly up and running, and ready for its first visitor.
However, if you want a tailored WordPress website, you can outsource its construction to a web agency. Afterwards, you will be able to add content via simple web forms. But even when you outsource the construction of your website, it is still very important to choose good WordPress hosting such as Combell's. We have summarized the various benefits of Combell WordPress hosting in our article Why host your WordPress website at Combell.
For: Once you have finalised the layout for your environment, all that is left to do is fill in the content. And you can do that yourself.
Against: The CMS itself also needs to be maintained: theme updates, widget updates and also updates to WordPress itself. Fortunately, Combell can be a big help to you as regards this, but even so you do need to have some technical knowledge. What if you do not have this? Then opt for Managed WordPress hosting – Combell will take care of all the technical side, and all you have to do is focus on content.
At Combell, your WordPress hosting is what is referred to as 'self-hosted' WordPress. The CMS is on your own hosting, which you rent from Combell. You are therefore completely in charge of your entire CMS. This is in contrast to a blog that you are able to create at WordPress.com, and which may or may not be free. The possibilities there are somewhat limited. The difference between both sorts of WordPress are explained comprehensively in our article WordPress.com vs WordPress.org: what is the difference?
Tip: Do you already have a blog at WordPress.com? Then register your own domain name at Combell and link that to your blog. That will make a subsequent transfer to a self-hosted WordPress at Combell a lot simpler – a task that Combell will carry out for you at no cost!
4. Get a tailored, ready-to-use website built for you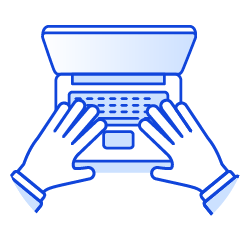 Do you lack the time or technical knowledge to build your own website? Or is your product/service so specific that the website calls for the work of experts? If so, have your website designed by a web agency or an experienced web designer. They will sit down with you and discuss the purpose of your website, what your visitors need to be able to do, how many visitors you expect, etc. They can then select the right environment for you and incorporate the tailored functions.
In this case too, our recommendation is: insist that your web designer chooses reliable hosting, like Combell's. Our experts, in consultation with your web designer, can put forward a proposal for hosting tailored to your project.
For: If you have chosen the right web designer, your website will be tailored to perfection. You can also draw up a maintenance contract with your web designer, for the maintenance of the site and for updating/modifying the features.
Against: Building a customised website is very labour intensive and can prove expensive. Make sure in advance that you have a clear idea of what you want, and be sure to convey this as succinctly as possible during the initial discussion. Make concrete agreements about the delivery time and who will own the source files.
What is best: build it yourself or outsource it?
This is not an easy question to answer. Because it all depends on the following factors:
- Will the content of your website hardly vary?
If you just want a static web page with content like your contact details, which will not change much, a 2- or 3-page website is sufficient. You can create this easily yourself with your hosting provider's site builder.
Or will the content of your website vary a lot, on a daily, weekly or monthly basis? And does the content displayed have to be updated to match the selection your visitor makes? If so, what you need is a dynamic website. In which case, you should opt for a CMS or for outsourcing.
A CMS is really user-friendly to work with and, in principle, you can easily do everything yourself. However, fitting out the website with widgets, etc. can be too big a hurdle for someone without much technical knowledge. In that case, you should engage the services of a web builder.
- How much technical skill do you have?
If you have only a basic knowledge of the web, of design and of web technologies, we recommend you do not build your website from scratch yourself. Working with a CMS, like WordPress, or a site builder on the other hand demands little in the way of technical skills – just some patience and an eye for layout. You can build a simple site yourself in a few hours!
- How much time do you have?
Do you really want to start from scratch and teach yourself programming languages in order to build your website? If so, full marks to you! But be aware that your website will not be finished tomorrow or even after a month – unless you keep working on it day and night.
Working with a CMS does demand some time in the beginning to design the site as you want it, and this is true whether you do it yourself or entrust it to a specialist. After that, though, filling in the content is not that much work.
Our SiteBuilder lets you finish in the least amount of time. You can build your site in a few hours, using simple but perfectly functioning building blocks. And you do not have to worry about the hosting at all: as soon as you press the 'Publish' button, your site is online. In the background, we take care of the whole of the technical installation.
- How much SEO knowledge do you have?
You need time not only for the construction of your website, but also to enable it to be found by the search engines – in other words: SEO or Search Engine Optimization. And that often demands more time than building your website does, because you have to keep tinkering with it.
Using web analytics, you monitor the number of visitors and work out what keywords brought your visitors to your website. Based on that information, you can, for example, advertise on those keywords. And you can use A/B testing to find out which changes to your website will attract more visitors.
In short: these are all matters that demand attention. If you do not have time for this, engage the services of an SEO agency. Today's web agencies are multidisciplinary: they do not just build your website but also have an SEO department that can crank up your visitor numbers for you. 
Tip: A responsive website, an HTTPS connection, a website that is designed for mobile-friendliness: these are all factors that play a big role in your ranking. If you opt for Combell hosting, you will be all good as regards speed and uptime!
- What is your budget?
It goes without saying that not outsourcing to third parties but rather building your website yourself is cheaper. However, we recommend this approach only if you are working with a site builder for static pages, or with a CMS for a simple website. If you want more advanced features, we advise you to involve a web designer or web agency.
Do you want to create a website with a limited number of pages yourself? Our super handy SiteBuilder has all the features you need for a good website – including SEO! Try it out now!
Outsourcing: what do you have to watch out for?
The profession of web designer has matured, and there are specialists in all fields. These are often united in web agencies that are able to build your website from A to Z, get it online and maintain it.
However, there is no harm in visiting the portfolio of websites already built by a web agency before you get involved with that particular one. A reliable agency will mention its portfolio as a reference on its own website. In the same way as we mention our customers on our website – why they chose us, and what solution we had for them.
Furthermore, pay attention to the following points:
Never allow your web designer to register your domain name in its name – the name of your company must always be there.
Make sure you have a say in the choice of hosting provider. Naturally, we recommend you to have Combell hosting, but that is not without reason: we have many years' experience and can advise your web builder about getting the right hosting that is the best fit for your project. This also lets you know what the hosting itself is costing.
Make clear-cut agreements about delivery time, and if time is a crucial factor for you, make sure to add a penalty clause to cover possible late delivery.
During the build phase, it is vital to have regular evaluations to avoid any surprises when delivery takes place.
Take the time needed during the initial discussion to ensure your developer is completely clear about what you want. And if he has another method for achieving the desired result, listen to him.
Conclude a proper agreement, one which defines what will happen after delivery: who will do the maintenance? What will it cost to make a small change, or can you do that yourself, in a CMS for example? And what if you want new features? Suppose you are not satisfied with your web designer – can you transfer the website to another web designer/agency?
What is the position regarding copyrights on images? Will the web designer transfer these to you?
These are just a few examples of points you need to discuss with your web designer or web agency. Good agreements make for good friends!
Appropriate hosting for builders and outsourcers
Think about it: it makes no sense to have a wonderful website built if the web hosting is not right. If your website is slow, you will lose customers. You will get bad results from search engines, especially when your site is regularly unavailable. Do not make this mistake; choose Combell's hosting immediately.