Difference between website and web page explained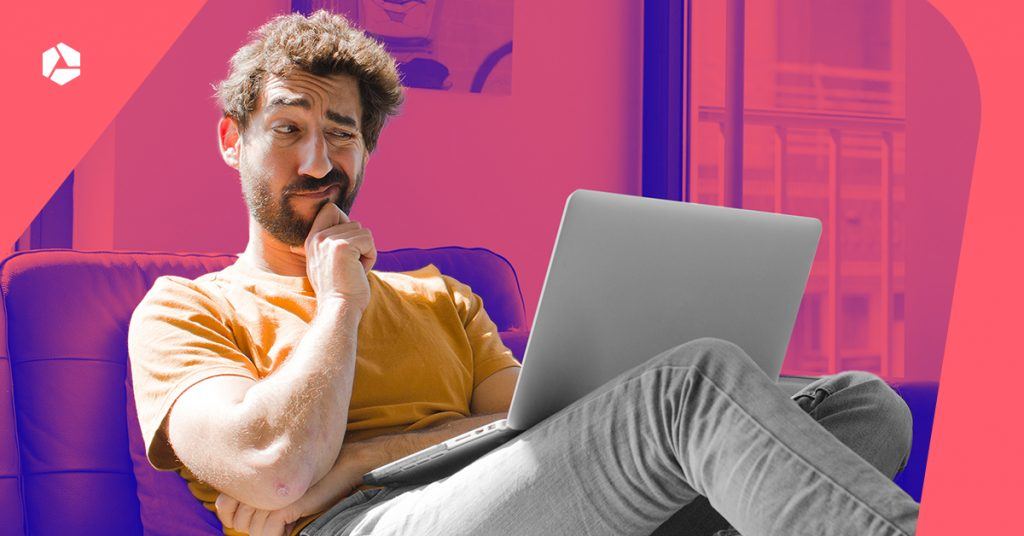 In Belgium there is a very popular sitcom called 'F.C. De Kampioenen'. A misunderstanding often creeps into the storylines of that series. The same goes for the difference between a website and a web page. Because there is indeed a clear difference between the meanings of these two internet terms.
Difference web page and website: why the confusion?
Since you've bumped into this blog post, we assume you're delving into the wonderful world of websites and web shops. Perhaps you want to create your own website. During your online exploration, the terms web page and website are constantly thrown at your head.
Many amateurs or "beginners" assume that web page and website mean the same thing. After all, aren't you visiting a page on the internet? This is not entirely incorrect, but there is still a substantial difference between website and web page.
The confusion has occurred because the two terms are very similar. Actually, they go hand in hand with each other. Added to this is the fact that both terms contain the word "web. So website and web page were doomed to be used incorrectly. In this article, we explain both terms, so you'll know where the difference lies.
What is a website?
A Website is a collection of web pages all hosted under one domain name. Websites have different purposes. From sharing information and offering products or services, to providing entertainment.
You can access a webite from a computer, smartphone or other (mobile) device. All you need is an internet browser. That browser has an address bar where you can type in the domain name or web link. You click or push enter and the website opens on your screen.
Websites can contain a lot of different web pages. Each page usually contains different information. In short, one or more web pages are part of a website.
What is a web page?
A web page is part of a website individually. Together, web pages make up your website. This web page, meaning the blog article you are visiting now, is a web page. Combell.com is the website. They both even have their own URL.
As indicated, a web page is a page that contains information. This can range from endless text, lots of images to a video here and there. Usually you spot different types of content on a web page. Also like on this web page. At the back, a web page contains HTML code.
There are different types of websites
Difference web page and website clear? Fine! 🙂 Then we can talk about some types of websites for a moment. Because different types of websites do exist. You surely know them.
E-commerce website
An e-commerce website is more commonly known by another name: webshop. So anyone talking about an e-commerce website is actually talking about a webshop. Through a webshop you can (purchase) products or services. Think of clothes, concert tickets, massages, furniture, etc. An e-commerce website is usually recognized by the (too well) filled shopping cart. A B2B webshop, focused on companies, also exists.
Tip
Starting your own webshop might make you break out in a cold sweat, but no worries: thanks to handy tools such as our SiteBuilder with webshop builder or WooCommerce from WordPress, building a webshop is easier than ever, even without technical knowledge!
Blog
On a blog, you generally read a series of self-written, sometimes even personal posts. Blogs come in all shapes and colors. For example, blogs about soccer, pregnancies, makeup, politics ... The author, usually one person, shares his or her opinions and ideas. Readers can respond, for example, at the bottom of the article or via social media. Many companies, such as Combell, use a blog to share news, tips and expertise on a specific subject with customers and interested parties.
Intranet
Intranet is especially popular in the corporate world. Think of it as an internal website. That's where you as a company communicate with your employees. Staff news, important sector updates, the weekly menu of your company restaurant ... There can be anything on your intranet. 😄
Usually it's HR colleagues or communications staff who maintain the intranet. In many organizations, the intranet plays a crucial role in internal communications.
One-page website
The name speaks for itself: a one-page website consists of one web page. This contains all the information such as the company's history, product offerings, contact information, directions ... It is a popular type of website. Such a one-page website is easy to create yourself and easy to maintain. Small businesses often resort to a site like this.
There are different types of web pages
As you might guess: Of course, there are also different types of web pages. Each has its own type of content. Meet different pages such as a home page, a landing page, a product page and a contact page.
Home page
Through the address bar, the home page or homepage is usually the first page your visitors see. Through search engines, visitors sometimes land on your website through a new web page. The home page is an important page because this web page gives an overview of your website and contains the most important buttons and links. The URL of your home page is usually your domain name, unless otherwise specified.
Landing page
With a landing page, you are trying to get your visitor's attention and get them to perform actions. For example, registering for a newsletter. Landing pages are often used for marketing campaigns and are a kind of starting point for the visitor.
Product page
A product page tells you more about one or more products. Product pages usually contain a picture of the product, a description, price and information about where you can buy it. If it is a product page on an e-commerce website, you can usually add the product to your shopping cart from the web page.
Contact page
A contact page is a regular on professional websites. On this web page, you find out how to contact the company, what the address details are, links to social media ... Sometimes visitors can immediately fill out a contact form and ask their question.
Creating a web page and website yourself
Putting what you've learned into practice? Talk about a good idea. We love nothing more than guiding you to the best version of your own website.
In addition, we immediately refer you to additional information you can use to create your web pages and website yourself. But do not worry: here at Combell, we have everything to make it easy for you.Use these links: