Microsoft Teams: free for Combell Office 365 customers
Many regard this new collaboration tool as Microsoft's answer to Slack, which is quite popular. But what exactly does Microsoft Teams offer?
Microsoft Teams: a new tool in the Office 365 suite
The Office 365 package already includes several tools that allow groups to very easily collaborate, without having to constantly travel back and forth: Outlook for business e-mail, SharePoint for smart content management, Yammer for networking across the organisation, and Skype for Business for voice and video meetings. And now, there is also Microsoft Teams, a chat-based workspace.
Since the release of Teams in November 2016, more than 50,000 organisations have been using these collaboration tools, including Accenture, Deloitte, Expedia, etc. More than 85 million people actively use Teams. And now, thanks to Combell, you too can use Microsoft Teams!
Discover Office 365 at Combell
Getting started with Microsoft Teams
This web app is enabled by default for all Combell Office 365 Business Essential and Business Premium customers. In order to enable or disable the tool, the IT manager must open the Office 365 management centre, navigate to Settings, Services & Add-Ins and turn on/off the Microsoft Teams item. Here, the administrator can also configure user profiles, enable or disable the video and screen sharing during calls and meetings, determine what content is allowed (such as stickers or animated GIFs), and what tools (connectors) from partners or bots can be accessed.
You start with the web app, but you can also download the tool as a desktop app (Windows and Mac) by clicking on the top right button. Versions for Android and iOS are available too.
The Teams interface is the best of both worlds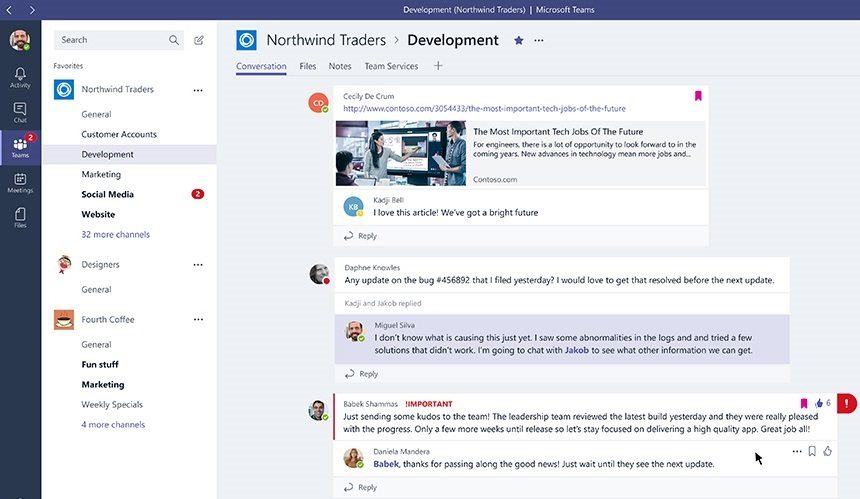 Creating a workspace where you can chat, plan meetings, collaborate on documents and even send cute GIFs is no easy task and the many options could lead to a steep learning curve. This is why Microsoft studied the interfaces provided by competitors, including Slack, and reworked them with an Office 365 flavour. The result is an interface similar to that of Facebook, with a blue header, clean grey background and boxed threads. But you can also go for the darker theme (currently only available for the desktop version and the web app), which is easier on the eyes.
Creative collaboration via Microsoft Teams: free for all Combell Office 365 Business Essential and Premium customers !
Discover Office 365 at Combell
Microsoft Teams: the tabs

Let us take a closer look at the various features, which you will find in the tabs. The first one is Conversations, which is probably the most important tab. Here, on the left, the start screen shows you a list of the teams to which you belong, organised by channels and topics. You can create a team via the bottom left button, or choose one of the displayed public teams. When you follow a channel, you get a notification every time someone posts something on this channel. You are also notified of likes, @mentions or replies, even when you do not follow the channel.
Conversations are properly nested, so that you can follow a conversation without difficulty. Markdown is supported, so that _a sentence_ automatically becomes a sentence, in bold letters, which is extremely handy, because it will save you a lot of time when you are typing!
Tip: Every channel also comes with its own e-mail address, which you can find by clicking on the "get email" option in the vertical bar on the left, next to the name of the channel, and by copying it. If you receive an e-mail in Outlook, you can directly send it to the channel by means of this e-mail address.
The Files tab allows you to access all the files in your SharePoint. The notes you take in the Notes tab also support @mentions and replies. The Video Streams tab is a video portal where corporate videos are stored.
By clicking the plus sign in the last tab, you will get access to a large choice of other tools that you can use here. This includes Microsoft tools (such as Excel, Word and PowerPoint), as well as third-party tools (such as Zendesk).
Microsoft Teams: Connectors and bots
With Connectors (available via the General header in your Teams settings), you can obtain third-party content and post it in your channels, such as RSS feeds and Twitter timelines.
Bots help you perform tasks. In a 1:1 conversation, they will assist you or your team. See it as a modern version of Word's good old Clippy… but much more advanced! For these bots, Microsoft collaborates with various companies, including SAP and Trello, in order to help managers and collaborators reach their goals.
Microsoft Teams: Private Chat and Meetings

Until now, you have seen the screens in the "Teams" tab in the left vertical bar. The "Chats" tab right above it gives you access to private conversations. Via the "meetings" icon in the button bar under the chat window, you can arrange a meeting with your interlocutor and several colleagues. The meeting assistant will help you see right away who is available (and when), so that you can plan the meeting without having to exchange tons of e-mails. The meeting will immediately appear on your Outlook calendar. Recurring meetings can be planned this way in no time.
Handy: if you use Teams on your mobile device, you will be able to immediately start a phone call with your correspondent using this device! For iOS devices, support is also provided for the native call kit. With Android devices, you can also start a video chat.
Other tabs in this bar include: Meetings, which offers you an overview of your planned meetings, and Files, which offers you an overview of all your files in SharePoint.
Microsoft Teams makes creative collaboration possible within a secure Office 365 environment. Check it out now with Combell!
Security come first with Microsoft Teams
When teams collaborate with each other, there is always a risk that some people are too indiscreet and disclose confidential information. Microsoft Teams provides system administrators with various tools to ensure that confidentiality is observed at all times. These tools can be found in the Security & Compliance tab. You can e.g. use the Content Search option to see if a certain keyword only appears in conversations of team members who collaborate on the project, and not in unexpected places that could indicate a leak.
Microsoft Teams is constantly evolving!
This collaboration tool for businesses is constantly being developed, based on suggestions and feedback of the companies that use it. In June 2017, by popular demand, a guest account will be included, so that people from outside the company can also join a team. Obviously, this new feature will come with the necessary permissions, which IT managers will be able to set.
The key benefits of Microsoft Teams:
Clear overview of nested conversations (threads)
The darker theme is easier on the eye
Starting easy video chats with team members
Planning video meetings from chat rooms
Up to 80 people can participate in a video chat
Creating on-the-fly channels (e.g. turning a private chat with colleagues into a channel)
Two-factor authentication and single sign-on via Active Directory
Supports the following security and compliance measures: ISO 27001, ISO 27018, SSAE16 SOC 1 and SOC 2, HIPAA and EU Model Clauses
Audit log search, eDiscovery
New accessibility features, such as screen readers and keyboard shortcuts, allow persons who are blind or have low vision to use the tool
Read more about Microsoft Teams on mobile devices and Microsoft Teams in general.