Vlerick Venture Award for Jonas Dhaenens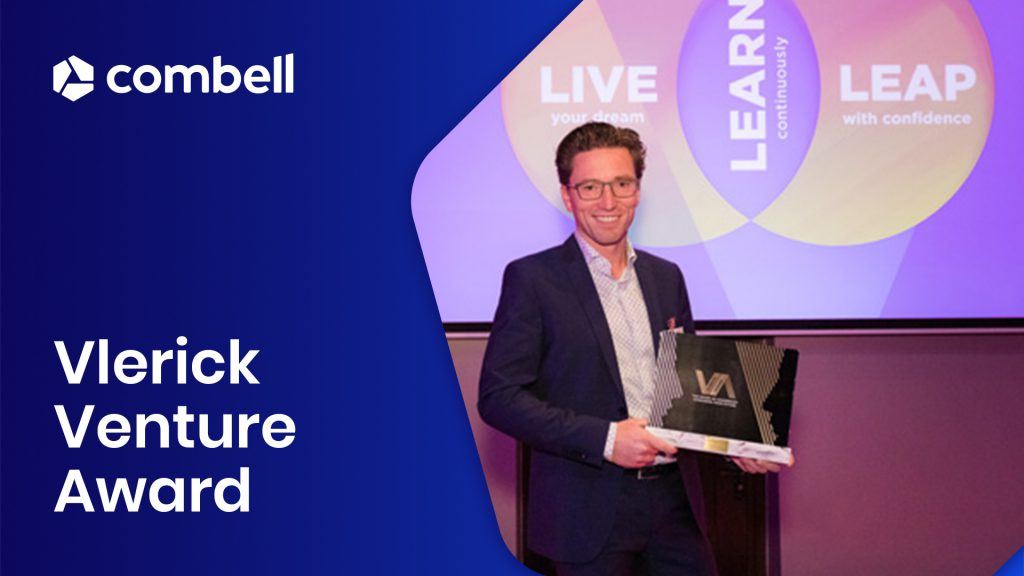 The Vlerick Award rewards alumni who stand out for their leadership. We are therefore particularly proud that our CEO Jonas Dhaenens received the Vlerick Venture Award in 2019. As for the Vlerick Enterprise Leading Award, it was won by Conny Vandendriessche, co-founder of Accent Jobs. Here is a brief explanation about this prestigious achievement. 
Vlerick Awards reward positive impact on society
Vlerick Business School is Europe's oldest business and management school, founded by André Vlerick in 1953. This professor and politician strongly believed that companies are the driving force behind progress and prosperity. Since then, the business school has grown into an institution with a solid, global reputation that succeeds in linking the academic and business worlds.
The Vlerick Awards have been presented to alumni for 20 years now. The list of people who have already received this award includes many famous people, such as Jean-Luc Dehaene, Baron Peter Piot and Bert De Graeve.
Vlerick Leader 2019: Conny Vandendriessche, a role model
For the past couple of years, the Vlerick Award has been split into the Vlerick Leader Award and the Vlerick Venture Award. In 2019, the jury of Vlerick alumni and corporate partners presented the Vlerick Leader Award to Conny Vandendriessche. She was one of the founders of Accent Jobs, and has also founded Stella P., which helps company managers find the best external directors. Conny is also co-founder of 'We Are Jane', a European fund created for and by women to support female entrepreneurs.
Conny reacted with great enthusiasm: "To me, this award is also a tribute to female entrepreneurship. Over the years, I have become a role model for female entrepreneurs. With the establishment of the investment fund We Are Jane, I can now support them through my experience, but I can also help them financially in their growth as entrepreneurs of tomorrow."
Vlerick Venture 2019: Jonas Dhaenens, self-made entrepreneur
For the second time, Vlerick also presented the Vlerick Venture Award, which rewards a young, enterprising Vlerick alumnus who, as owner or founder of a fast-growing company, makes a positive impact on our society.
In 2018, this award was given to Dieter De Mesmaeker, the founder of Datacamp. This year, several very talented contenders were nominated, including Louis Jonckheere from Showpad, Felix Van de Maele from Collibra and Daan De Wever from Destiny. But it is our CEO Jonas Dhaenens who eventually made it.
And, of course, Jonas was very proud of this award!
"I am proud of what we have achieved with Combell and what we will achieve with team.blue in the future. After 20 years, I am still very ambitious to carry on with the next phase of the company's growth."
This is not the first award Jonas has won: in 2016, Data News made him ICT Personality of the Year. And in 2018, ICT news site Computable named him IT Person of the Year. However, Jonas remains realistic with this praise:
"This success would never have been possible without the extremely enthusiastic team that works very hard, day and night, to support our customers. I really appreciate this award, but I would like to dedicate it to all my colleagues from Combell and team.blue."
A motivation for entrepreneurship
Hans Crijns, chairman of the jury and Professor of Entrepreneurship at Vlerick Business School, recalled the credo of Professor André Vlerick: "The courage to engage in entrepreneurship gives each individual the opportunity to express his or her talent and is a guarantee for progress." He praised Conny Vandendriessche for her authentic personality, her thirst for new initiatives and growth, and considers her a role model for female entrepreneurship. But he also paid tribute to Jonas:
"Jonas is a fine example of a self-made entrepreneur who, from an early age, thanks to his vision and ambition, has grown into a global player at a tremendous pace with both Combell and team.blue".
Crijns concluded by saying: "Vlerick Business School is proud to have played a role for these two entrepreneurs in their growth. They can be a motivation for all our students and alumni who share a similar entrepreneurial spirit."
The awards were presented on 2 October 2019 at the Faculty Club in Leuven. Congratulations to Jonas and Conny!