Jonas Dhaenens received the 'Voka Legende 2019' award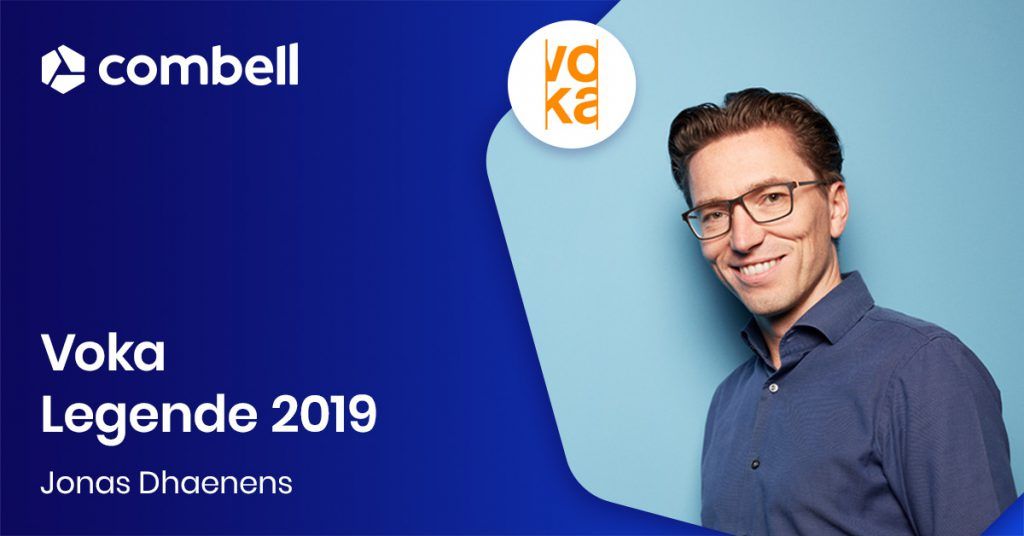 The year 2019 will probably stay in the memory of Combell CEO Jonas Dhaenens for a long time. Earlier this year, he received awards from Computable and Vlerick Business School. And more recently, he also won the title of "Voka Legende 2019", which is quite an honour!
A Voka award, following in the footsteps of illustrious predecessors
Voka is the Flemish network of companies that acts as the umbrella organisation for the eight regional chambers of commerce, representing more than 18,000 companies. It strives for a business-friendly working environment and protects the interests of companies. The organisation's various departments have their own administrative bodies and are pursuing different initiatives. Since 2014, Voka Oost-Vlaanderen (East Flanders), for example, has been awarding the title of 'Voka Legende', which is intended to recognise talented entrepreneurs who, through their enthusiasm and dedication, have managed to promote East Flanders and to put it on the international map.
For the year 2019, Voka decided to award this title to Jonas Dhaenens, founder of the company Combell and CEO of team.blue, the hosting group that oversees Combell. Even though team.blue is now operating throughout Europe, Jonas – CEO of both Combell and team.blue – is still very proud to be a citizen of Ghent. And Voka clearly noticed this, therefore giving him the 'Voka Legende 2019' award.
This award is a great honour, as the previous 'Voka Legende' titles were not given to just anybody. In 2014, the award was presented to Prof. Dr. Marc Van Montagu, a pioneer in molecular biology. In 2015, the title was given to Ivan De Witte, co-founder of HR company De Witte & Morel (later to become Hudson Benelux), but probably better known to many for his management career in football, including as chairman of the Jupiler Pro League. Daniël Termont, mayor of Ghent until 2018, won the award in 2016.
In 2017, the title was awarded to Willy Naessens. This entrepreneur has built many swimming pools in Flemish gardens, and has become famous in Flanders through his participation in a TV show called 'The Sky is the Limit', not to mention his beloved Marie-Jeanne! The list of predecessors ends with composer and conductor Dirk Brossé, who was born in Ghent, and who is best known for his unique film scores.
Combell has put Ghent on the digital map
As you can see from the list of previous Voka award winners, this title is clearly a great honour. Although Jonas is very modest in his work, there is no denying that he has already achieved an impressive track record with Combell. Once created in Jonas's back room, when he was a 16-year-old student, Combell developed under his leadership into a strong brand and an established name in the hosting industry.
Jonas has undoubtedly also played a part in promoting the image of Ghent as the 'Flemish Silicon Valley'. Combell's steady growth, and later that of team.blue, was closely followed and praised in the media. His company was called the second 'unicorn' of Flanders – a unicorn that has its feet firmly on the ground and for which every new jump has been accurately calculated.
By the way, did you know that Combell participated in the creation of the .gent domain extension? By helping with the required technical infrastructure for the development and operation of this new top-level domain, Combell has literally put Ghent on the digital map!
Is your .gent domain name still available?