The 5 pillars of a good hosting helpdesk

A decent helpdesk offers more than just phone support – it also makes sure that you actually no longer need to pick up the phone for most of your questions, because everything is explained well and clearly in dashboards, knowledge bases and help files. And if you have non urgent questions, you can submit them in writing, in the dashboard or via e-mail, after which an integrated ticketing system ensures correct and quick handling. Obviously, if you have any urgent or specific questions, you can use the phone 24/7. Here are some particular details about the helpdesk's different pillars.
1. Prevention is better than cure
The first pillar of the helpdesk is actually the user-friendliness of the product itself. The easier the product is to use for customers, the fewer questions the helpdesk will be asked. Here, proactivity is the key.
This is why it is essential that hosting providers offer complete packages. This way, when you want to transfer your existing website to a Combell hosting package, you will be able to use a real transfer service, which will "wrap" your website and deliver it to its new Combell address. If you order a domain name, you will be able to start building your website right away, thanks to the Sitebuilder. If you want to use a Content Management System like WordPress, Joomla or Concrete5, or an e-commerce CMS like Magento, Combell will install it for free on your web hosting package, ready for immediate use. The more complete the package, the easier it will be for you to use it, and the less help you will need. This covers the first pillar.
2. With a decent dashboard, you are the captain of your own ship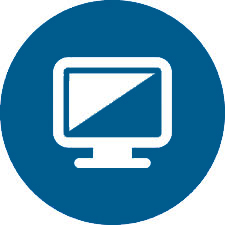 For a hosting provider, the dashboard is at the heart of all activities. Creating and managing domains, adding mailboxes, redirecting traffic from one domain to another, with or without cloaking: you can go through all these steps yourself via the control panel.
When that control panel is no ordinary dashboard with standard options, but a customised control panel, like the one provided by Combell, it is a huge asset – if only for the language, for your dashboard is available in English. Since this control panel was developed in-house, the provider's technicians can adapt it where necessary, based on the feedback provided by the other pillars of the helpdesk. If (phone) support is often asked the same question about an option, the answer to that question can be included with the information that comes with this option, so that it can be read by clicking on the question mark icon next to the option. Technicians will regularly add new options to the dashboard when necessary, while you will be able to continue to work in your regular environment… Definitely a rock-solid second pillar!
3. Aunt Know-it-all's good advice
A third pillar is the Knowledge Base, which often takes the form of a handy question and answer system. How can I set up a catch-all mailbox for e-mail sent to my domain? How should I link a new domain to my existing website? Where can I find the option that allows me to increase the size of my MySQL database? The answers are given, step by step, in plain and clear language. Just enter a keyword in the search bar, read all the instructions and follow all the steps, and you will be able to keep working!
4. Take a ticket
As complete as this proactive assistance service may be, some questions will always remain unanswered. Even after having followed all the instructions, some things may not work as they should. Or perhaps you have specific requirements for your website or hosting package... In that case, you can use different methods to get in touch with the helpdesk, which will answer your question with the required professional expertise.
You can do this by sending an e-mail, to which you will attach screenshots or screencasts in order to better illustrate the problem. In addition, you can ask questions from any place in the dashboard, which allows helpdesk staff to know where exactly in the procedure the question has arisen.
No matter the contact method, you should know that support uses a ticketing system. This fourth pillar has two major benefits:
Helpdesk will answer the questions in chronological order of receipt, and most hosting providers guarantee a reply within a certain period of time (at Combell, within 24 hours).
The ticketing system guarantees that your question will be handled as a thread, with different posts, depending on the complexity. This way, you can view a history of the problem, and both the support team and the customer can have a complete overview of the thread, until the problem is finally solved.
5. Hello, who am I speaking to?
It seems logical that very technical questions are better asked in writing, because having to explain a certain technical problem over the phone is often overly complicated and time-consuming.
And yet, many customers still prefer direct contact and therefore use the phone, especially in pre-sale situations, when they are having difficulties choosing between different options, or when they have questions about invoicing, etc.
They will also prefer to use the phone for urgent matters or unexpected problems. And that is why this fifth pillar, a 24/7 phone support line, like the one we at Combell provide, is an absolute must!
These are, in a nutshell, the five (proactive and reactive) pillars that every decent helpdesk should offer!
Read more: 4 ways to design a great customer support experience