Microsoft 365 (Office 365) with Combell: your office software applications always at your fingertips!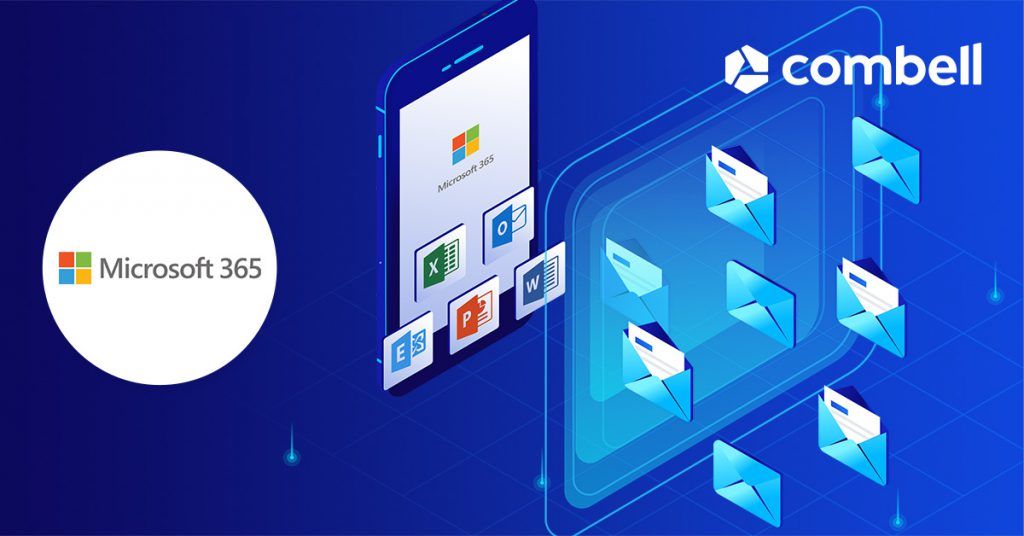 Employees are becoming increasingly mobile. Our workplace is no longer limited to our computer at home or at the office; it is also our laptop, our smartphone or our tablet when we are on the road. But how can you keep everything synchronised on all your devices? The Microsoft 365 (Office 365) range offered by Combell, which includes 1 TB of online storage space via OneDrive, ensures maximum productivity. And, depending on the package you choose, you can access the best tools.
Access to all Office products

In the Microsoft 365 (Business Basic & Standard) range offered by Combell, you can access all the components of Microsoft's office software suite online. You just have to log in to your account using your favourite browser in order to get started right away, no matter what device you are using. The following apps are available to you: Word (text editor), PowerPoint (presentations), Excel (spreadsheets) and OneNote (organisation of notes for project management).
Do you also want to install a version of these apps on your own device so that you can keep working when you are offline? Then, go for the Business Standard version, which allows you to install the products from the office software suite on maximum 5 PCs or Macs, as well as the associated apps on 5 smartphones or tablets.
This version also includes Publisher (layout of documents) and Access (working with databases).
Discover Microsoft 365 with Combell
But Combell's Microsoft 365 also comes with many tools that make online collaboration more efficient:
Skype for Business: organise online conferences (audio and/or video)
Sites: create your own intranet, where you can also share files
Teams: Microsoft's answer to Slack, a chat-based workplace
Sway: a combination of PowerPoint and Publisher to create presentations that can be viewed using a browser
Interactive agenda: allow your customers to arrange a meeting with you in seconds (only with Business Premium)
Many extra project management tools that make online collaboration easier
All documents are centralised
Such a cloud version of the productivity apps from the Office suite has two major benefits. First, you always have your files at your fingertips, thanks to your OneDrive, which offers no less than 1 TB of storage space! From now on, you no longer need to wonder where you left a certain document. All documents are now centralised and can be retrieved immediately.
This also makes it easier to collaborate with colleagues on documents, spreadsheets, presentations, etc. Share folders or individual documents with them… everything is possible!
You can also perfectly integrate your OneDrive on your own computer, so that you can also store and edit offline versions of your files. And when you are back online, the files are automatically synchronised with the versions in the cloud.
Always up to date
Microsoft 365 always offers the latest version of the software, so that you can take advantage of all the new tools as soon as they are released.
Here are some of these new features:
Word: the tools for sharing documents have been improved; you can invite people from a document to collaborate on it. You now have even better control over who can view and/or edit a document.
Excel: the option to detect and predict trends is very useful for accounting, financial planning, stockpile management, etc.
PowerPoint: the new Presenter View feature allows you to see your notes on your screen while the audience only sees the slides. Cheat sheet included!
Outlook: plan a meeting, send an instant message, call someone directly from his People profile.
Calendars, tasks and address book: always synchronised
Next to that, Microsoft 365 also includes Outlook, Microsoft's e-mail application, which is linked to a mailbox with no less than 50 GB of storage space. In addition, we offer you a free domain name (for the first year) in order for you to create e-mail addresses. So, you no longer have any excuse for using the unprofessional e-mail address provided by your Internet provider!
Via Exchange Online, all your e-mails are instantly synchronised, as are your shared calendars, tasks and address book. The powerful spam and virus filter included in Microsoft 365 make sure your mailbox does not get flooded with spam and stays free from nasty infections.
Are you not sure about how you can configure your e-mail on your smartphone? Our collaborators will assist you for free by telephone. By the way, you can also rely on their support for the whole package: Combell's Microsoft 365 comes with free 24/7 premium support via e-mail or our toll-free phone number.
Anyway, if there is one thing you can be certain of, it is that Combell's new Microsoft 365 (Office 365) range is a unique opportunity to enjoy the Microsoft office software suite at a very attractive price, on multiple devices, wherever you are, with our 24/7 premium support!