E-learning platform Knooppunt counts on Combell for stability
Lees in het Nederlands - Lisez en français
Knooppunt vzw offers a digital platform that hundreds of thousands of pupils, teachers and publishers use every school day. Stability and availability are therefore the top priorities of this non-profit association. Therefore, it is definitely no coincidence that Knooppunt vzw, which is the result of a unique collaborative effort involving various Flemish educational publishers, chose Combell for its hosting services. This is the whole story…
Education in the digital era
Classrooms with just wooden desks and a blackboard are definitely a thing of the past. Teaching has gone through a radical revolution; teachers now use the many interesting possibilities offered by digital technology and the Internet.
The Internet is indeed packed with very useful material that can be used in lessons, but most teachers usually stick to the teaching methods that have been developed by the school inspection in collaboration with educational publishers. This way, it is possible to define a complete learning path, from year 1 to year 6, in both primary and secondary education. These learning paths determine the course subjects throughout the different years, so that teachers can know exactly what their pupils already know, and what they still have to learn.
A unique collaboration between large publishers
Publishers of educational material hence play an important role in modern education. In 2009, two renowned Flemish educational publishers, Van In and Plantyn, decided to join forces and create a learning platform called Knooppunt vzw. Gradually, other large publishers (Averbode, Die Keure, Pelckmans and MJPublishing) have joined the platform. Some publishers still have their own platforms, but in most cases, they can be accessed via single sign-on via Knooppunt. With their Knooppunt account, pupils can now also log in to two successful platforms that have been launched recently: Diddit (Van In) and Scoodle (Plantyn).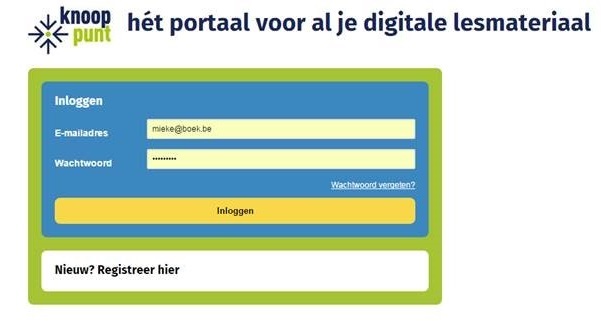 The largest educational publishers are represented in the Knooppunt board. This is a unique non-commercial initiative. It acts as a neutral party, which facilitates the provision of content.
Material tailored to users
Knooppunt is a network that has been designed for publishers, pupils and teachers. Depending on their role and activations, users can access certain content on the platform. Teachers can use it to find e.g. textbooks, board books (educational material that can be projected on digital boards) and sample tests. As for pupils, they can use it to find extra material that belongs with their textbooks. Creating an account is free, but you can only gain access to the additional educational material by using a code that you can find in the textbook.
So, for each learning method that is developed by a publisher, Knooppunt offers access to the additional digital material, which is very diverse. Language courses, for instance, will offer additional video or audio recordings, while math courses will mainly offer exercises. So, the interactive part is completely tailored to the publisher's learning method.
Some methods also come with a pupil tracking system, which allows the teacher to track the progress of every individual pupil and see the results he/she achieved. This way, the teacher can adapt his course if a subject needs revising. Every pupil is different and should be able to exercise at his/her own pace. Therefore, publishers focus more and more on differentiation: they create modules with adaptive exercises that allow pupils to exercise at their own level and pace.
Since not all users are offered the same infrastructure, Knooppunt also provides a lot of educational material via apps. In the meantime, Three Ships has developed 4 desktop apps, 2 web apps and 6 native apps. And no matter if you use an iPad or a tablet, via iOS, Mac OS, Android or Windows, nothing changes in terms of user experience.
Control over progress through the development of an in-house platform
In short, it is a very complex system, with very diverse content. In its early years, Knoopunt used an existing Dutch system, but eventually decided to take matters into its own hands. The Belgian company Foreach, which specialises in designing and building challenging web platforms, developed a completely new web application called Knooppunt 3.0. The new platform rests on several pillars. Foreach indeed developed two Drupal websites, Knooppunt.net and its French-speaking equivalent Digiportail.be, as well as a Java-based backbone.
Throughout the development process of the new platform, a close collaboration was established between project manager Frank Lenaerts (Foreach) and Siegfried Deleyn, the account manager for Knooppunt vzw at Combell. Mieke Van der Heyden, Project Manager for Knooppunt at Boek.be:
"Combell has helped us very much through the migration process. Their staff were available day and night and provided us with valuable input. We are therefore a very satisfied customer. The Foreach team, however, can also be proud of its achievements".
Across: cross-media and open source
Knooppunt 3.0 is based on a Service-Oriented Architecture. All the features and the computer logic of the platform communicate via web services. The great benefit of this architecture is that other applications and platforms can also implement this API. This backbone is based on Java. Moreover, it is based on an open source framework that was developed in-house: Across.
"By default, Across includes various out-of-the-box modules such as versioning, user roles, permissions and file management. The framework has already proven its worth multiple times in other projects, and Knooppunt will certainly not be the last platform to be based on Across"
, declares Frank Lenaerts (Foreach).
Across is an intentionally open source project. This way, other open source developers can also use the technology developed by Foreach to continue to develop and improve it. This is a very laudable approach, completely in line with the true spirit of the worldwide, open web.
The admin section, which is reserved for publishers, offers many great features. Foreach has e.g. developed two options for file management. The author can upload and manage documents (books, multimedia content…) via a user-friendly tool, similar to Explorer, which makes it really easy to use. Large uploads can be imported in batches via FTP: the admin prepares the books in a certain directory, and then selects the target folder. This is really handy: the files can be transferred during the night, and an e-mail is sent when the import is complete.
Stability required
Meanwhile, the platform already offers more than 4,500 different teaching resources. The backend stores a couple of terabytes of data, because board books take up a lot of space, sometimes up to 2 GB each when they include audio and video recordings. About 2 TB of books and content are currently stored on the platform.
Pupils, teachers and publishers constantly work via a secure connection to the network. Of course, there is much activity during daytime, when pupils work in their classrooms, but also in the morning and in the evening, when teachers prepare their lessons. For this reason, the system is updated between 10 pm and 6 am, because the platform cannot afford downtime, and stability is thus a top priority.
Knooppunt has a large environment with Combell. In addition to many SSL certificates, which are essential to secure connections, hosting requires 14 Combell servers.
Budget is taken into account
The environment is large indeed, but efforts have been made to come up with the most budget-friendly solution. Mieke Van der Heyden:
"We are a non-profit association, and therefore have limited financial means. We took due account of every piece of advice that Combell gave us".
When the new platform was launched in the summer of 2015, Knooppunt had an independent company conduct penetration tests. The platform passed the tests successfully, but some advice was given, e.g. regarding certificates, which could be configured in a slightly different manner in order to fine-tune them even more. "Melissa de Witte at Combell immediately took this advice to heart and made sure that appropriate action was taken", confirms Mieke.
Recently, the fact that Combell puts its money where its mouth is has once again be proven when it turned out that extra DNS services had to be activated via CloudFlare. Combell took care of the setup and the configuration.
Mieke also values Combell's proactive approach.
"Siegfried Deleyn, our wonderful account manager at Combell, regularly calls us to ask us if Knooppunt is happy with the services provided, if there is anything they could improve, etc."
What about the future?
In the future, Knooppunt aims to continue to fully focus on the distribution of content of educational publishers and the further integration of platforms/websites of these publishers via the Single Sign-On system.
"Every year in September, we go a step further", says Mieke.
"Knooppunt's greatest benefit lies in the strong network, which allows users to switch from one site to another with great flexibility, without having to remember all the different URLs and login details."
And, of course, it is Combell that guarantees the availability of this strong network!