Discover Combell's new SiteBuilder
At Combell, user-friendliness always comes first. This is why we are now offering a new version of our SiteBuilder, which will make it even easier for you to create your own website. Curious? We are pleased to show you what our tool can do!
SiteBuilder is a website builder that allows anyone to create a website. Anyone, really? Yes, anyone, absolutely! All you need is a computer with an Internet connection, and the rest is pretty much self-explanatory.
In other words, you do not need any technical knowledge at all!
High level of user-friendliness
The new SiteBuilder is extremely easy to use: if you can work with a computer, you can also create a website.
Some of our customers actually put their website online after just one evening of building it: such achievements speak louder than anything we could type here 😉.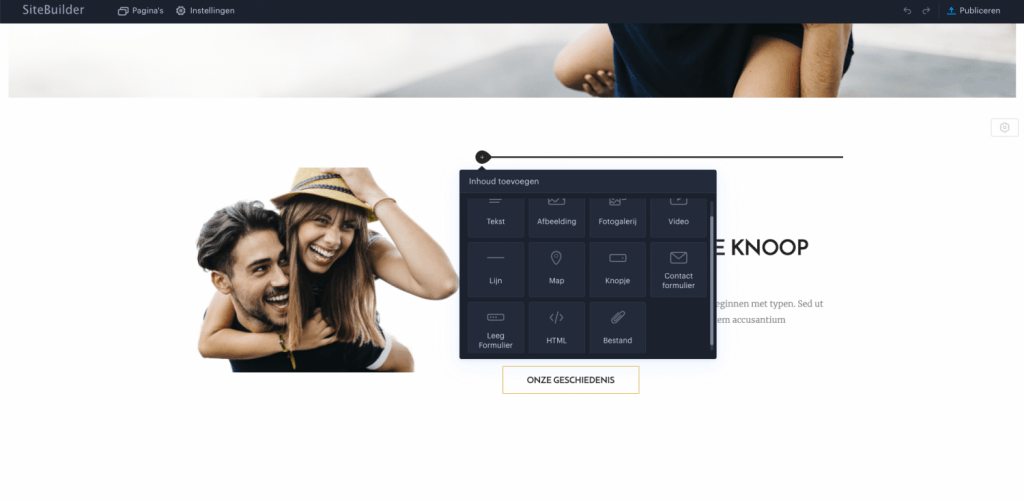 The simple drag-and-drop editor and intuitive control panel ensure that you never have to search or figure out how things work for long: you can just insert the title, photo or button where you want it.
New templates
Whether you have a cosy little café, a woodworking workshop or a camera store, you will always find a website design that suits your needs.
Do you like a particular template, but do not like the colours or fonts it uses? You can change them without any problem! With just a few clicks, you can have your website just the way you like it. It is super easy!
Unlimited number of pages
Do you have ideas for an 'About Us', 'Menu' or 'Portfolio' page? You can add as many pages as you like to your website.
Website builders often set a limit on the number of pages you can add to your website. But with our new SiteBuilder, you do not have to worry about that at all.
As long as you do not exceed the limits of your webspace, you can add as many pages as you like. Just make sure you keep everything well organised 😉.
Unlimited number of products in your web store
Starting with the SiteBuilder standard package, you can use the built-in web store. Whether you want to offer 5 or 500 products, everything is possible. And very easy too!
You can add your products one by one, or you can import them using a .csv file. This will save you a lot of work.
Another useful thing to know is that our SiteBuilder does not charge any commission on the products you sell. And that is a big plus, because some website builders do charge 'transaction fees'. With SiteBuilder, you only pay the costs that are related to your payment method (such as Visa, Bancontact or iDeal).
And of course... all the additional services provided by Combell!
Anyone who is a Combell customer already knows this: with us, you always get that little bit extra. Your own e-mail marketing tool, a free domain name, optimal security or the best support: all of these are included with your SiteBuilder!
Free domain name
When you buy your SiteBuilder, you get your own domain name. Free of charge! Choose a great domain name, and visitors will always be able to find you easily on the Internet.
Protected behind Combell Shield
Having a secure website is becoming increasingly important as cyberattacks hit the headlines every day. And that is exactly why we are so proud of our own Combell Shield. Thanks to this collection of defence systems, your services are always safe from DDoS attacks and hackers.
Free e-mail marketing with Flexmail
Keeping in touch with your visitors is key to your business. And that is why Combell offers you a free Flexmail account. With your free account, you can easily run e-mail marketing campaigns and send up to 5 e-mails per month to 200 contacts. This will allow them to stay up to date with the latest news about your business!
Free mailbox
E-mailing like a pro starts with your own mailbox! You can use it to easily send and receive e-mails via your own e-mail address, which is based on your domain name.
Because let us be honest for a second: info@bakerycooper.be does look much better than bakerycooper@hotmail.com, right?
24/7 support
Are you stuck? No problem, you can reach our support team at any time of the day. Experts are ready to help you get back on track, in your own language!
Your website in a flash? This is possible with SiteBuilder
Are you dying to create your own website? If so, you should definitely try out our SiteBuilder. Because it will allow you to welcome your visitors to your own place on the Internet that you can be proud of.