What does a website cost: all aspects at a glance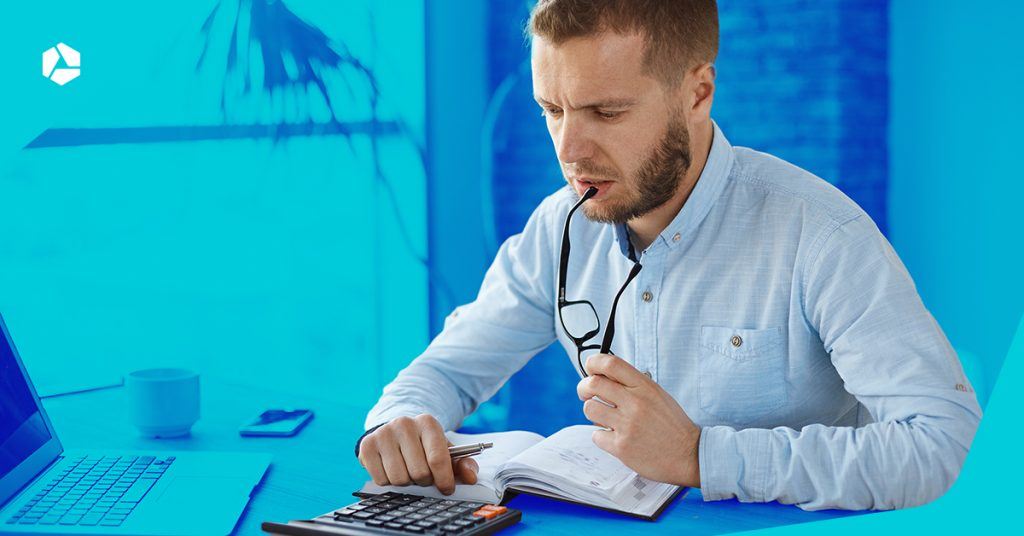 Moving online with your business, that includes having your own website. Whether you want to launch a small, compact or a large, sophisticated website, it's important for everyone to be aware of the cost of a website. That way, you won't run into any budgetary surprises.
Outlining your own website costs
You are familiar with a classic business card, right? You could print that in the most exclusive format, in a font designed especially for you and finished with extremely expensive gold foil to finish the picture completely (or over the top 😉). Well, your own website is actually also a business card, but online.
You can make that online business card as expensive as you want. But if you search for "website building costs" in Google, you will mainly see endless search results that focus on making or having a website built, for example by a web design agency.
But then you immediately skip a few essential steps. Because the cost of your website consists of much more than just your design and web development. Among other things, your domain name, hosting and content determine the total cost of a website.
Amount of web pages up to maintenance and updates
In addition, there are other factors that affect the cost of a professional website. If you have a dynamic website full of modifying elements in mind, your costs will be higher. Because with so much complexity comes a lot more time, knowledge and development.
Simply integrating with a robust database can be enough to skyrocket your bill. 'Heavy websites' also have higher and therefore more expensive hosting and security requirements.
The number of web pages also play an important role when creating a site. Costs go up if you want a site with lots of pages. Not only do those pages make your site heavier, but much more time goes into building and maintaining it.
Think of it like printing a book: one page is much faster and cheaper to print than a 600-page cracker. The same principle applies, by the way, to the customization and expansion options you want.
Tip
A Content Management System (CMS) is one of the best ways to launch a website in a relatively easy and budget-friendly way that has the necessary customizability and expandability. If you choose web hosting with preinstalled CMS systems, we will install and activate the CMS for you. At no extra cost! Convenient, because both hosting and CMS are important costs of a website.
Another thing to keep in mind: linking your website with external services or systems (such as payment gateways and paid plug-ins) usually costs money, too.
You may have a website, but what about the marketing? It is the way to keep customers loyal to your brand. Typically, you have to use different ways of online marketing: launching promotions, updating social media, sending newsletters ... This takes time and money. So these are costs you should not overlook.
Tip
TipPromote your user-friendly website with Flexmail's email marketing tool. Design professional emails and campaigns and send them to the right contacts.
Once your website pops online, you need to take care of maintenance and updates. You can do that yourself, but as a beginning entrepreneur, you may not have time for that at all. Besides, you want to focus on your own business and not on those troublesome jobs. In this respect, a hosting provider can take a lot of work out of your hands. With Combell's managed hosting, you can immediately enjoy all the benefits.
Key costs of making a website
Time to give you an overview of the main costs of creating a website. That way you won't overlook anything. For each topic, we'll tell you how you can still keep the costs down. 😉
Domain name claiming
We bring out the business card again. It always has your address on it. A domain name is the online address of your website, your online business card. So you need to register a domain name to be found on the internet.
You can buy a domain name without a hosting package, but then, of course, you still don't have a website. Smart people buy a complete package right away. Because Combell gives you your domain name the first year for free with your hosting package. That is a way to make considerable savings.
Buying hosting
We'll take a quick look at the different hosting packages. They are essential (monthly) costs of a professional website. Hosting is what gets you online, to your audience. It opens the curtain, so to speak. 😄
Decide in advance what kind of website you want. In fact, packages come in all shapes and sizes. It is important that you choose the package that suits your website. A simple website with a limited number of pages and a low number of visitors can run on a basic package, while advanced sites are better off with a more extensive package.
Building a website (yourself)
The cost of web design and development of your website is without a doubt a huge chunk of your budget. You have two options: outsourcing or building it yourself. Logically, one option is more expensive than the other.
Are you considering having your website built? Sounds definitely not bad! A web design agency or professional web designer would love nothing more than to build your own website. Of course, costs, if you outsource, add up faster. What goes around comes around.
Before entering into a partnership, you need to know what budget you want to spend ( ask for proposals) and what you will get in return. Your CMS, the size of your website, all kinds of plugins ... determine the final cost. This can be quite expensive, professional work is not cheap. But you do get a customized application in return.
Getting started with SiteBuilder
An easier and cheaper option is to create your site yourself with a tool like SiteBuilder. That's a website builder that lets you create a responsive website without experience or knowledge of code. Clever!
If you want to build your website yourself, you can choose a SiteBuilder package with hosting included. Even with your SiteBuilder package, you can choose which size is right for you!
With SiteBuilder, you can immediately choose the right web design from more than 100 templates. This way, you immediately have a graphic design that matches the image you want to create with your website.
By the way, you can choose from a whole library of free images. No hassle with copyright, just drag them onto your website and go!
SiteBuilder also lets you score in search engines such as Google! The built-in Search Engine Optimization (SEO) feature takes care of that. The more you delve into building websites, the more you will come to realize how important SEO is. Sometimes such optimizations are even a significant part of your marketing budget. Later, we'll take more about the importance of SEO. 😁
Getting started with CMS like WordPress
Do you like having extra building materials to build your website? Then choose a good CMS system. A CMS is a system behind a website, in which you are the one in the control panel pulling the strings. You don't even need to understand (almost) any HTML code to use it. The CMS provides a kind of word processor, in which you format your page.
WordPress is by far the most popular Content Management System. Almost 40% of all websites run on WordPress. That is why Combell offers hosting packages with WordPress preinstalled.
Using WordPress brings you many advantages. Not only is it simple (free) Open Source Software, you can choose from tens of thousands of themes and plugins. Many of those plugins, by the way, are free to install. All those tools make sure your website is up and running quickly.
The way things work for a website started through WordPress.com is almost identical. But you can be sure that there are no unsolicited advertisements on your site. This makes your website appear more trustworthy. In addition, the options for customizing your website are much greater.
Even more CMSs
For the record, there are three other major CMS systems: Joomla!, Drupal and Magento. Each of these have a few advantages and disadvantages in their own right. Personally, we recommend WordPress as the most suitable CMS, but if you have any doubts, here is a list of all the different CMSs. Whatever you choose, Combell supports all CMSs.
Putting content online
A blank website, well that's no good. So you have to provide content. Content creation is also part of the possible costs of a website. Even if you decide to not publish everything yourself.
Depending on the design of your pages, you can decide what kind of texts you need. When it comes to merely informative texts, you can most likely do that yourself, since you are familiar with your products and services like no one else.
But when it comes to prompting your visitors to take action (call to actions), such as placing an order or leaving their e-mail address, you need persuasive text. Action-oriented texts can also increase the conversion rate of your website.
In that case, you may want to consider hiring a professional copywriter, as they have the language skills like no other to find the right words and bring your visitors into your story. Right? 😉
Building SEO Optimization
The cost of Search Engine Optimization can be quite easy. Because if your website is built with a good platform such as SiteBuilder and WordPress, then you already enjoy a lot of integrated SEO options right away.
But if you want to go a step further, or if you have chosen a not-so-quality CMS system, you will have to switch to paying SEO software.
"SEO? Dude, that's work for later, I'm busy enough as it is!" Wrong! You need to build out your website's Search Engine Optimization from the beginning. If you don't, SEO can literally cost you a lot of money. Ah indeed, if your site does not show up in the first search results of Google, you are losing a lot of income.
Possible webshop opportunities
That income is even more important if you eventually want to switch to a webshop. For example, such an online store could be a separate part of your website. With a webshop, you may be able to sell products to visitors who landed on your website.
So think about that carefully: do you want a webshop in the long run or not? If you already know for sure that you want to start with e-commerce, you can anticipate on that when choosing a CMS system or website builder. The webshop module is already included from the SiteBuilder Standard package.
This allows you to create your own website first and upgrade to a webshop later. So you don't have to purchase another package. Also with WordPress, thanks to the WooCommerce plugin, you have the possibility to start a webshop.
There are many ways to create a website
With Combell, you can create your own website in no time at all. Whether it is a single web page or a multinational website: Combell offers you the possibilities to create the website you want yourself. Because websites, that is our specialty, since 1999.
You can also count on us for the other costs of a website, let us call it investments. Hosting, maintenance, marketing ... We make it as easy as possible for you!
Frequently asked questions about website costs