Combell won a Twinkle Award again!

The Twinkle.be Awards ceremony was held for the second consecutive year. Not only did Combell receive an Award in the Hosting & Domain category, but several Combell customers also won an award or were awarded an honourable mention. Well done!
Twinkle Awards: for online shops and online shop suppliers

The Dutch e-commerce platform Twinkle.nl has been organising the Twinkle Awards ceremony for many years. This year, Twinkle.be, which is intended for Belgian online merchants, organised its own Twinkle Awards for the second time.
The purpose of the Twinkle Awards ceremony is twofold. On the one hand, it is aimed at online shops, and on the other hand it celebrates achievements of online shop suppliers. Twinkle strongly believes that the expertise and services provided by the latter play an important role in the potential success of an online store, and has therefore decided to give separate attention to them. We can only welcome this approach, as we share the same opinion and are happy to participate in this contest as an online store supplier.
Each competitor is assessed on various criteria, including:
their performance over the past year
their current relevance in the market
available market figures and other news
A grand ceremony
The Twinkle Awards ceremony was held on 7 December 2017 during a unique casino evening. During this festive evening, the prizes for online shops and suppliers have been awarded in the various categories, over a sumptuous meal. With Ilse De Vis as hostess and the Paterspand in Turnhout as venue, this had to be a wonderful evening.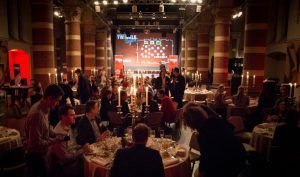 The tension was palpable, and not just at the roulette tables, as we were really anxious to find out if we would return home with this fantastic prize for the second time.
Awards for Combell...
A little while later, the time had come to take the pressure off! This year, our name once again came first in the Hosting & Domain category. Winners have been selected through a public vote, the opinion of the Twinkle editorial board and the input of an independent advisory board. So, thank you for your votes and congratulations to the whole team at Combell!
… and its customers!
In the online shops category, Coolblue won an award in the Omnichannel category, Viata in the Pure Player category, and Luxury for men in the Starter category. This new edition made us very proud again, as several award-winners and nominees were also Combell customers, including award-winner Intracto. But Schoenen Torfs (runner-up in the Omnichannel category), Sirius Legal (runner-up in the Support category) and many other nominees were also on the list. Click here for a complete list of winners. Kudos to everyone!