What is SEO and why is it so important?
Just having a website does not automatically mean that you are visible on the web – people should also be able to find it. And SEO is a crucial tool in this respect. We are going to tell you why SEO is indispensable…
SEO: optimising your website to rank higher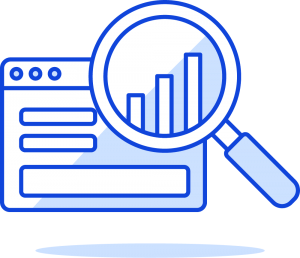 Unless you have massive marketing budgets to increase your brand awareness, or are so famous that people already know your website – and even then – the majority of your visitors will find your website via Google or other search engines.
Moreover, you are (almost) never alone with your product or service, as there will always be competitors. It is therefore important to give your website as much visibility as possible on the web, so that potential customers can find you quickly. And one of the most effective techniques you can use is SEO (Search Engine Optimisation), because it allows your site to naturally ("organically") rank higher in the search results returned by search engines.
SEO will help you optimise your website in such a way that Google can find it organically and rank it high in its search results. Because you can also achieve that result by "buying" your position, using another technique known as SEA (Search Engine Advertising). But... those advertisements cost a lot of money. And although the difference with organic search results is concealed as much as possible, experienced Internet users are aware that these are advertisements, and that might make them suspicious of these results.
SEO: more than just the highest position in search results
When you hear the word "SEO", you probably instantly think of achieving the highest position in the text results. That is the list where, for each website, you can see a title, a short piece of text from that website (meta description), followed by the link to the site in question.
However, the search results provided by Google contain many more elements – and for each of these elements, you can optimise your website. If we take a look at typical search results, you will see the elements below. Their location may vary: sometimes, they appear above or below the text results, other times in a sidebar, and occasionally under a separate tab at the top.
Paid results for Google Shopping (marked with "Ads").
Paid text results (also marked with "Ad")
A map showing the shops that sell the product you are looking for. That is because Google knows where you are, even when searching via a desktop computer (via the IP address of your connection). You will also be able to see the opening hours of these shops.
The organic ranking: A selection of what Google, based on its own algorithm, considers the best websites for this keyword.
Some searches (especially if you use English terms) immediately include images. For other terms, you will find images via the Images tab. The same applies to videos, which can be found via the Videos tab.
Well, for each of these results (images, shopping, etc.), you can optimise your website. It will take some effort, but it is most definitely worth it!
Why SEO is important for your website
- The main source of traffic to your website
Why make that effort? Because search engines are the main source of traffic to your website. Statistics from Alexa, a web service that ranks the popularity of websites, show that people visit a website for four reasons:
Search (via search engines)
Direct (they type in the domain name themselves)
Referral (they are redirected to your website via another website)
Social (via social media)
For many sectors, search is the most important factor.
- Higher click-through rate
Being listed "somewhere" in the search results of the search engine is not enough: you really need to rank as high as possible. Being listed on the first page of results is a must, and it is even better if you can make it to the top 3 search results.
This too is proven by figures, namely the click-through rate, both on desktop computers and mobile devices. If your website achieves 1st position in organic results, you will have a rate of 30-35 for desktop computers, and a slightly lower rate for mobiles. If you are 2nd, this rate will immediately drop to 15%, and if you are 20th, it will even drop below 5%.
- Cheaper than SEA
When you use the right SEO techniques on your website, and reach the top of search results for your keywords, you should not rest on your laurels. Keeping a constant eye on your website analytics is a must – and fortunately, there are plenty of tools to do this, such as Google Analytics.
This is quite labour intensive, but also a lot cheaper than opting for SEA (Search Engine Advertising). Depending on your keyword and your sector, your advertisements will often cost you thousands of euros each month.
On the other hand, the costs of SEO are much lower. You may need to hire a copywriter to make your texts more attractive, or a web designer to use certain techniques. But once you have good organic results, and you maintain them, you will actually not have a lot to pay – at least in comparison with SEA.
Just do the math: suppose that, every month, 100,000 people search for the keyword you want to rank for. If you want to be at the top of the search results, you will have to outbid your competitors, which can quickly cost €1 per click-through (that is, every time someone clicks on your ad). So with a click-through rate of 25%, you are looking at €25,000!
Good SEO requires a good understanding of how search engines work
In order for your website to be in Google's favour using SEO techniques as organically as possible, you must know what Google values in a website. The principle here is "relevance is key". In other words, your website should always provide answers to the questions of Internet users and offer added value.
Google's strength is that it has an algorithm that can tell, from more than 200 indicators, which sites offer those answers. And these are the indicators you can work on to get your website to rank higher.
Remember: most indicators are known, but their weight in the algorithm is not. In addition, the algorithm is regularly updated – for various reasons. First of all, to respond to changing circumstances, such as the emergence of searches performed on mobile screens. This is why the responsive nature of your website (i.e. its ability to adapt to different screen sizes – for desktops, tablets and mobile devices) plays an important role.
Another reason is that SEO experts often find ways to outsmart the algorithm. And when Google discovers this, it adapts its algorithm so that new search results can make the most relevant website stand out as organically as possible.
A website with added value ranks higher: a few rules of thumb
There are a few general guidelines that will help you achieve a good organic ranking:
With Combell hosting, you automatically comply with these guidelines!