Unitt wins 2nd edition of the Bloovi Battle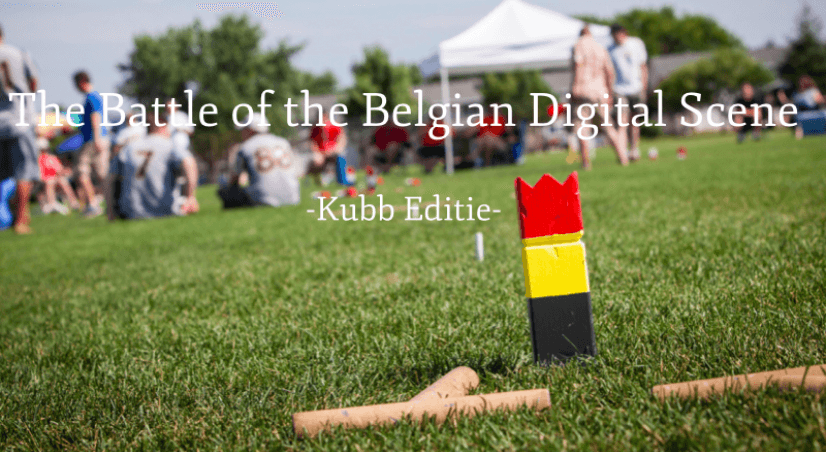 Those who work for a digital company attach great importance to strategy, challenges and having fun. It is therefore no wonder that the Kubb edition of the Bloovi Battle attracted so many participants!
After a first battle in January, the teams of the Belgian digital scene met on Thursday August 20th for the second time. In January, bowling balls and pins were used as battle weapons, but for the summer edition, organisers went for Kubb. This game is best played outdoors – like in the magnificent surroundings of the Blaarmeersen park in Ghent. On that day, 280 people got together on the playing field, right next to the water, in order to show their Kubb skills – and of course, support their teams!
Kubb: old and yet new
Kubb has gained popularity in recent years. And you may find it weird to see all these people, who are day in, day out busy with ones and zeros, and who seem to be married to their smartphones, smartwatches and other digital communication channels, so focused playing with wooden blocks and batons. The game, which originates from Gotland (Sweden) is some sort of a combination of bowling, boules and chess. However, Kubb is so much more than just having to knock over rectangular blocks by throwing cylindrical wooden batons, in order to finally knock over the King. There is quite a bit of strategy involved, and that is precisely what makes it so thrilling! This video explains the rules of the game.
Combell branded kubb set
After a warm welcome by Bloovi's enthusiastic team of organisers, competitors got to know each other over a nice glass of Vedett. 34 teams fought hard through the two qualifying rounds, loudly supported by their 'fans'. After that, a delicious barbecue perked everyone up, and organisers then announced the names of the 8 teams that reached quarter finals. Regardless of the final results, all 8 teams already knew they would return home with a Combell branded kubb set – so that they could continue to perfect their skills in analogue games!
Candle lights and... smartphone flashlights
In the end, our sister company Unitt reached the finals, against Bubble Post. And what a game! Both teams were equally likely to win, fought bravely for domination – and were well supported! The Kubb's King was knocked over after a long battle – lit by the many attendees' smartphone flashlight apps, since darkness had conquered the playing field.
A trophy to be proud of in the Skaldenstraat
The victory was of course celebrated during the after party: a fine party was thrown, where people danced on the beats of the Red Bull party truck. The Unitt team proudly came home with the trophy, which now adorns the Combell / Unitt offices in the Skaldenstraat, in Ghent.
We are looking forward to finding out how the next Battle (28 January 2016) will be fought! In the meantime, you can enjoy the video below, which captured the very pleasant atmosphere of that special day.