Our tips for beautiful but affordable web design
You can only make a good first impression once. That applies to everything you do, but especially to your website. But... you also do not want to pay through the nose for your web design. So how do you reconcile these two requirements and make an unforgettable first impression without breaking the bank? We will help you make the right choices for professional but affordable web design.
Do you want to create your web design yourself or outsource it?
No doubt you have already thought about having your own website. Or perhaps you are considering taking your existing website to the next level. But you are still hesitating because you are put off by the cost.
But how much exactly does it cost to get your own website? Well, we have good news for you: an attractive website is actually not that expensive. Both building the website and hosting it are very reasonably priced.
In this article, we will focus on the cost of web design, as well as on the look and feel of your website.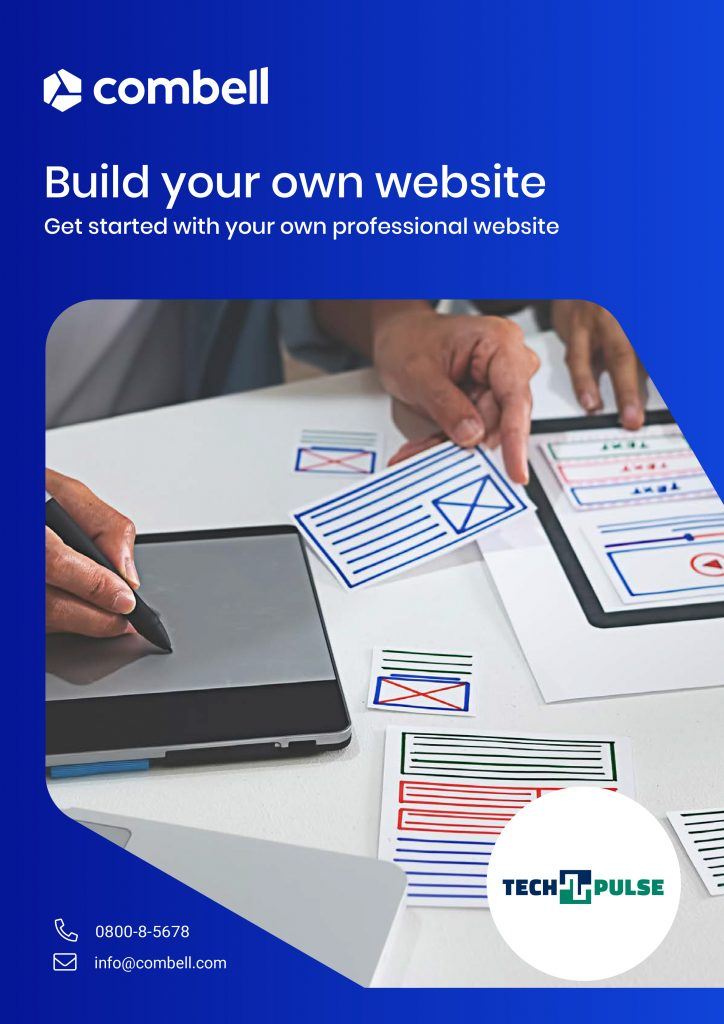 Download our beginners guide
In our free e-book "Build your own website: Get started with your own professional website", we cover everything you need to know before you build your own website, from start to finish, including the costs you can expect to pay.
Building your own website with a website builder or a CMS
What you do yourself, you usually do better. But mostly cheaper 😉. And the same holds true for creating a website. The simplest (and least expensive) solution is to build your website yourself. And to do so, you do not have to be a computer geek and code everything from scratch. After all, there are many tools available to you these days: website builders and content management systems (CMS) like WordPress.
Website builder: ready-made web design
A website builder has all the basic building blocks you need for a fully functional and professional website. It provides you with pre-made web designs that come in the form of beautiful templates. And some have even been created specifically for your sector or product – it does not get any easier than this!
With only a few clicks, you can fully customise these templates. Just replace the default photos with your own, add your own texts and your website will be ready in no time at all.
With a website builder, any person who is a bit crafty can whip up a professional-looking website in the twinkling of an eye.
For a not too complex website, this is definitely the best option, as you have a predictable all-in price. So there will be no nasty surprises afterwards. Even the hosting (i.e. the infrastructure your website will be running on) is included in the price.
Tip: Choose SiteBuilder from Combell
The main advantage of Combell SiteBuilder is that you immediately know how much you will have to pay. Because you choose a package that includes website hosting, the use of templates and photos. And you get all that for a fixed, monthly fee.
CMS: starting from a professional theme
A Content Management System works similarly to a website builder. One of the most widely known CMSs is WordPress, but Drupal, Magento and Joomla are also commonly used.
All you have to do is pick one of the tens of thousands of themes available, then add features such as a contact form, social media buttons, and your website is ready: you can now add your texts.
The big difference is that WordPress is even more flexible than a classic website builder: you can choose from thousands of themes, which are all responsive (i.e. adapted to all screens), as well as countless plug-ins (both free and paid) for all sorts of features.
Because of its many features, the learning curve is a bit steeper though, so it takes just a bit longer to get to grips with WordPress.
Outsourcing your project after all
Cutting costs is one thing, but spending time on your web design also comes at a price. So you will always have to weigh up how much your time is worth and whether it would not be preferable to hire someone to help after all.
If you start working on your website single-handedly, it will take you quite some time before you achieve a professional-looking web design. So, the question is, would you rather spend your precious time on developing your company than on designing your website? Or would you like to have a fully-fledged website, but are afraid that creating it is beyond your capabilities?
In such cases, you can decide to outsource the building of your website. And do not worry: it will not necessarily cost you a fortune. In this article, we will give you some tips to help you choose an affordable web design agency.
Having your website designed by a web design agency
Are you really not comfortable dealing with web design yourself? If so, you can decide to have your website created by a freelancer or a web design agency. They will help you with professional but affordable web design – provided you make the necessary arrangements in advance. And do some preparatory work yourself.
Choosing the right web design agency
Who will you hire to create your professional website? There are a lot of web design agencies out there offering affordable websites. Choosing the right (and affordable) web designer who can work out a budget-friendly web solution for your business is not easy. Below are some factors worth considering when making your choice:
1. Find the right match
Everything starts with finding the right persons/agency for the job. The more they are a good match for you, the easier and faster you will get to the desired result. And this will also be reflected in the final invoice.
Check out the portfolio of several web design agencies in advance. Visit the websites they have created so far. Do they all look the same or are there some original creations? Are they made for a particular business sector?
If the agency specialises in accountants, for example, and you run a catering business, you need completely different features. That makes the design work more complex and can drive up the price.
2. Think things through before getting started
Web design prices can vary enormously. But keep this in mind: what your website needs to do will determine how much it costs to have it built.
First of all, focus on the purpose of your website, the reason why you want to take your business online. Having a wonderfully beautiful website is great, but that alone will not make your visitors want to return to your website and convert them into customers.
So it is important that you know what you want, and what your website needs to do. Some offline preparation is thus in order. Remember: the more preparation you do, the smoother the collaboration with the web design agency will be, and the more say you will have in the process.
What kind of business do you have? Who are your customers? What are your services and your marketing plans? A professional web design agency will rely on that information to make your website a very efficient tool. Without that information, your website will not really stand out and may even be a big waste of money.
Do you already have a corporate identity? The style of your new website will have to be representative of your company online, which is why you should start from your own logo and colours. Collect previous visual applications and show them to your web design partner so he or she can use them as a basis to develop new ideas.
What do you think is a beautiful website? Find examples of other websites that have a particular feature you would like to have on your website as well, or other websites that you find visually appealing. Just like when you create a mood board when decorating your home, you can also create a mood board to communicate your web design requirements.
When you show this to the web designer, he or she will be able to tell you how much everything is going to cost, and what is feasible or not.
A list of must-haves and nice-to-haves will help the web designer understand what your priorities are. This will make it easier for you to keep costs under control.
It is also best to have all your content written in advance. Nothing is more likely to kill your budget than constantly having to update your content. Of course, you can also have your copywriting done by your web agency or someone else, but then you will most probably incur additional costs. Even if you decide to go down that route, briefing your copywriter effectively is key to limit (re)writing.
Free stock photos are simply not done, as they will make your business look stingy and unprofessional. Nice stock photos cost money. But why not hire a professional photographer (or a photography student)? You will soon find that photos taken by them are quite affordable. And they will also be cheaper than if your web designer has to go buy them.
Your tagline (a short sentence that captures what your company stands for, like "The shop from here")
The customer journey, i.e. the route your visitor has to take on your website to achieve your end goal
The call-to-action buttons that are meant to guide your visitor along that route and prompt them to take the next step.
Getting this straight takes a lot of work. But it is important that you take the lead in this process. If you want an affordable web design that will not only give you a visually appealing website but will also be functional, helping you to boost your sales, you have to know what you want.
3. Good agreements make good friends
In an exploratory meeting, ask how the web designer will go about building your website. It should not be a one-way street, but a collaboration. The web designer should listen to your ideas, but obviously has ideas of his own.
It goes without saying that a Rolls-Royce costs more than a small city car. And the same applies to websites. Complex websites will simply cost more money. So be realistic in your expectations. Certain requirements are often not essential to achieve your goal. The right web design partner will also make sure that your expectations are in line with your budget.
Carefully agree on the expected end result, preferably writing it down in an e-mail or in a document so there can be no misunderstandings afterwards.
4. The web design process
Most professional web design agencies use a project management tool. This allows you to keep an eye on things and follow the whole process.
If this is not the case, try to follow the process as closely as possible. This will prevent you from being presented with a fait accompli and ending up with an expensive website that does not meet your expectations.
The better the preparations, the better you can keep a tight grip on costs. At least this way, you avoid scope creep: as you constantly change your mind and keep asking for new things, the scope of a project grows – and so do your costs!
5. The bells and whistles
A simple website will require less specific expertise. But larger companies often need a complex website that includes Customer Relationship Management (CRM) integration, for example. Search engine optimisation (SEO) and conversion rate optimisation are also on their wish list.
In this case, experience in these areas is thus required and it is best to ask for references and the experience the web design agency has. Just remember that this expertise has a price!
However, your online presence does not end with the creation of a website. There are a lot of additional things your website partner can help you with, such as getting your online marketing started or creating derived features for your social media channels. Make sure to agree beforehand on the extent to which your agreement already includes all of these things or on what the hourly rate will be if you want to expand the partnership at a later stage.
Essential things you should consider when requesting web design quotes
But how much exactly does a web design project cost? That actually depends on several factors such as the complexity of the project, the number of pages you want and the specific features you request. If you request a free quote, make sure you pay attention to the following catches:
1. Price
Does the web design agency charge a fixed all-in price for the entire project, or does it provide an estimate and then charge by the hour? Only agreeing on an hourly rate and leaving the rest to chance could lead to nasty surprises!
2. What is included in the price?
Does the web design agency also provide copywriting services? In other words, do they adapt your content for the purpose of search engine optimisation and conversion rate optimisation?
Will you provide the photos and images, or will the agency provide them? And in the latter case, what about the copyright on those images? Are those costs also covered in the quote?
You obviously want a secure website, which can be recognised by the https:// in the web address. Is the SSL certificate required for this also included in the price?
3. And what about after completion?
Will the website be delivered to you ready-made? And can you do what you want with it afterwards? Can you have other web designers make adjustments later, move it to another hosting provider, etc.? Are there arrangements for possible updates at a later stage?
4. Intellectual property rights
Will you become the owner of the source files or not? Or are you bound by contract to the agency, which will also take care of maintenance for you in subsequent years? And how much will it cost to have adjustments made afterwards?
Make sure you also make proper arrangements for any data that may be collected in a database: it should remain your property.
5. Web hosting
Are you free to choose your web hosting partner, or are you compelled to engage with the hosting company chosen by the web designer? The importance of good hosting cannot be stressed enough. Not even the best-looking website will be successful if it does not load quickly or regularly goes down...
Tip
If you choose Combell for your hosting needs, you will be able to rest easy. The Combell Shield makes sure your website is secure – a must for any professional website and e-commerce!
Do you want affordable web design, but do not know which web design agency to choose? Contact us: we can recommend a trusted partner that builds its projects on our high-performance hosting. That way, you can be sure that your website will be a reliable one too!