Gent Jazz and Combell: a perfect harmony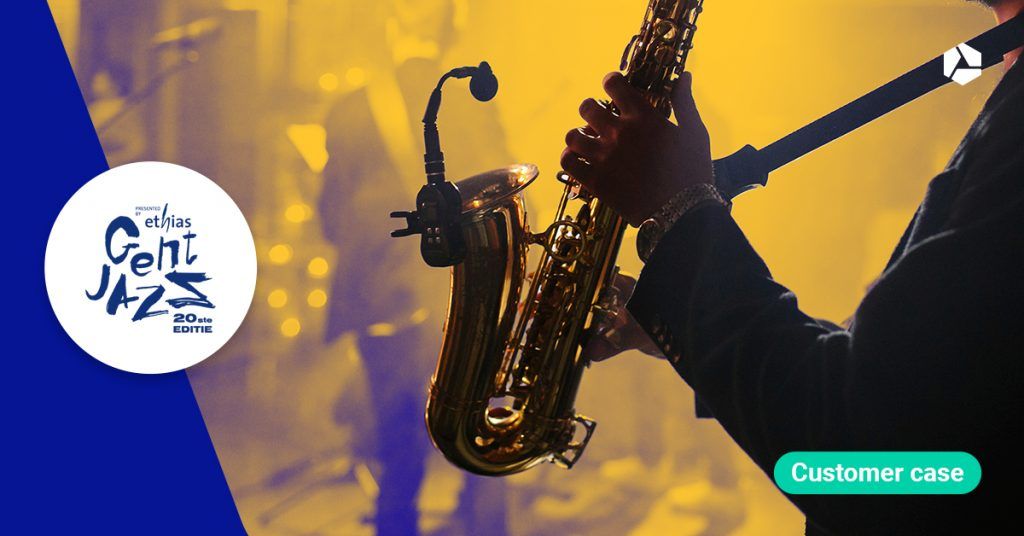 Are you still wondering whether you should use our Dedicated web hosting? Then perhaps our satisfied customers will convince you!

Name: Frederik Declercq, marketing manager at Jazz & Muziek
Uses: Dedicated web hosting for jazz.be, gentjazz.be and jazzmiddelheim.be
Is satisfied because: Combell helps him overcome every challenge.
This year, Gent Jazz will be celebrating its 20th anniversary and Jazz Middelheim its 40th. We will not be helping the people who organise those events blow out their candles – you know, with the coronavirus and stuff – but we are going to ask marketing manager Frederik a few questions about his fruitful collaboration with Combell.
Hi Frederik, Gent Jazz is approaching again, but you have not been idle last year either, have you?
"Absolutely! To get past the coronavirus crisis and stay relevant, we decided to set up live streams via jazz.be, which is how 'Spot On Jazz' came into being. Those were particularly fun concerts held in special places such as castles and in the open air."
"We also experimented even more with live streams: you could even participate in yoga classes with us! Since we find interaction with our audience really important, we encouraged people to engage in yoga from the comfort of their living room, with the help of a yoga instructor and the dreamy live soundtrack played by Compro Oro."
Live streaming also means that the traffic on your website can increase dramatically at certain times…
"You are absolutely right! And that is why we are happy that we can count on Combell's Dedicated web hosting, which offers us much more capacity. When we expect peaks, like when people start streaming music or when tickets sales go live, we just have to let Simon, our contact at Combell, know about it. At such times, his team keeps an extra eye on things and, if necessary, we can decide to increase capacity."
"When we expect peaks on our website, Combell keeps an extra eye on things."
Frederik Declercq, marketing manager at Jazz & Muziek
"Before we started using our Dedicated web hosting solution, we would switch from regular web hosting to cloud hosting and back again during traffic peaks. But our workflow is much smoother now that we use Dedicated web hosting: it is a lot easier than having to constantly switch to and from the cloud."
How important are your websites for Gent Jazz and Jazz Middelheim?
"Our websites are becoming increasingly important, as our online ticket shop is an absolute necessity. The days when you had to go to a brick-and-mortar store to buy your festival tickets are long gone, because we now sell our tickets exclusively online. And despite the fact that our audience is somewhat older than the average festival-goer – the oldest guest at Gent Jazz 2019 was 93 years young – everyone manages to navigate their way around our website without any problems."
How do you experience this collaboration with Combell?
"We are positively surprised by the service provided by Combell. In any case, it is important to maintain a good relationship with our hosting provider, so that our website can be accessed without any problems. The reputational damage caused by a crashed website is a serious issue. And we know that Combell is the right and safest partner to avoid this."
"We know that Combell is the right and safest partner for a smoothly functioning website."
Frederik Declercq, marketing manager at Jazz & Muziek
"To give just one example, last year, we launched a last-minute streaming festival. At the time, I was not yet aware that we needed extra capacity for this. But when I contacted Simon at Combell, just to be sure, they told me that we should increase our capacity – not only for that one event, but also for all subsequent streams. Combell then quickly did what it had to do and everything turned out fine. I was really impressed!"
What do you consider the greatest benefit of collaborating with Combell?
"I really appreciate the expertise and the way Combell helps us think things through, but I also find the information available on the Combell website very useful. For example, when I want to create a test version of a website, I can find very detailed articles in your Knowledge Base that explain how to go about this step by step."
"I am not a hosting expert, but I can easily manage to maintain our website. And this is thanks to the clear explanations provided by Combell itself."
We are, of course, very happy that you have chosen us as your hosting provider, but what exactly made you decide to call on our services?
"Working with the local community is one of our key pillars. Whether it is for our catering at Gent Jazz or for our hosting, everything is as local as possible. So, the fact that Combell has a rock-solid reputation as an international player with its roots deeply anchored in Ghent is of course a big plus!"