Erfgoeddag goes back to school, together with Combell!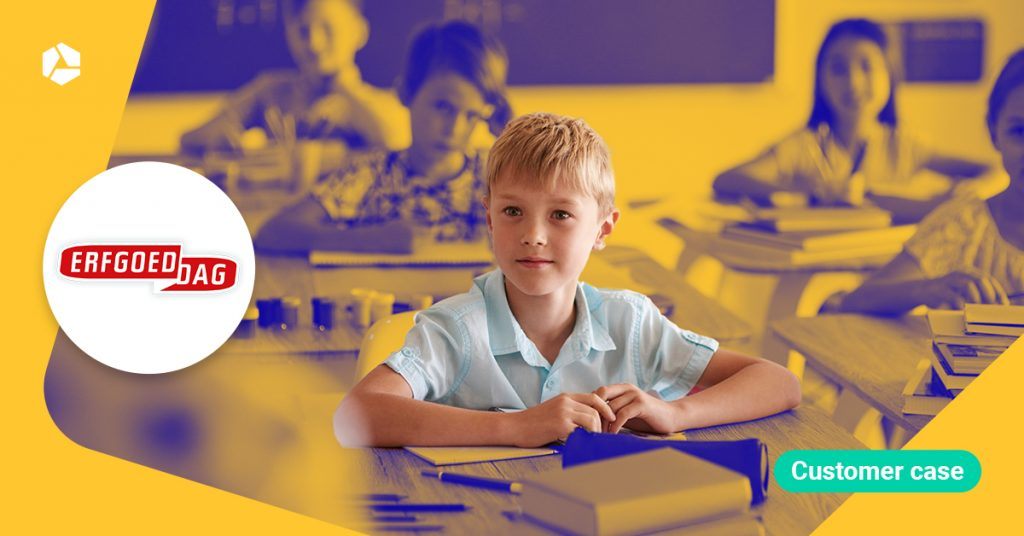 Needless to say, Flanders and Brussels have an immense cultural heritage – some would even make a canon out of it 😉. And every year, this heritage is deservedly put in the spotlight on Erfgoeddag (Flanders' Heritage Day). This year's theme is 'Erfgoeddag maakt School', which translates as 'Heritage Day goes back to school'. And all this is done in collaboration with Combell!
We had a chat with Michelle Van Meerhaeghe, the driving force behind Erfgoeddag at organiser FARO.
Passport
Name: Michelle Van Meerhaeghe, communications manager at Erfgoeddag
Uses: Scalable cloud hosting for erfgoeddag.be
Is satisfied because: By collaborating with Combell, we can be confident that the website will work smoothly and can handle a larger number of visitors.
Hi Michelle, you are the communications manager at FARO. What exactly do you do, besides organising Erfgoeddag?
FARO is the Flemish support centre for cultural heritage. We inspire heritage organisations to set up an exciting activity on Erfgoeddag, while also providing technical and practical support.
We are also rolling out the national communication campaign for Erfgoeddag. The full programme will be posted on our website, where you can also register.
Why is Erfgoeddag necessary?
Flanders and Brussels have an enormous amount of movable and immaterial cultural heritage. We want to bring this wealth, diversity and potential to the attention of as many people as possible. And that happens every first Sunday after the Easter holidays, on Erfgoeddag!
The title of this year's Erfgoeddag is 'Erfgoeddag maakt school'. We presume that has something to do with the theme?
Absolutely. This year, with Erfgoeddag, we are diving into the rich school life and history. With a kick-off on 24 April, on Erfgoeddag, and afterwards, for the very first time, with a full Erfgoeddag week! With that, we will focus on our schools in primary and secondary education.
(read more below the video)
If you want to take a look at the full programme of Erfgoeddag, you can visit our website, erfgoeddag.be, which has been hosted by Combell for many years now!
Scalable without any worries
Your website is indeed using our cloud hosting! What exactly do you use it for?
Throughout the year, FARO's website is mainly used for B2B communication with those setting up an activity on Erfgoeddag. But in March and April, in the run-up to Erfgoeddag, we launch a separate campaign website that attracts a much larger audience. That is why we are happy to collaborate with Combell for hosting the public website Erfgoeddag.be. This makes it very easy for us to scale up our website.
How did you come in contact with Combell?
That is a story that took place 15 years ago. Back then, Combell was already a renowned company in the IT world. We wanted to outsource all our hosting and domain name management to professionals and, in doing so, we thought it was important to choose a Belgian partner. Since then, our collaboration has always gone very smoothly!
During the Erfgoeddag weekend, we have better things to do. So, we are relieved that our website is in good hands with Combell.

Michelle Van Meerhaeghe, organiser of Erfgoeddag
Glad to hear that! How do you feel about your collaboration with Combell?
During the Erfgoeddag weekend, it is important for us to be able to rely on Combell's professional IT support, because we have many other things to worry about then. In this context, we can always rely on you to be there when we need you. Because an event website that goes offline the day before the event is every event coordinator's worst nightmare.
By collaborating with Combell, we can be confident that the website will work smoothly and can handle a larger number of visitors.
I am constantly amazed by the smooth and accessible collaboration. Combell can answer any question quickly, and perfectly meets our needs.
Do you have any exciting plans for the future of Erfgoeddag?
After twenty editions, we took some time to take stock. The evaluation we held showed that there is a great deal of enthusiasm for the future. Not only for us, but also for the participating organisations.
One way to make Erfgoeddag futureproof would be to focus more on the target group of young people and children. But that is something we will be considering in the future. A future in which we will always need Combell's tools. Because that is a collaboration that is here to stay!
Are you looking for a hosting solution like the one used by Erfgoeddag? If so, we will be more than happy to help you out! And if not... We wish you a great Erfgoeddag 😉!