Combell ensures uninterrupted online presence for Mijnenergie.be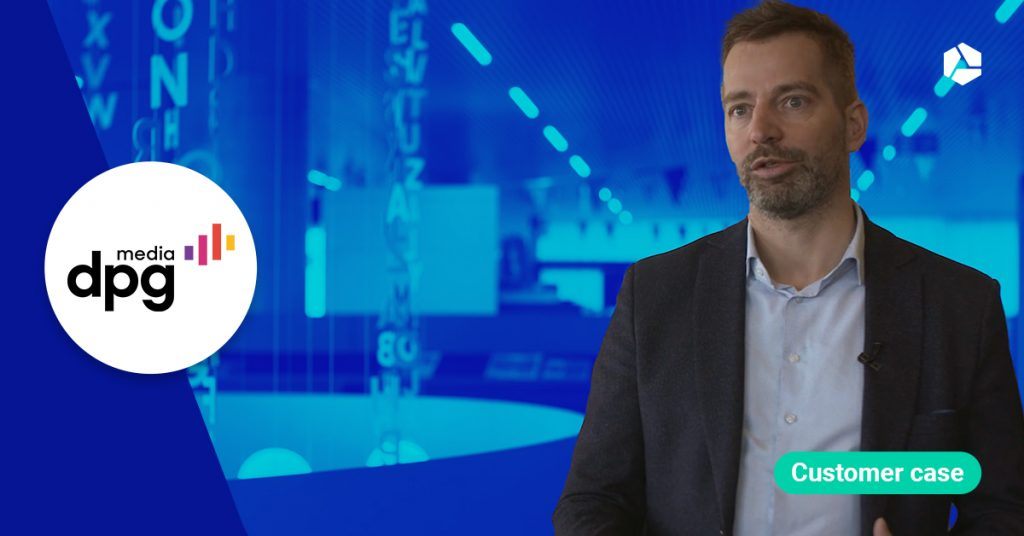 DPG Media informs and entertains you every day with all kinds of newspapers, radio broadcasts, TV shows, online brands and so much more. You can even have a blind wedding there! But did you know that this vibrant media company behind Flemish television station VTM and newspaper Het Laatste Nieuws (among other media) also allows you to save money thanks to very helpful comparison websites such as Mijnenergie.be?
To make sure the platform does not go down at peak times, DPG Media relies on Combell's reliable hosting services. And it has been doing so for many years now! "We see Combell as a key partner that takes care of everything for us. This allows us to focus on what we do best," says Kristof De Paepe (Mijnenergie.be).
With gas and electricity prices skyrocketing, using this price comparison website run by DPG Media is one of the best ways to reduce your monthly bills. Needless to say, the Mijnenergie.be website is a hot topic on the Internet.
Kristof was first visited by Dimitri Steyaert, our Solutions Architect. However, we have absolutely no idea whether Dimitri returned home with a new energy contract, because the two gentlemen mainly talked about how Combell can boost DPG Media's comparison websites.
Find out more about DPG Media's experience working with Combell in the report broadcast by Kanaal Z below! (Article continues below video)
Kristof, please enlighten us: how exactly can I save money using Mijnenergie.be?
Kristof: "You just have to enter your current energy usage and postcode, and you will immediately get a list of deals ranked by price, from the cheapest option to the most expensive. This is how you can find the most interesting products for your gas and electricity needs. Whether prices are higher than normal or not, it is always a good idea to compare prices. Because you can always save hundreds of euros by switching to a cheaper energy deal."
Is it true that you also offer tools that allow people to compare prices of other types of services?
Kristof: "Yes, we even have an online guide on Spaargids.be that allows you to compare financial products. Mijntelco.be is for all Internet, TV and mobile phone subscriptions. And then there is also Independer, where you compare all kinds of insurance policies."
As a Combell customer, you do not have to worry about keeping your platform online.

Kristof De Paepe, Manager at Mijnenergie.be
What will you guys at DPG Media do to make Mijnenergie.be even more powerful?
Kristof: "Our development team is currently working on new developments. Because the personalisation of Mijnenergie.be is a very important project for us. Our aim is to allow you to access and read your digital energy meter via the website. This will provide you with personalised comparisons as well as tips on how to save money on a daily basis."
Always online, always worry-free
For the hosting and management of Mijnenergie.be, you rely on Combell. What is the nature of this collaboration?
Kristof: "We see Combell as a key partner that takes care of everything for us. Since Combell is in charge of the platform used for the comparison website, our own team can continue to focus on informing customers and helping them compare prices."
Our Combell colleague Dimitri adds: "We monitor the platform 24/7. This means our customer does not have to worry about anything at all. That is a guarantee you can always count on! As our customer, you do not have to worry about everything that is involved with keeping your platform online. Because Combell does that for you!"
"Thanks to Combell's expertise, Mijnenergie.be is online at all times, even when traffic peaks. Is the load temporary? Then, we scale vertically. In other words: we temporarily scale up our resources to handle that peak."
"However, if we notice that the traffic on the platform continues to grow, for example as a result of the current energy crisis, that is an indication that we need to scale horizontally. This is how we provide DPG Media with a long-term solution that helps them cope with the new situation."
Combell's Managed Services
Combell likes to help small, medium-sized and large companies like DPG Media with flawless infrastructure and services.
Whether you are looking for a cloud solution, want to ensure reliable connectivity or would like to have a Business Continuity Plan in place, Combell can always provide a solution tailored to the needs of your company.
Have a project of your own in the pipeline? Feel free to contact us for advice!