Creating a new e-mail address is easier than you think!
As a company, you really cannot afford to put butchercharles@yahoo.com on your invoices – without your own domain name and associated e-mail address, you will not be able to project a professional image. Not only does your own e-mail address associated with your domain name look much more reliable, but it is also an address that you can keep for the rest of your life, as long as you keep your domain name. That means you can keep it even when you switch Internet providers (Telenet or Proximus). Moreover, creating an e-mail address is super easy, usually free and has many other advantages! Just follow the steps below. 
1. Register your domain name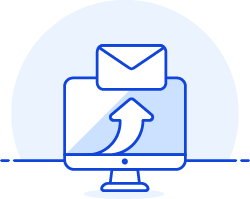 In order to create your own e-mail address, you need a domain name – the part after the at sign. If you do not have a domain name yet, you must first register one. For your domain name, you can choose from a wide range of domain extensions – country code top-level domains such as .be, a .com or .net extension, or one of the 1000+ new possibilities, like .bike, .guru, .vlaanderen... Do you need some inspiration? Our article "8 handy tips to choose a good domain name" should get you started.
Registering your domain name with Combell is super easy, thanks to our domain finder.
2. Think about how many e-mail addresses/mailboxes you need
First of all, let us get things straight: an e-mail address is not the same as a mailbox. A mailbox is the digital place where your mail is delivered, somewhere on a server. Whereas your e-mail address is just the address that allows mail servers (the virtual equivalent of postmen in the real world) to know where they should deliver the mail that is addressed to you. 
Tip: With Combell, you get 1 free 1 GB mailbox with your domain name!
You should also realise that you do not need a mailbox for each e-mail address – you can create several e-mail addresses with your domain name: aliases. For each alias, you can decide where the e-mails addressed to these aliases should be delivered. For example, you can have them all delivered to your mailbox. But you can also have the e-mails for each alias forwarded to different mailboxes. Or have the e-mails for one alias automatically forwarded to different employees.
With this information in mind, you can now draw up a plan for the e-mail addresses and mailboxes you will need. Think for example of:
An e-mail address and mailbox with the name of each of your employees, which will usually look like firstname.lastname@yourdomain.be.
An e-mail address for a department where several employees work together, e.g. helpdesk@yourdomain.be, with forwarding of the e-mails to three individual e-mail addresses and mailboxes of the helpdesk staff.
An e-mail address for the board of directors of an association, with forwarding of the e-mails to the private addresses of the board members.
Tip 1: Combell allows you to create an unlimited number of e-mail aliases and to decide to which mailbox these e-mails have to be forwarded.
Tip 2: If you are a start-up and do not have any staff yet, start by creating e-mail addresses for info, sales, helpdesk, orders, accounting, etc. And have all your e-mails delivered to your personal mailbox. This will give a professional image!
Think ahead: create aliases such as sales@ or accounting@ with your domain name, even if you are still the jack-of-all-trades in charge of all these departments!
Tip 3: Of course, you can simply create an e-mail address with your domain, and have your e-mails forwarded to, for instance, your Telenet mailbox or your Hotmail address. However, we recommend that you keep your e-mails in your Combell mailbox – after all, you get a free mailbox with your domain name! This way, you can be sure that your e-mails will always be safe and that your mailbox will always be available.
3. Make sure you have enough mailboxes or order new ones
Just like your domain name and your hosting, you can manage your mailbox and e-mail addresses yourself in your Combell control panel. In the E-mail hosting section, you can see, for each domain name you have registered, how many mailboxes are provided and how many are still available for you to use.
I do not have any mailbox credits (anymore)
If your Combell mailbox is already in use and you would like to create another one, you can easily order an additional mailbox via the control panel.
Do you have a domain name registered with another domain provider and no mailbox included in your package? Check out the options we offer on our website. You can choose a simple 'Basic mailbox' or an 'Exchange mailbox' that comes with additional features, like syncing your contacts and calendars. Combell's selection guide will help you understand the differences. 
Tip: If you choose Microsoft 365, you will be able to enjoy the benefits of Exchange combined with those of online collaboration tools such as Teams and SharePoint in one very convenient subscription.
I do have mailbox credits
If you still have credits left or if your order has been completed, you can activate your new mailbox. You can do this in the 'E-mail hosting' section of the control panel.
4. Activate and start e-mailing!
Fill in the name of the e-mail address to which you are connecting the mailbox – your domain name is already filled in; all you have to do is fill in the part before the at sign.
You can now set up your mailbox – on your desktop computer, smartphone or tablet. The detailed steps for this are explained in our help files. If you still have any questions, our helpdesk is there for you, with real experts helping you 24/7.
You are now ready to start working using your new e-mail address, and to send and receive e-mails with your new identity. 
Here is an example: for your company, you have registered the domain name shoesjack.be with Combell.
Activate the mailbox that comes free with your domain name and create the e-mail address info@shoesjack.be to which the mailbox will be connected.
Activate an additional mailbox for your employee Kate and connect it to the e-mail address kate@shoesjack.be, so that she can manage her own mailbox.
Create the aliases accounting@shoesjack.be and sales@shoesjack.be and have the e-mails addressed to these aliases forwarded to info@shoesjack.be.
Create the alias sales@shoesjack.be and set it to forward the e-mails to you (info@) and Kate (kate@).
There you go! Now, all you need to do is inform your contacts of your new e-mail address, and you can continue to develop your business while using your own domain name and e-mail address as a business card!
Check out Combell's range of e-mail hosting solutions