Combell won the Twinkle Award in the "Hosting & Domain" category!
Twinkle.be hosted its first award ceremony. Not only did Combell won an Award in the Hosting & Domain category, but 5 Combell customers also received an award or an honourable mention. Congratulations!
Twinkle Awards: for the first time in Belgium
The Dutch knowledge platform Twinkle.nl, which aims to inform e-commerce entrepreneurs and professionals about the newest trends and opportunities, has been hosting the Twinkle Awards for a few years now. The Belgian branch, Twinkle.be, which was launched in March this year and is mainly aimed at Belgian web merchants, has now hosted its first Twinkle Award ceremony too.
For this purpose, an advisory board of experts nominated companies in two categories: on the one hand the web stores themselves, and on the other hand the subcontractors of these web stores, which help these companies run smoothly.
Awards for Combell...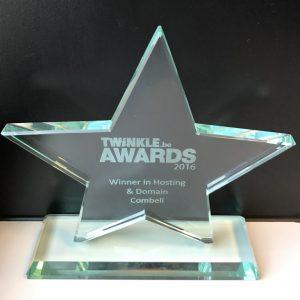 The Combell team is happy to announce that we have won the Award in the Hosting & Domain category. We are very pleased that the jury of experts preferred our services to those of large international players.
Other winners were: Worldline (Payments), Bpost (Logistics & Distri), The Reference (Creation & Development), Selligent (Digital Marketing), Bol.com Plaza (Market Places), KBC (Custom Services) and WordPress (Platforms).
… and its customers!
In the webshops category, Coolblue won an award in the Omnichannel category, Vente-Exclusive in the Pure Player category, and Foodbag in the Starter category. It is surely no coincidence that several winners and nominees rely on Combell's expertise for their hosting services. These include award-winners such as Vente-Exclusive, KBC and Selligent, but also Schoenen Torfs (runner-up in the Omnichannel category), Lady Jane (runner-up in the Market Places category), Studio Emma (nominated in the Creation & Development category) and Sirius Legal (nominated in the Custom Services category). Kudos to all winners and nominees!
The award ceremony was held on 1 December during a splendid event. The attendees also made use of this opportunity to rise up to the Mannequin Challenge. The Twinkle Awards 2016 Mannequin Challenge VR Mobile Version video (in VR!) clearly shows that the winners are definitely capable of staying still… which, fortunately, cannot be said about their products and services!