Work Smarter event promotes digitalisation of entrepreneurs

Teamleader, creator of a software solution that helps streamline sales processes, has been organising Work Smarter for several years. This event presents digital tools to work more efficiently, as well as concrete tips and best practices for the digitalisation of entrepreneurs.
The fifth edition of the Work Smarter event, which took place on 16 May at Flanders Expo in Ghent, featured an exclusive premiere: in the Pro-Corner, participating entrepreneurs had the opportunity to have their questions answered by experts. This was a perfect time for Combell to show that digitalisation is possible for companies of all sizes.
Digitalisation of companies: moving up a notch
The digitalisation of small businesses employing less than 50 people is advancing. In Belgium and the Netherlands, 30% of SMEs already use cloud software. This is a nice figure, but there is still room for improvement: in the Scandinavian countries and the UK, the digitalisation rate is already at 60 to 65%.
The problem SMEs are facing is that there is a wide range of digital solutions out there, but the question is: are they also suitable for smaller businesses? And how do they work together? Which combinations should you go for?
Combell also wants to contribute to the digitalisation of entrepreneurs. Because it will make companies more competitive in the future. The time they gain by managing tasks more efficiently can be devoted to training and innovation. The decision to support the Work Smarter event was therefore an obvious one.
Speakers from the Belgian profession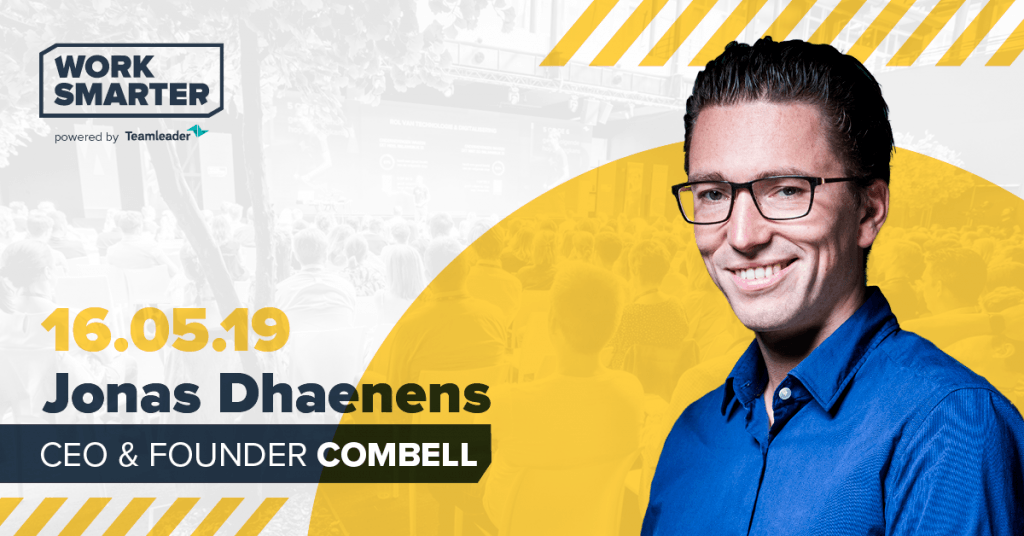 The programme for this edition of the Teamleader event included several speakers who mainly provided tips from their own profession. Thierry Geerts, Country Director of Google Belgium, gave the opening speech. With her playful Odette Lunettes spectacle frames, Eline De Munck gave an inspiring talk about entrepreneurship 2.0 and advised the audience not to let a setback get them down – falling and standing up again is part of the process of entrepreneurship.
Jürgen Ingels shared the do's & don'ts to make a company successful. As a serial entrepreneur, he also advised the candidates of the TV programme Leeuwenkuil, in which young entrepreneurs could pitch their ideas.
As for Wouter Torfs, he talked about his approach to business, in which he really puts customers and employees first. Basketball player Ann Wauters talked about her unique experience as a top athlete and the importance of teamwork, and Ynzo van Zanten, evangelist at Tony's Chocolonely, shared a few tips about sustainability. He travelled the world to put an end to slavery in the chocolate industry.
On behalf of Combell, founder and CEO Jonas Dhaenens emphasized that, with the necessary ambition, it is possible to make your wildest dreams come true. He presented impressive graphs about our growth story, which motivated the attendees to achieve their goals.
Jeroen De Wit, CEO en co-founder van Teamleader, nam de slot-keynote voor zijn rekening.
Ask an expert in the Pro-Corner
Of course, several companies also came to present their tools, emphasizing the way in which a company can integrate them into Teamleader. With the software of unpaid.be, for example, you can collect unpaid invoices via Teamleader, with software provided by Yuki, you can link your Teamleader to the accounting package of Yuki, and with the tool developed by Heftig, you can link forms on your website to the Teamleader platform.
Another new addition this year was the Pro-Corner, staffed by experts from Teamleader, HR manager SDWorx, and Combell. Using the Plann3r tool, participants could plan a meeting in this corner to ask their questions to the experts. And the questions we were asked were of course about hosting, both on a business and technical level, and about e-mail, for which our colleagues from Flexmail provided information about e-mail marketing. But Microsoft 365 (Office 365), SEO and the GDPR were also discussed – basically, everything you need to understand in order to be able to go digital with your business.
Opportunities for networking were great. The 'conversation starter' corner was the place to be to socialise – a place full of ideas and tips, as well as a great place to relax for a while. 
Having lunch with Jonas: food and advice
The Work Smarter event is all about advice, meeting people and discovering new tools that can help SMEs digitalise their company so that they can work more efficiently. We at Combell therefore thought it would be a good idea if 7 enthusiasts could sit down with Jonas, our CEO, and ask him their most pressing questions while having a pleasant lunch together.
The candidates had to do something to earn this opportunity: they had to tell the reason why they wanted to sit down at the table with Jonas. This is how Koen Stevens, Cedric Spillebeen, Ruben Meul, Koen De Paepe, Bert Coddens and Sacha Barbieaux were selected. And it turned out to be a very tasty, but also very enlightening lunch!
Combell's first participation in the Work Smarter event was without a doubt a huge success, which is definitely worth repeating!
Would you like to know what Combell can do for the digitalisation of your business? Check out our wide range of products and services: e-mail hosting, Microsoft 365 tools, e-mail marketing, website hosting and many more!