The time has come again to end the amazing Combell Island summer offer
For the fifth year in a row, the Combell ice cream car hit the road before the beginning of the summer. For six weeks, we refreshed about 200 web companies with delicious ice creams. Now that the holidays have officially started, the Combell ice cream car can return back home until next year.
Selfies rewarded with a travel gift certificate
Once again, you have all been very supportive! We received countless selfies on Twitter, Instagram and Facebook. The authors of six nice selfies have even managed to win a travel gift certificate offered by Sunweb. The name of the sixth and last winner will be announced next Monday.
Congratulations again to the winners; enjoy your trip!
We have rewarded more lucky winners with a .BE domain name
We made many pictures on our Facebook page ourselves.
Have you been tagged in one of our albums? In that case, you may have won a free .BE domain name!
Make sure to check your Facebook messages in the 'Other' folder. If you are one of the lucky winners, you will find a message from us in this folder.
Take the Combell beach ball with you on your trip and we will come and visit you in 2016!
In addition to thousands of delicious ice creams, we have also given out 1,000 beach balls that will soon travel the world.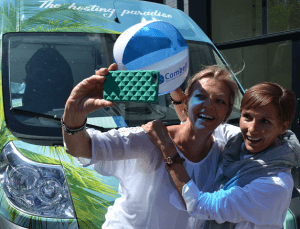 Have you received such a beach ball? Then, take a picture on your holiday location with our beach ball and post it online with the hashtag #combellisland. This way, we guarantee you that the Combell ice cream car will come and visit your company in 2016!
We are already looking forward to finding out how far our beach balls will travel around the world.