Using SiteBuilder is child's play for everyone, including Cedric from SpringStof vzw
If learning about the features of our SiteBuilder is not enough to convince you, you can always check what our satisfied customers have to say!

Name: Cedric from VZW SpringStof
Uses: The Combell SiteBuilder for springstof.be
Is satisfied because: SiteBuilder easily converts the enthusiasm of VZW SpringStof into an attractive website
Cedric and his colleague Philippe both teach in primary school. At some point, however, they started to feel the urge to collaborate on a side project. And when you feel so excited, you need to unwind and play some sports, which is exactly why Cedric and Philippe started SpringStof vzw, a non-profit organisation that organises sports camps. And a non-profit organisation like that obviously must have its own website – a website they created using our SiteBuilder!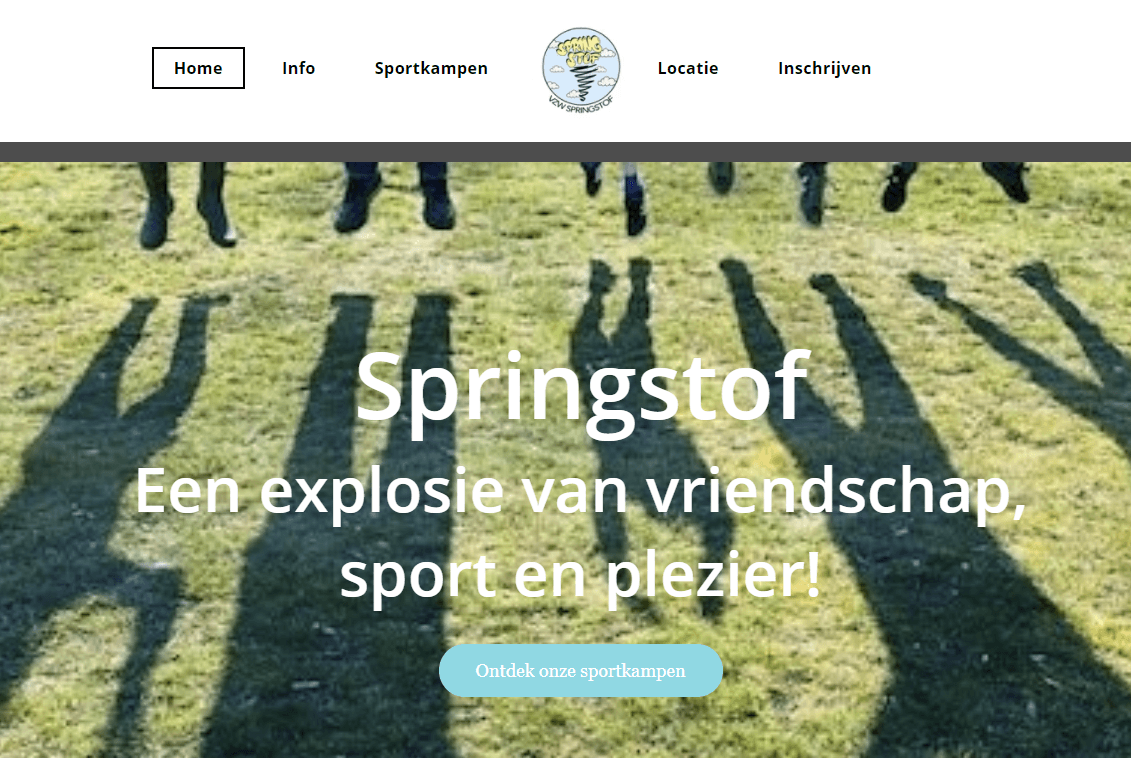 Cedric, what do you use SiteBuilder for?
"Our non-profit organisation has only just started, which means that we do not have the money to have a website built by a website developer. However, we do need a website for our business: we want to use it to promote our organisation, to communicate with our clients, or simply to provide information about our camps."
"A great story is key for our non-profit organisation. And I count on SiteBuilder to transform that story into a stunning and user-friendly website."
"I can say that I came across SiteBuilder somewhat accidentally. I was actually using Combell's domain name checker to see if the domain name springstof.be was still available, and that is how I discovered SiteBuilder."
How did SiteBuilder help you with SpringStof?
"I would never have dared to imagine it, but thanks to SiteBuilder, our non-profit organisation now has an attractive, user-friendly and affordable website. But to be honest, despite its user-friendliness, it took me a while to get the job done. While I was learning the ins and outs of SiteBuilder, I gradually started to spend more and more time thinking about the layout of my website – and that is something you can easily lose yourself in. By the way, that is my number one tip: take your time to build your website, because you will be thankful that you got to know all the features offered by SiteBuilder!"
"You can quickly create a website using SiteBuilder, but when you take a little more time, you will be thankful that you got to know all the features."
What is important to you about a website builder such as SiteBuilder?
"To me, user-friendliness is the most valuable aspect. If you are not an expert in creating websites, it is important to be able to use an intuitive tool such as SiteBuilder. It is also crucial to be able to optimise your SEO: this makes it possible for people who are searching for sports camps in the area to immediately find us on Google!"
Why would you recommend SiteBuilder?
"For a reasonable price, you have access to a very user-friendly website builder. And if something goes wrong, you can always rely on Combell's helpdesk, which is available 24/7. However, touch wood, I never had to call them."
Do you have any other plans for the future that SiteBuilder can help you with?
"Absolutely! In the long run, we intend to organise more sports camps, possibly even in different locations. A great story is key to achieving this goal. But we also need to be able to transform that story into a stunning and user-friendly website. And I count on SiteBuilder for that."
Check out our SiteBuilder packages
Perhaps you will soon be as satisfied as Cedric!