Help! My domain name is taken… Now what?
You have a creative idea for your company, and you want to register the corresponding domain name. Unfortunately, that domain name is already taken. But do not worry! We will show you how you can get hold of the ideal domain name anyway.
Is my domain name still available?
The time has finally come: your business plan is all set, you have come up with a name for your company and you are confident that the Internet will help you find the domain name that best suits your project. Now, 3 scenarios are possible:
An existing website. The domain name is taken and in use. The owner will most probably not want to relinquish it.
A page stating that the domain name is for sale. The domain name is taken, but the owner is not doing anything with it. There is room for negotiation and there is still hope to get hold of it.
A page with an error message ('Page not found'). Do not rejoice too soon, because either the domain name is still available or the owner has not yet linked a website to his domain name. So, this message does not tell us enough, and we need to find further details. This can be done by checking the availability of the domain name with the help of a hosting provider. This will also allow you to check the availability of all possible extensions, which means you will not have to type each extension separately.
Check the availability of your domain name
Your chosen domain name is taken… What are your options?
Suppose you are going to sell organic food exclusively and therefore came up with the name Biofood. In that case, biofood.be would be a great domain name for your business. Unfortunately, you are out of luck: you get a message telling you that the domain name biofood.be is taken. And the domain name bio.food is no longer available either. What can you do now?
Do not give up! Thankfully, there are several ways to get hold of the ideal domain name for your business. You have the choice between two scenarios:
you can try to purchase that domain name from its current owner
or you can opt for an alternative domain name.
Getting in touch with the owner of a registered domain name
If you want to purchase the domain name from its current owner, you first have to find out his identity. Only then will you be able to know if the owner is interested in selling his domain name, and, if so, at what price.
How can you find out the identity of the current owner? We will look at the possibilities depending on what you see when you enter the domain name in your browser:
You end up on an existing website, which is linked to the domain name. That makes it easy. On the website, you will probably find contact details or a contact form you can use. The first obstacle has been overcome!
You end up on a page stating that the domain name is for sale. This is what happened when we entered biofood.be: the website mentioned that the domain name was for sale, and the asking price was included. So, in this case too, contact details are easy to find.
You end up on a page with an error message ('Page not found'). If our domain name checker found out that this domain name is not available, but that no website has been linked to the domain name yet, then some research will be necessary!
Tips for finding the owner of a registered website
If the current owner of your desired domain name cannot be found via an existing website, you will have to play detective. In the past, you could easily find the owner of a domain name using Whois. However, since the GDPR came into force, several registrars no longer provide the contact details of domain owners (in order to protect their privacy).
For example, Whois does not provide any information about the owners of .be, .vlaanderen or .brussels domain names, but redirects users to the DNSBelgium.be website instead. And for .nl, you have to check with SIDN. There, when searching for a domain name, you will not be able to see the contact details of the owner directly, but you do have the possibility to contact the owner via an online contact form.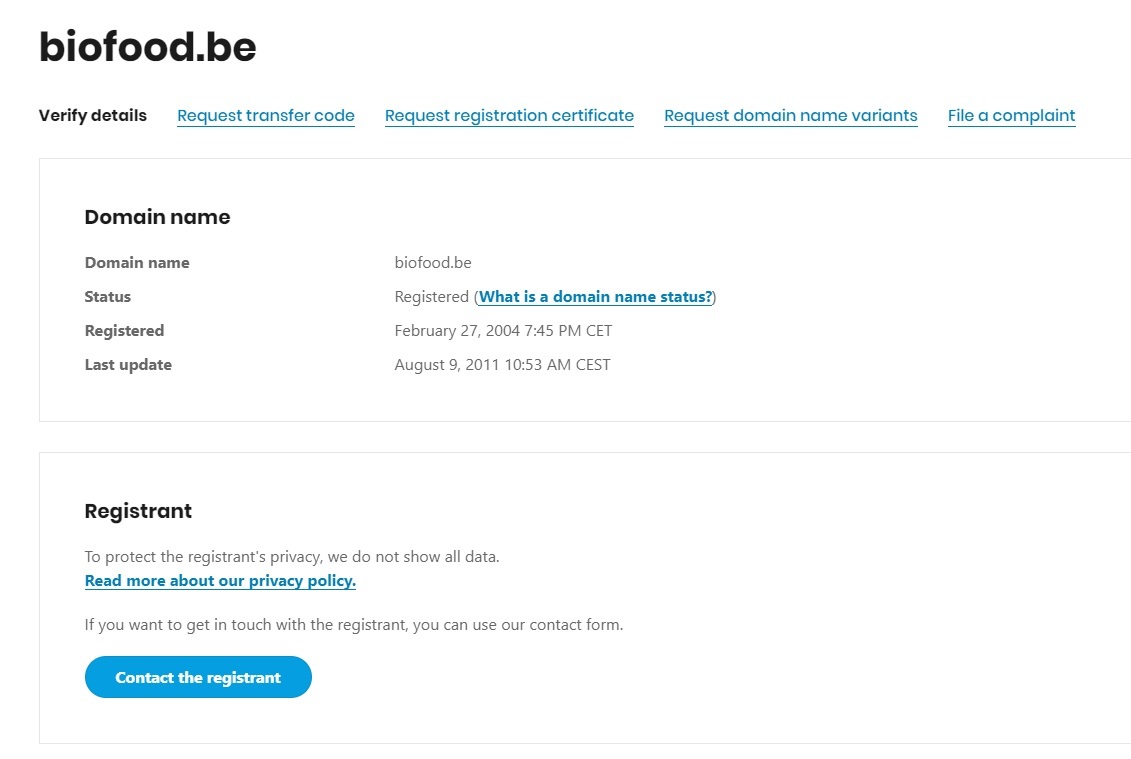 But what is the actual value of a domain name?
You now have the contact details of the current owner of your desired domain name. The next step is to contact him to let him know that you would like to use that domain name for your website, and ask him if he would be willing to transfer it to you – against payment if necessary.
You are now faced with a complex issue: how much money is that domain name worth? Regardless of the subjective value you give to this domain name, there is also the objective value, and some understanding of the domain name market will be necessary to get a clearer picture in this context.
About 351.4 million domain names are registered worldwide. About 40% of them have a .com extension, which means there are 140 million of these. So, the odds of being able to buy a good and short .com domain name at a low price are close to zero.
In October, Belgium had 1.6 million .be domain names (plus almost 8,000 .brussels and just under 6,500 .vlaanderen domain names). So, here too, good and short generic domain names are getting scarcer by the day. You should definitely take these figures into consideration when making your decision. A good domain name plays a major role in the success of your business!
A good domain name plays a major role in the success of your business!
Some research into the price of .be domain names teaches you that the asking price of domains for sale is usually between 200 and 750 euros – with exceptions for very trendy names like escooter.be (1.500 euros). If you have really set your mind on a certain domain name, such a price does not seem prohibitive to us. And remember: the shorter the name, the higher the market value.
But when it comes to .com domain names, you will have to dig deeper into your pockets, because many of them are worth 10,000 euros or more. And new extensions like .games (free.games recently sold for $335,000) or .app (ZB.app raised $91,000) can also have high asking prices. But some domain names can be great bargains and will sell for 100 or 200 dollars in an auction. See for yourself what is on offer at Sedo.com, the most famous auction platform for domain names, and you will have a better grasp of what a domain name is actually worth.
If you manage to reach an agreement with the current owner regarding the price for taking over the domain name, you can follow the transfer procedure used by Combell. And you can get started with the domain name of your dreams!
Contact us for advice or guidance
Think of an alternative if your domain name is no longer available
If the current owner of the domain of your dreams refuses to sell, or if you think that the price he asks is too high, you should not give up yet. Let your imagination run wild, and see if there are any alternative domain extensions that are still available and that might suit your company.
The Combell domain checker helps you conveniently browse through a whole series of alternative, popular domain extensions, from .app to .xyz. It allows you to instantly see which domain names are still available, and how much it would cost to register them. You can choose from 1,200 new extensions, which means you will undoubtedly find something you like! For our 'biofood', we found some nice alternatives, like biofood.website, biofood.expert and biofood.site.
You may also consider a variant of the chosen domain name. Change the order of the syllables, add a word, etc. Just make sure to keep it short and do not go for a complicated domain name!
And what about using a trademark as a domain name?
Registered trademarks are an exception. Back when you were developing your business plan, you may have done some research into the company name you had in mind. And that would be a very good thing, because if that name is a trademark that has already been registered by another company (worldwide or for the Benelux), then you will not be authorised to use that name for your company (especially if you operate in the same sector)... and not for your domain name either, even if you choose a different extension. Here, you can check if a word is a registered trademark.
Note: if you register your trademark now, this does not entitle you to the corresponding domain name if it is already registered. If our Biofood is not a registered trademark, and you now register the trademark for the Benelux, you cannot force the current owner of an already existing biofood.be website to give up this domain name.
But if you registered the trademark years ago and notice that someone else has now registered a domain name with your trademark with the sole purpose of selling it to you for a lot of money, then you are entitled to assert your rights. If you initiate proceedings against this domain owner, and are able to prove his bad faith, there is a good chance that you will win the case.
By the way, you can protect your registered trademark against such domain squatters via the Trademark Clearinghouse. Combell will be happy to assist you in this process.
However, as you probably already understood, the relevant laws are extremely complex. Disputes are handled by the World Intellectual Property Organization (WIPO). And proceedings involving WIPO are time-consuming and very expensive, and are therefore only recommended for large companies with worldwide registered trademarks. The FPS Economy can provide you with further information about this.
Do you have a great idea to build your business? Check if your domain name is still available! And do not forget that if you register your domain name with Combell, you get a free mailbox, free e-mail addresses, as well as 24/7 support!
Is my domain name still available?