Combell's New Year Party entirely dedicated to NEW!
Lees in het Nederlands - Lisez en français
Last year was unquestionably remarkable for Combell! There have been so many new things, the most notable of which were the new office building and the new colleagues. The New Year Party was thus an opportunity to drink to all those new accomplishments from last year... but also to celebrate the coming of a wonderful new year!
2015: a rollercoaster for Combell
Combell has gone through many changes in 2015. Somehow, it was like a rollercoaster. Not only a new office building and a new brand name, but also the constant development of the activities of Combell and the companies within the group also led to the arrival of new colleagues, new investors, new products... In short: "New" is clearly what characterised last year.
The theme of the New Year Party, which was held on 22 January to celebrate the end of 2015 and welcome 2016 with a bang, was thus "New". Almost 100 colleagues from all departments of the group got together in the Zebra Lounge, one of the Ghent's trendiest places. Many had shown great enthusiasm for the organisers' idea of emphasising the "new" theme with white clothing or accessories, which was supposed to beautifully glow in the black lights.
White and flashy
Therefore, Combell collaborators let their imagination run wild! Some went for subtlety wearing white neckties, which they bought especially for the occasion, while others wore white bow ties and suspenders. There were also white masks, very Venetian, and even a white wedding veil, which – unfortunately for romantics – did not lead to a marriage proposal on the dance floor!
Besides, why wait for a black light to have your white accessories glow in the dark? Why not do some analogue hacking and make a few glow-in-the-dark bracelets, so as to turn the dance floor into an unforgettable display of colours? Evidently, the people at Combell always find alternative ways to reach their goals!
Experimenting and tasting
The party started quite nicely, with a brief gin & tonic workshop. An all-time favourite, which has become quite popular again lately. We can all drink this cocktail, but serving it right is another story! That evening, a few practical tips were given, like how you should cool the glasses, the right proportions, the fact that you should use a special spoon to pour the drink, etc. Of course, the workshop was very enlightening, but it was even funnier to experiment (and taste!) once the demo was over!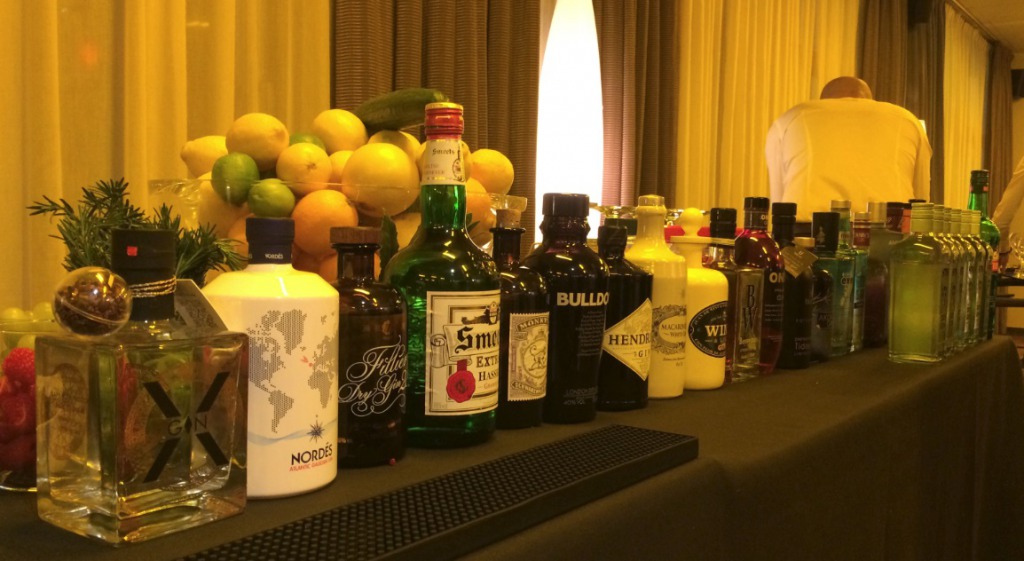 This very successful cocktail hour and icebreaker (literally and figuratively!) was followed by a walking dinner, nicely prepared by Coeur Catering, with delicious appetisers, main courses and desserts. As usual, a tombola was also held during the quiet part of the party. Bram Borremans won a GPS device, Dries Vergote coffee glasses, Jürgen Verheye a knife blok, Fréderick Nuytens a food processor and Virgil Tolenaars a healthy fryer. So, all of these gentlemen had the opportunity to start cooking the very next day (after a well-deserved lie-in)!
Show your moves!
After a meal, it is always a good idea to stretch your legs, and the dance party that followed made this possible for all the party animals who were in the mood. Everybody had a chance to have some fun on their favourite song, since the DJ played different styles of music. It was a great opportunity to admire other people's dance moves... and try to copy them, with mixed results! For the farandole that ended the dance party, no one needed instructions. Our team is now fully ready for a wonderful 2016!