Combell founder Jonas Dhaenens nominated for the title of ICT Personality of the Year
Lees in het Nederlands - Lisez en français
It is a true honour to be nominated amongst other big names from the IT world for the election of the Data News ICT Personality of the Year. Especially because Jonas is the perfect example of a digital native who has been fostering a spirit of realistic entrepreneurship from an early age. Let us keep our fingers crossed!
Every year, the Belgian IT magazine Data News, which is part of the Roularta Media Group (just like Knack), hands out 14 awards in different categories to outstanding Belgian companies, for their excellent performance. And only one special prize, the "ICT Personality of the Year" award, is handed out every year to an exceptional entrepreneur who has made a significant contribution to the Belgian IT sector.
Profiles of previous award winners
The list of previous winners of the award clearly shows the talent and entrepreneurship that have roots in our country. Jan Valcke, President and COO of Vasco Data Security, won the first award in 2011 – a lifetime achievement for his work. Sophie Vandebroek, who lives and works in the US, and who had been with Xerox for over 20 years back when she won the award in 2012, is a powerful example that women can succeed in the male-dominated world of IT.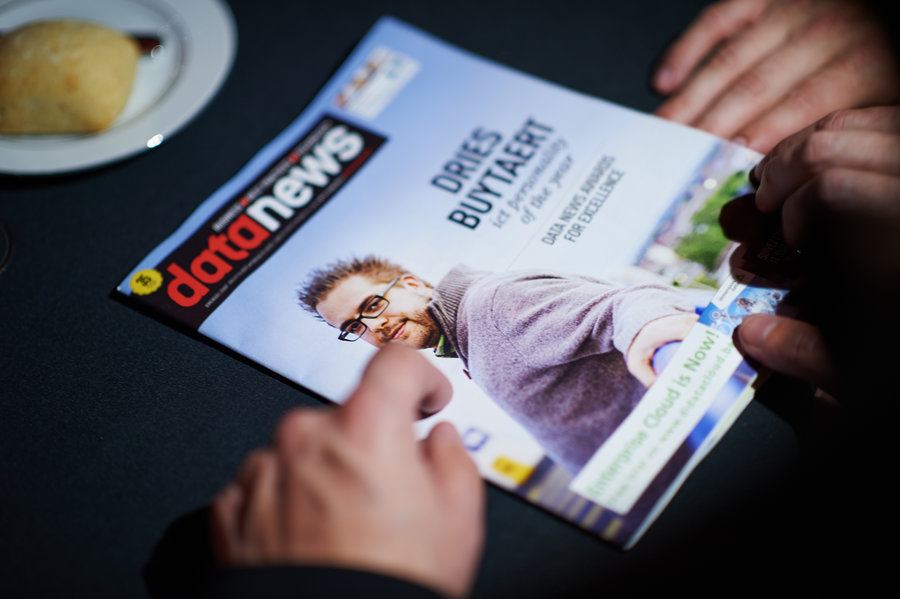 Eric Van Zele, CEO of Barco, received the award in 2013, followed in 2014 by Dries Buytaert, the man who put Belgium on the world map of developers with his open source CMS (Drupal) when he was only 35, and who founded Acquia in 2007 in order to further develop Drupal, before going public with this company in 2015. And the last one on the current list is Jurgen Ingels, who founded the payment solutions provider Clear2Pay (which has now been sold) and Smartfin Capital, a fund for growth companies in SmartTech and FinTech.
Jonas Dhaenens, IT entrepreneur at heart
We are extremely happy to announce that Jonas Dhaenens, the founder of Combell (together with Frederik Poelman as a partner), has been nominated for this prestigious award.
Anyhow, Jonas has very strong credentials. Back when he was only 12, he already wanted to be an entrepreneur, and on his 16th birthday, he had already come up with the name of his future company: Combell. At that time, Jonas did not really know what his company would become, but he wanted it to be "something that relates to computers", and to calling ("bellen" in Dutch). And, as a young teenager, with the reward that he received from his father for his excellent school grades, he registered his own domain name.
17 years later, Jonas runs a well-balanced, diversified group, active in Belgium and the Netherlands, with various branches, each one specialising in a particular field, for both SMEs and large companies. The group currently employs 325 staff and had a turnover of 59 million euros in 2015.
With the collaboration of the city of Ghent, the group was even at the very heart of the creation of the new .gent domain extension, which provides domains to citizens and companies in the area of Ghent (www.yourname.gent or www.yourcompanyname.gent), but also to the municipal administration (www.city.gent).
Strong opponents
If he should win the award, Jonas would be the youngest ever to win this coveted prize. But his opponents are not just anybody. The list of nominees indeed includes big names such as Dominique Leroy (CEO of Proximus), John Porter (CEO of Telenet), Pieterjan Bouten (CEO of Showpad), Françoise Chombar (CEO of Melexis)... Good luck, Jonas!