In need of the best partner for managed hosting? You can rest assured when choosing Combell!
Does your business have specific needs that go beyond the traditional hosting package? Then, it is very smart to switch to managed hosting. And the really smart ones, they choose Combell as their managed hosting provider. Quickly discover all the advantages that Combell can offer you and that you will hardly find anywhere else. After all, a hosting partner that thinks along with you and takes care of all your worries: music to your ears, right?
Just what do managed hosting providers do?
With managed hosting, your hosting provider not only takes care of the hardware (the servers) but also the management of it (services for maintenance). This is a big difference from unmanaged hosting where you do have work to do.
Of course, the quality of the hardware is essential - preferably using modern, state-of-the-art equipment that is powerful and durable. But it is equally important that the servers are configured correctly and adapted to the requirements of your project.
For successful long-term operation, excellent service is absolutely essential. Therefore, it is crucial to choose a hosting company that takes all your worries off your hands, is proactive and thinks with you, even in the long term.
Combell's assets
There are many suppliers of managed hosting - think of large international cloud providers such as Google, Amazon Web Services and Microsoft Cloud.
But at Combell, we are convinced that our managed hosting offer not only stands up to comparison, but also exceeds it. Because we have several strengths at hand. Let us convince you!
Support by experts, which includes:
Premium support at no extra cost
Most hosting providers only work with a ticketing system via email. You will be given a number and put in a queue until a helpdesk employee has time to solve your problem.
If you choose Combell as your hosting provider, you can reach our helpdesk by phone, at no extra cost. When you call us, you will not end up with a call-center employee who can only give you advice based on scenarios that have been drawn up.
No: without endless forwarding, one of our own support staff will immediately be there to help you with concrete solutions and clear advice.
Good to know: as our managed hosting customer, you always have access to our premium support. You are immediately in contact with our experts who know your IT environment inside out.
A help desk that speaks your own language
Facing a problem is nerve-wracking enough; a language barrier doesn't make it any better. Fortunately, our staff will speak to you in your own language, whether it's Dutch, French or English.
If you are not so technically skilled, they will not knock you around the head with complicated, technical terms, but instead go through the problem with you in simple language. If it's your IT expert calling, he or she will be happy to be able to exchange ideas immediately with someone who knows the jargon inside out.
Your own account manager and team
From the first contact until your project goes live, but also afterwards: your own account manager is the link between your project and our support team. Together with you, we go through your entire project.
We get to know your application to deliver a solution completely tailored to your project. This allows us to determine whether a cloud solution or shared hosting is appropriate for your project. Our support team is therefore fully familiar with your application and hosting setup.
Ultimate optimizations
Even more: if we have to, we'll dive into your code with you! Think of it as the ultimate optimization of your own server. This is how we were able to seriously save on resources for some clients. And less resources = monthly savings!
Performance assured thanks to:
Nothing but the best technologies
With Combell, you are not only sure that your hosting is 100% secure and always on. Moreover, we dare to say that we offer you the fastest hosting on the market. And that is what you need: a slow website is just as bad as a website that is offline.
And if your IT infrastructure is hosted in the public cloud (at big guys like Google cloud for example) and running too slow, your employees can't keep working. Time is money!
Local servers
Our data centers themselves are extremely secure. Not only technologically but also physically, with access control, perimeter surveillance, with 24/7 surveillance and camera monitoring.
Fire safety is monitored by special measuring devices and extinguishing systems with industrial argon gas. No fire, power failure or natural disaster can stop us from keeping your business-critical data always-on available on our cloud servers.
Moreover, our data centers are located in the Benelux. This immediately ticks off one of the conditions of the European data protection laws (GDPR). Your data become real high-speed runners that race ahead on the gigantic 10 Gbps network that connects our data centers.
Always online, in all circumstances:
With deduplication of our infrastructure
By keeping your hosting in multiple different physical locations, we guarantee the "always on" availability of your server.
Thanks to 24/7 monitoring
We continuously monitor your managed hosting. And if we notice a possible problem, we intervene proactively. Because downtime can cost you a lot of money.
Through start-up-ready backupsIf the worst happens and your system crashes completely, there is no reason to panic. We have also thought about your Disaster Recovery: very quickly, we create a new server on which the most recent backup of your hosting environment is placed.
Download our e-book
Perfectly secured against hackers and other cyber threats
We spare no expense when it comes to security, with firewalls and encryption methods that our competitors can only dream of. Hackers don't stand a chance with us and your website remains available even during a DDoS attack.
These customers already opted for managed hosting from Combell!
Many customers already experienced that collaborating with Combell is an easy job.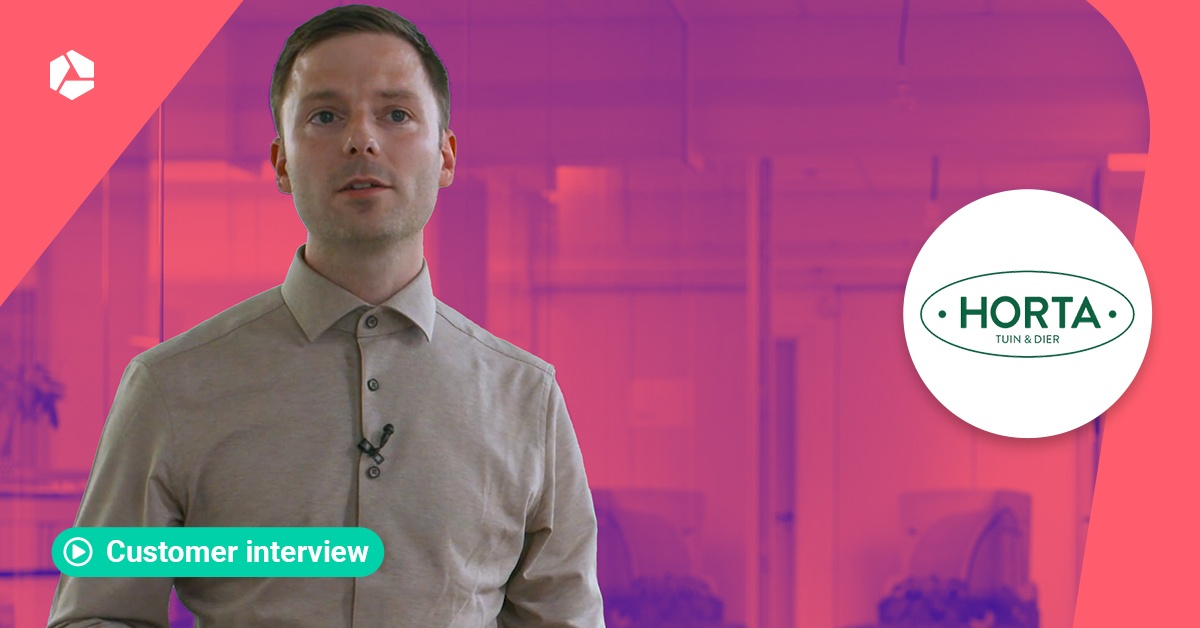 Horta chose Combell as its hosting partner: " Give it a shot!"
Even before Horta signed a concrete deal with us, a test environment allowed them to check how their cloud solution, in this case a dedicated server, ran on our Combell infrastructure. The results were impressive: they immediately noticed a gain in speed at Horta.
" With other partners, our contact often fades after everything has been set up, but not so with Combell."
The least expensive energy thanks to the V-test®. Hosted by Combell!
For the hosting of their V-test®, Vreg also chooses Combell as a reliable hosting provider. The day the new V-test® came online, 60,000 people used the application. Currently, that number is around 10,000 users per day. Thanks to Combell's scalable hosting, the tool always remains available.
"We considered between Azure and Combell as hosts, but one of the decisive elements was the DDoS protection included with Combell."
Time for action: have a talk with Combell
We are going to state the obvious: at Combell, we cannot wait to talk to you. Even more: to connect you to the best product for your website or applications. This way, you will have more time for what really matters.
Because that is precisely the power of the managed hosting that Combell offers: we take care of all the maintenance for you. On top of that, you get our personal service!
Frequently asked questions