This article will explain how to manage orders made on your online store.
Once a customer orders products from your online store, you will receive a notification that an order was placed.
You will then wait for the customer's payment to arrive.
Once that is received, you can mark the order as "paid" and ship their order.
Then, you'll be able to mark the order as fulfilled. Now, we'll look at each step in this process.
Viewing your orders
Via an e-mail notification
Once your customer has confirmed their order, you will receive an email notification that an order has been placed in your online store.
To manage this order, click on the link at the bottom of this notification.
Via the control panel
Go to My products > SiteBuilder and click on Manage site
Click on Open SiteBuilder

Editing your orders
To edit an order, click it in the list.

The order details will now open and you will be able to manage various aspects of it.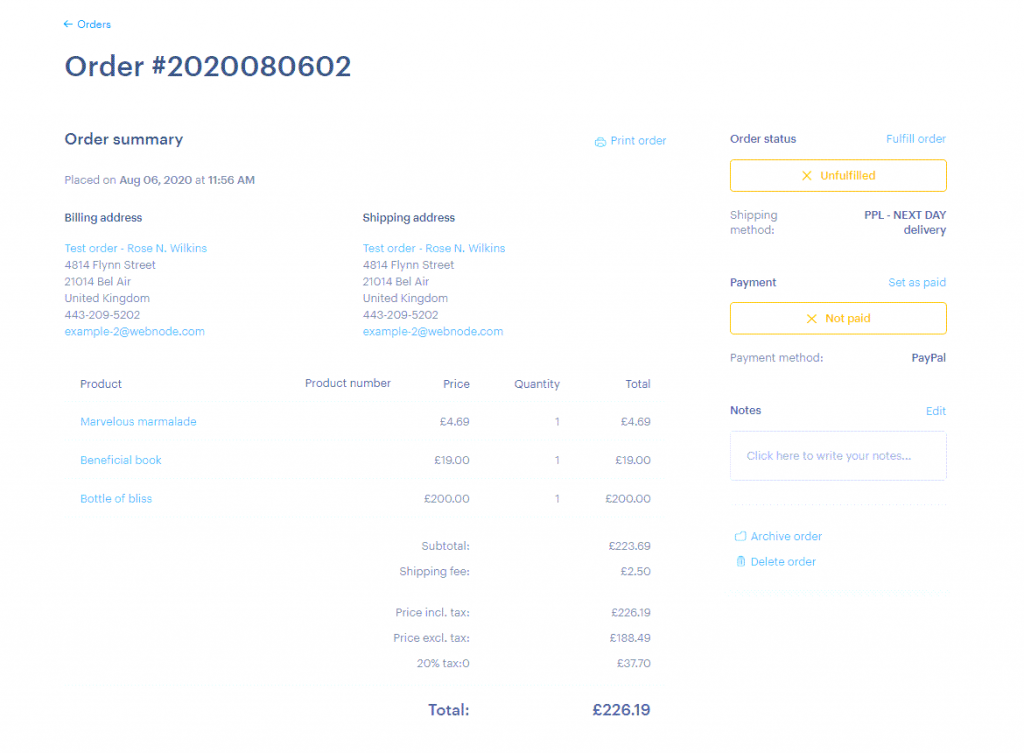 Editing payment status
Once your customer's payment arrives, you can mark the order as paid by clicking Set as paid.
After you change the payment status, you will see the amount received and the date it was changed. If needed, you can also mark the order as "unpaid" again.
The payment status must be changed manually. The only exception to this are payments received through PayPal.
If your customer has any special instructions for their order, you can add these to the field Notes. Do not forget to Save your new note.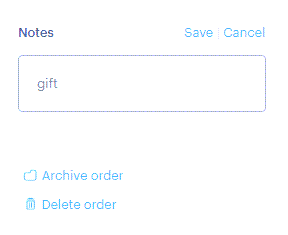 Fulfilling an order and sending tracking info
After you receive your payment, you can then send the ordered goods to the customer. Once the package is sent, you can mark the order as fulfilled by clicking Fulfill order.
In the next step of the process, you set up package tracking.
To activate package tracking, you first have to set up your shipping methods and enter the URL with the package number that you will receive from the shipping company.
In the same window, you can also tick the box to send your customer a notification that their purchase was shipped.
Managing processed orders
The order was paid for, shipped and then marked as fulfilled. You can now archive it by clicking Archive order.
The order will then be moved to the archive and will not be shown among your open orders.
You are also able to delete orders by clicking Delete order. Archiving orders is for fulfilled order while deleting orders should be saved for canceled or similar orders.
Printing orders
You can print the order by clicking Print order.
Navigating orders
In the main orders menu, you are able to filter your orders by ither Open or Archived orders. To filter your orders, click the arrow on the right side of the test Show and choose what you want to see.

Exporting orders
You can also Export orders at this point. Click More and Export Orders. The export is performed to a file in .XML format.