The brand of your SSL certificate undergoes a name change: Comodo is now Sectigo
Comodo's SSL certificates are being rebranded as Sectigo. What exactly does this mean for your Comodo certificate?
Why are Comodo certificates given a new name?
In November 2018, Comodo sold its certification department to Francisco Partners, which now sells certificates under the brand name Comodo Certification Authority. And Comodo itself continued to sell its other security products under the brand name Comodo Cyber Security. This situation led to confusion. And that is why the decision was made to rename the certification department Sectigo.
Which SSL certificates are concerned?
Combell offers you a free Let's Encrypt certificate with your hosting package, and nothing is going to change about this. But we also provide a range of premium certificates that offer additional guarantees:
Domain validation: the identity of the owner of the domain name is verified
Organisation validation: the details of your company are verified as well
Extended validation: both domain name and company details are thoroughly verified.
For these 3 types of certificates, Combell collaborates with the Comodo Certificate Authority. And it is these certificates that have been going through some changes.
Comodo's SSL certificates are being renamed Sectigo. You need to know this so that you can change your Trust Seal
Update the Comodo image on your website
Actually, nothing is going to change in the way your certificate works. The root structure has not changed, and you should not update or reinstall your certificate. Browsers and applications will continue to trust your certificate, which you can keep using until its expiry date. The only things you need to update are the Comodo-Sectigo images.
For all Combell customers
All Combell customers that have a Trust Logo on their website must update this. This consists of an image and HTML code. The code will generate an interactive logo that allows to view information from the certificate. This code will only work if a Sectigo certificate is installed on the website.
Go to the Sectigo setup page and pick the size of the image you want on your site (small, medium of large).
Save the image.
Upload the image to your web server.
Insert the corresponding HTML code into the code of your website.
For resellers
As a reseller, it is best to take this new brand name into account when offering SSL certificates to your customers.
Please use this logo in your communication with your customers until 1 November 2019: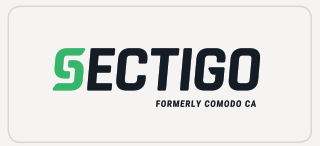 After 1 November 2019, you can use the final logo:
Do you not have an SSL certificate for your website yet?
Remember that Google will penalise you with a lower ranking if you do not offer an HTTPS connection. The newest browsers will also mark your website as 'not secure', which might scare off your visitors. So take advantage of the Let's Encrypt certificate that Combell is offering you for free, or go for a more advanced certificate from Sectigo, which offers extensive guarantees.
More about Combell's SSL certificates