SQL User Group is ready for the great SQL Server Days
Lees in het Nederlands - Lisez en français
Hardly had the SQL User Group organised a successful session in Combell's premises, when the widely attended SQL Server Days are already here. Let us find out more about this very active user group.
Today, almost every website uses dynamic content, which can be retrieved on the fly from a database and integrated in the structure of the website by the Content Management System. Blogs do it, as do web stores, news sites, corporate sites, etc. So, the importance of the database, its structure and the speed with which data are retrieved cannot be stressed enough.
An active SQL Server community
One of the commonly used databases is Microsoft SQL Server, a relational database management system that allows to store and retrieve data when other software applications require this – no matter if the data are stored on the same server or on a computer somewhere else in the network or on the Internet. Different editions of Microsoft SQL Server are available, each with their own target audience and associated workloads, ranging from small applications to large Internet applications with many users.
Managing such a server is not an easy task. Fortunately, there is an efficient and active community of SQL Server specialists, also in Belgium: the SQL User Group. This user group has been organising info sessions, to which various speakers are invited, on a regular basis for a few years now. In the beginning, these events were organised on a bi-monthly basis, but given the success of the event and the participant's enthusiasm, they are now held on a monthly basis.
From a bi-monthly to a monthly event
These meetings, which attract on average between 30 and 50 participants, take place in the premises of sponsors, like in Brussels (Microsoft), Kontich (Kohera), Mechelen (Ordina), etc.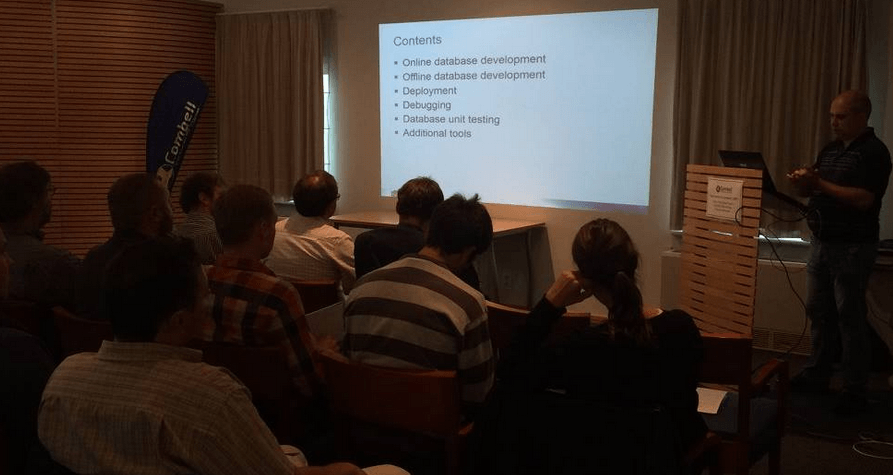 In early September, a session was held for the second time in Ghent, in Combell's premises. A refreshing experience, according to SQLUG president and cofounder Frederik Vandeputte, who was impressed by the great atmosphere in our building in the Skaldenstraat, with its bar and cosy reception room. The reception with sandwiches and drinks was greatly appreciated.
"Combell is the best place to hold a user group event", was Vandeputte's conclusion. "We have been truly spoilt".
SQL and .NET developer Andrey Zavadskiy was guest speaker on that evening. Ghent fitted perfectly in the trip across Europe that this Russian has planned, which included stopovers in Oslo, Wroclaw (Poland), Copenhagen, Berlin and Göteborg. His audience was made up of about thirty technically-savvy people who mainly work with SQL Server – consultants, database administrators, business intelligence professionals... They obviously attended the session to acquire new knowledge, particularly about SQL Server Data Tools, which formed the subject of this talk by Zavadskiy. But it was also a perfect opportunity to network – the location in Ghent was indeed quite different than the usual places in Antwerp or Brussels, and it also attracted other participants.
You will find pictures taken at the event on the Facebook page
SQL Server Days: there is plenty to do
The people from SQLUG.be have quite a lot on their plate, because the SQL Server Days will take place on 28 and 29 September – an event that this community organised for the 8th year in a row. This year, it will once again be held in the San Marco Village in Schelle. And 300 people have already signed up for the event via the website, which has been hosted and sponsored by Combell for many years.
34 speakers have been announced, with Connor Cunningham as keynote speaker. Those who will take a look at the list of speakers will be very pleased to see that, in a time when we try to achieve gender equality in tech, four ladies will give a talk: Chrissy Lemaire, Karen Lopez, Kimberley Hermans and Cathrine Wilhelmsen. This is quite nice, especially when one considers that the SQL world is overflowing with male techies. Frederik Vandeputte confirms that the number of women in these circles is, regrettably, still limited, as it is in other areas of the tech world, but he finds it quite encouraging that during the recent session in Ghent, two of the 36 participants were females.