How to develop a digital marketing strategy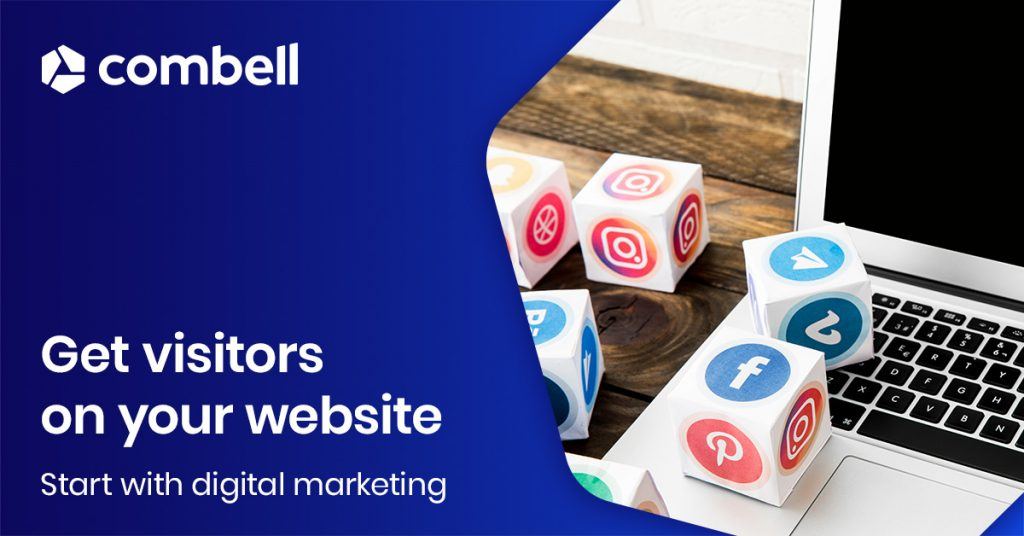 Congratulations! Your website is online! Now what?
Congratulations, your website hosted by Combell is online. You can now start generating leads and sales! But hold on a second... This is not going to happen by itself! In order to actually sell your products and/or services through your website, you need to develop a digital marketing strategy. Where to start? What basics should you keep in mind? Which channels should you use? And what should you invest in? 
The basis of digital marketing is a professional website
Contact our digital advisors for your own website
What is digital marketing?
Your website is actually just the beginning, the basis of your digital marketing. That digital marketing includes all the digital efforts you make to introduce potential customers to that website (and yourself).
You can develop your digital marketing strategy using various channels and approaches, but you can also choose to focus on just a few of them. One thing is for sure: without digital marketing efforts, your website will not attract any visitors, and you can forget about those leads and sales.
"A website without a digital marketing strategy is like a car without fuel. It looks good, but it fails to generate traffic."
Digital marketing roadmap
If you want your website to generate leads, you should follow the steps outlined in our roadmap:
Step 1 | An action-oriented and findable website
Ideally, your website, as a central place where people can find your products and services, should be action-oriented. This means that the design and the texts should quickly and clearly guide your visitors towards the desired actions (such as making a purchase, contacting you, downloading an e-book, subscribing to your newsletter, etc.). This is beneficial not only to you, but also to your users. Because they want to get to what they are looking for as quickly as possible.
Combell provides the best infrastructure for building your website: 6 steps to the perfect website
Furthermore, you should make sure that your website can be found among the countless other websites by investing in Search Engine Optimisation (SEO). This can be done quite simply by highlighting the search terms that your potential customers are looking for in your texts and the underlying code. The SEO of your website should also be technically flawless – but for this, Combell's support services will always help you stay on the right track.
A website consists of, among other things, these building blocks in which your SEO must be optimised:
Landing pages and other pages whose data are stored on a web server via web hosting. These are the places to which you have to take your target audience by means of your digital marketing.
A contact page that allows your customers and partners to reach you easily.
Your web store where you sell your products and/or services.
Combell can help you host your website, register your domain name and create your mailbox.
Get me online as soon as possible
Step 2 | Focus on your users: content, content, content
SEO is not just something you get with your technically well-developed basic website. In the best-case scenario, you will focus on other forms of content that you can publish on that website or that you can use to attract people to your website.
- Blog articles and other content
Blog articles, e-books, video tutorials, presentations, white papers and other content-based products form the content of your website, your social media channels and your e-mail marketing. Their purpose is to attract potential customers to your website.
The quality of that (free) content must be good enough to build trust with your target audience. It should provide added value to your prospects and reflect the quality of your paid products and/or services.
One way to do this is to create a content calendar based on the interests and needs of your target audience. This content calendar must include all your digital marketing efforts.
You are the expert when it comes to your target audience. So start by putting yourself in the virtual shoes of your ideal customer in order to be able to investigate their online searches. Next, hire a copywriter or a digital marketer to jointly create a content plan and to regularly produce targeted content.
- E-mail marketing
Marketing via e-mail is the most personal and efficient way to build a relationship with your target audience. Your efforts will help you generate more conversions than social media and, if done right, each euro invested can easily generate €38 in sales.
If you want your e-mail marketing to be effective, the first thing you need is an e-mail platform that allows you to:
collect and store e-mail addresses in dynamic lists,
create automatic e-mail flows,
analyse reports on past e-mail campaigns.
With the perfect mailing software and content targeted to your audience, e-mail is a low-cost digital marketing tool that can produce results very quickly.
Launch e-mail campaigns that instantly hit the spot
- Active social media accounts
Use social media for 2 purposes:
For building a community of followers who trust your business, share and spread your name and eventually become customers.
For displaying paid advertisements that lead potential customers to your website.
These are the most important social media channels and their target audiences:
Facebook is the channel that allows you to reach almost all adults. It is very easy to use targeted ads on it.
TikTok is mainly used by young people under 20.
Instagram is now popular with all age groups, but those who click on the ads and make actual purchases are mainly young people and young adults.
Twitter is used by adults with an interest in current affairs rather than by active buyers.
LinkedIn focuses on working and job-seeking adults.
Pinterest is where creative people go to get inspired.
YouTube reaches almost everyone and is thus a perfect place for well-targeted ads.
Once you have determined where your target audience is located, you can choose a combination of social media platforms for your digital marketing strategy.
- Google Business Profile
You have probably already experienced this: googling a company and then immediately clicking on the location on Google Maps or the contact information on the website.
You too can be found online just like that by creating a Google Business Profile. Such a business profile has many advantages:
Your business can be located immediately, both physically and online,
Your customers can post reviews that potential customers may read,
You will rank higher in Google's SERPs, especially if you add enough info and pictures to your profile.
You can quickly update information, such as new opening hours.
You will gain insight into where your customers come from and how they contact you, which is essential for future digital marketing campaigns.
Step 3 | Knowledge is power
All the efforts made in Step 2 are only worth it if you think things through carefully.
Analyse where your visitors come from and focus on the relevant channels. Get reports on the SEO results of all your web pages and adjust them continuously where necessary. If you notice that a certain article is attracting many visitors, or that other posts are only reaching a certain niche, make sure to use this content in your next campaigns or for optimising your website. You can e.g. send additional niche-oriented material only to the targeted audience, while putting more effort into spreading more popular content.
Keep track of what content Google prefers (this changes all the time) and optimise your website.
How can you do this? You can use Google Analytics or reports from your website hosted by Combell, your social media and your e-mail platform. Nowadays, there is a wealth of information to be gleaned about each action performed online. Do not let this treasure pass you by, but make full use of it.
Step 4 | Dare to invest in paid channels
In order to engage in digital marketing, you need to understand who your target audience is and where they spend their time online. You also need a website to guide your target audience to. You can achieve this by focusing on three types of media:
PAID MEDIA
such as ads and banners on other websites, social media and Google Ads.
OWNED MEDIA
such as your own website, newsletter, Facebook page, Instagram profile, brick-and-mortar shop or business premises, Google Business Profile, etc.
EARNED MEDIA
mainly social media where you have to 'earn' followers and credibility by posting the right content.
A large and important part of that first pillar, paid media, is SEA or Search Engine Advertising. Simply put: placing ads in search engines, usually Google. Whereas with SEO you focus on a long-term approach, with good SEA you can achieve excellent results very quickly. These paid search results (which appear above or next to organic search results after someone types in a search term) are shown right after you launch your campaign, and their impact is easy to analyse. You can easily track who visits your website and through which ad.
Click here for an explanation on how to start a Google Ads account
To get started with SEA:
first of all, determine your specific goals,
find out which search terms your target audience is using
and create an ad calendar. For instance, creating a few different ads for the same products and/or services to see which ones perform best may be a good idea.
Do you want a professional website?