Facebook cover photo – why and how to step up your game


If your Facebook cover is just a background image, barely related to your industry or your business – you have a problem. And the problem is you are underusing a potential source of followers, visitors and customers. Even if you have already put some extra effort in the cover, you might still be underestimating the importance of this single image to the opinion people have for your business. With the feature of a Facebook cover video on its way, we advise you to consider our tips and tricks to improve your Facebook cover photo and get ready for some serious competition for the attention of the user.
Why should you have a good Facebook cover photo?
Trust the facts
You might have heard Facebook is losing its glory. Check out these numbers and think again for yourself:
Over two billion people globally are active on Facebook
The number in Europe is over 300 million
Half of those active users visit the website every single day
Over half of young adults report logging in Facebook as soon as they wake up
Trust your own data
Check your acquisition statistics to track how many users have been directed to you from Facebook and calculate it as a percentage of your sales.
Yes there is a small chance Facebook is not important to your business. But in a world where over 40% of marketers classify the importance of Facebook as 'critical' to their business, you have to ask yourself: 'Am I missing out on an opportunity here?' and 'If I improve my Facebook presence, will I see an increase of visitors and revenue?'. 40% of businesses say 'Yes'.
Trust your gut
Your cover photo is the first piece of you people see when they discover you on Facebook. The most popular social media platform out there. And you are facing great competition. Hundreds of millions of photos are uploaded each day.
How do you feel about your simple background now standing against such a number? Imagine how many of those are attention-grabbing, artsy, thought-provoking and attracting images that just steal those clicks away.
Here is a couple of ways you can improve.
How to make a good Facebook cover
1. Start at the start
The most important question is the subject of your image.
Most businesses concentrate their cover photo around one or more of the following topics:
An upcoming event. Are you organizing an event or a sale soon? What is currently the most important date on your calendar? Do you want to share it with your visitors?
The FAQ approach. What is the most frequent question you are getting? Answer it. Show a graphic of how your product works. Tell them what is different about you. Or where you are located.
Use it for social proof. Share the opinion of happy customers, a success story, or show off your stats.
Be funny. The shortcut to being liked is to show a classy and business related joke on the top of your Facebook page.
Support a cause. Show that you care, that you are active, that your business has a soul.
Recruitment. You are hiring? Use your Facebook page to invite people to join your team.
No matter what the subject is, make sure you update your cover regularly. Aim at once a month at least, to make sure your image is always current.
2. Work the dimensions – size, position and responsiveness
You have a good subject. Now work on the image itself. It has to look professional, crisp and visually pleasing.
To save yourself some time and headaches, use a specialized tool such as Canva to give you the right size and layout and offer you beautiful templates to achieve the perfect collage via drag-and-drop.
Your export should be 851 by 315 pixels. A little bigger also works – Facebook will ask you to reposition. The .png type is best.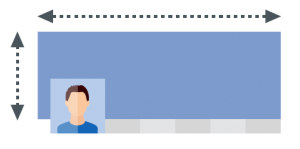 Make sure the image has a single subject in focus.
There used to be a rule that no more than 20% of the area of your image could be covered by text. The rule is no longer enforced but it is still a good indication of how much text you should put it.
Best put your focus in the middle. Do not forget the left side will be partially covered by your profile photo in the desktop version, and the sides will be cut out in the mobile version of Facebook.
Always make sure you check every version after you upload. Your intuition will tell you best if the image looks good. Pay extra attention to the mobile version – 54.2% of visitors use Facebook on mobile devices exclusively
3. Play on the senses – go beyond the visual
Images can satisfy the consumer visually. However, in order to make them truly engaging you may want to play on other senses as well.
If you are a local restaurant, show off your food. Update often. Do close-ups, make the visitor almost taste the dish. Show that pizza crust that just asks to be broken. The steam coming out of the soup.
If you are selling make-up show texture. Entice to touch. Capture the mist of perfume just after spritzing it.
Bars and cafes can depict the condensation on the mugs. Flower shops – the dew on the petals, and pet shops – the soft fur or the wet nose of a friendly puppy.
This tip is particularly productive for local businesses who also most heavily rely on social media buzz but any creative can make it work for them.
The internet is full of advice about proportions, slogans and messages you can introduce with your Facebook cover. Whatever you do, always trust your intuition. Look at your Facebook page often and always go for improvement. Don't settle. Go wild. <