In the past, the most important factor to grab the attention of search engines was keyword density – the number of times a certain keyword appears in your website. Now search engine optimization is a lot more complex. You should abstain from high keyword density. Instead put your keywords in strategic places – here is a list of some of those and how to manage them right:
In navigation
Your navigation variables help you to get higher in the SEO results but it also shapes the way the result looks in the list.
In your backend navigate to the bottom of your side menu. Click on 'SEO'. This will open your page navigation SEO panel. Page structure is important – make sure you use short and accurate descriptions.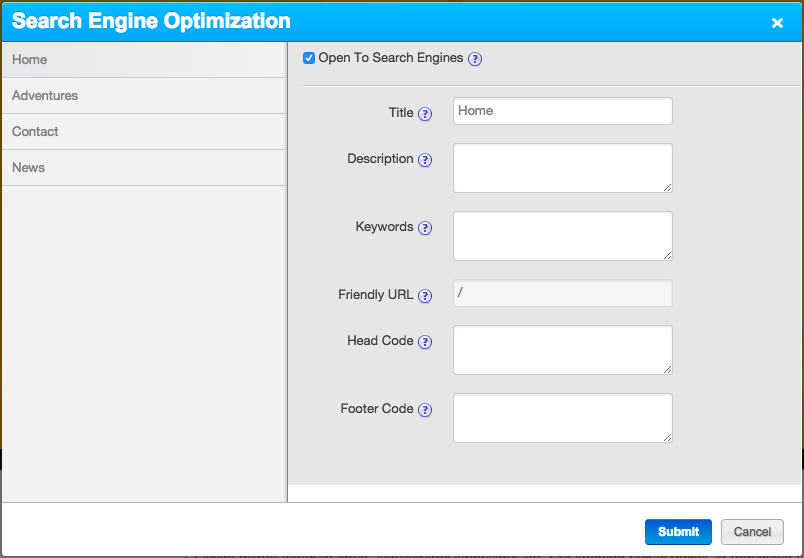 'Open to Search Engines': Put a tick when your website is ready. You are making your website available to be indexed by search engines.
'Title': The page title is displayed in the browser tab.
'Description': The text will appear bellow your page title in search engine results.
'Keywords': Write 3 – 5 keywords or keyword phrases – a couple general, and a couple relevant to this page only.
'Friendly URL': You are choosing that particular page's address. The best practice is to just write the name of the page, lower case, separated by hyphens.

Go through all pages.
Submit.
Do not forget to Publish or your changes will not take effect.
In text
Text is the most powerful SEO factor. Put your most important keyword in titles, and in the beginning of text and paragraphs.
Make sure you use titles correctly. Click on a text field.
Select the text that is supposed to be a title.
From the dropdown menu change from Normal to Heading 1
Click away
In pictures
The content of a picture cannot be indexed by search engines. Use the Alt (alternative) text to provide description.
Hover over the picture until you see the 'Edit Image' sign. Click on it.
You are now in the Edit Picture panel. In the Text tab you will find the Alt box. Careful! Using the Title or the Description boxes will also help your SEO, but the text will also show in your page. The Alt text will only be visible if the image could not be loaded.
Submit.