7 reasons to build your website using Combell's SiteBuilder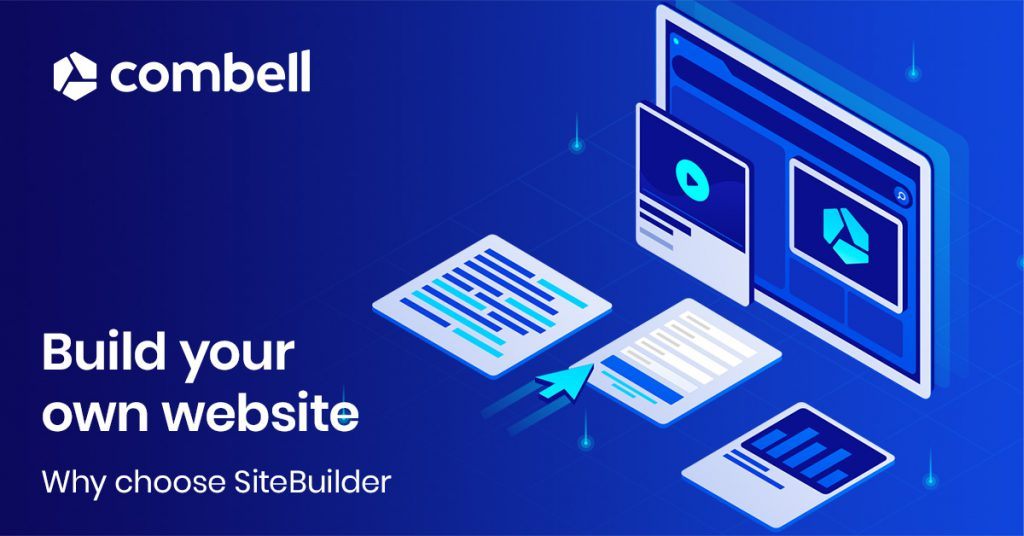 Has our article "Why choose a website builder?" convinced you that you too can build your own website for your company or organisation with the help of a website builder? Great! Now, make sure you also choose the right tool for the job: Combell's SiteBuilder.
With Combell's SiteBuilder, you can create a professional and highly secure website in no time at all, even if you have little or no knowledge of technology or graphic design. Our SiteBuilder is user-friendly, very versatile, and most importantly: you can count on Combell's renowned support team! Let us list all the benefits...
Check out Combell's SiteBuilder
1. Combell's SiteBuilder excels in user-friendliness
Since a website builder is primarily intended for users who have no technical background, user-friendliness is an important prerequisite. You have to be able to get started easily, and the different steps you have to go through should feel intuitive.
And that is precisely Combell's SiteBuilder strength. Right from the first step: you just order your SiteBuilder package, and we set everything up for you. We even take care of the connection with your domain name in the background.
Using SiteBuilder is child's play. The menu is self-explanatory, and when you move your cursor over a menu item, a pop-up tells you what you can do with this function. You can add or move all the elements using drag & drop. And you can also preview what your website will look like once online at any moment. That is really motivating, because you can see the results of your work right away!
2. Start with a basic yet fully developed and easily customisable theme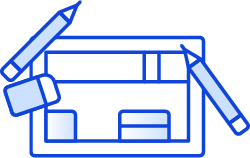 The greatest advantage of a website builder is that you can use themes or templates. Such tools include all the different building blocks you need on your website: presentation of your product, contact information, opening hours, and so on. With Combell's SiteBuilder, you can choose from more than 100 beautiful themes.
Moreover, the themes have been fully adapted to certain professions. There are themes for all possible sectors: plumbers, personal trainers, hotels, fitness centres, and so on. With each theme, you get a fully developed website, in which you only have to adapt the texts and pictures to suit the needs of your own company. 
Examples:
A theme for a restaurant features a "Menu" section for your visitors to discover your menu. Visitors can then use the "Reservation" section to book a table online.
Under "Services", a gardener can explain what he can do for your garden (mowing your lawn, creating flower beds, etc.), and under "Projects", he can show photos of gardens he has already created.
Furthermore, the themes offered in Combell's SiteBuilder are fully responsive, which means that they can be viewed on any device (desktop, tablet or smartphone). Take a look at the themes without any obligation, and you will be amazed by how comprehensive these websites are. And remember: all you have to do is change the pictures and texts, and that website can be yours!
You can customise your basic theme and enhance it by adding widgets. This way, you can add an extra image or text, a button or column, but also extra features, such as a contact form or a map showing the location of your business. As standard, Combell's SiteBuilder comes with a wide range of widgets that you can use as you please.
Moreover, you can also connect your website to external services, such as social media, a payment service such as PayPal, a review service such as TripAdvisor, and so forth.
3. Combell's support staff are always on hand
Are you still worried that you will get stuck somewhere? There is no need to panic, because with Combell's support staff on hand, you are never on your own!
Even if you are not yet experiencing any particular problem, it is sometimes nice to have some guidelines to help you out when you start using a new tool. That is why we have drawn up a clear roadmap to teach you the best practices for using our SiteBuilder, or to provide you with quick answers in case of doubt. From the very beginning to advanced options: for each of these steps, you can find out how to proceed in practice. Additional information can also be found in our how-to videos.
For those of you who would like to get in touch with an expert, our support team is always at your disposal: via e-mail, chat or telephone. And unlike helpdesks at other companies, which are located at the other end of the world, requiring you to go through endless menus, with us you will immediately be able to talk to our experts in English, and they will answer your question very competently.
4. SEO tools included to promote your website
Creating a beautiful website is one thing, but making sure future customers can find your website is another. SEO or Search Engine Optimisation is indispensable to ensure that your website ranks high in search engine results when people search for particular keywords. 
But Combell's SiteBuilder is quite brilliant in this respect too, as it comes with an extensive set of SEO tools. These tools can e.g. help you fill in the meta description and image alt tags and also automatically create a sitemap. You can even customise the URL of each page. These are all factors that make it easy for web crawlers to index your pages in the search index.
You obviously also want to make sure that your SEO efforts pay off. For this purpose, Combell's SiteBuilder provides you with detailed statistics: you can see how many visitors your website received, when, using which device, and how many visitors there were per page.
5. Combell's SiteBuilder places a high priority on security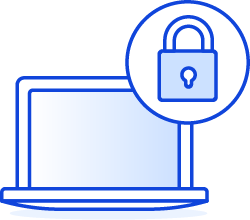 Of course, you benefit from the standard security that Combell offers with all its web hosting solutions. After all, your website is hosted on Combell's highly secure servers, located in state-of-the-art data centres.
Moreover, Combell's SiteBuilder provides you with a free Let's Encrypt SSL certificate, which ensures a secure HTTPS connection between your visitor's device and your site. This makes it impossible to eavesdrop on traffic, and no one can intercept or alter it. 
Good to know:
Google penalises connections that are not secure: websites without an HTTPS connection are ranked lower in search results. In addition, the various browsers (Firefox, Safari, Edge...) display a warning when a user visits a website through a connection that is not secure. As a consequence, your visitor will leave your website, and you will lose a potential customer!
6. Your SiteBuilder website is also GDPR compliant
Combell's Sitebuilder is also an excellent choice when it comes to privacy. From a legal point of view, you have to publish your privacy policy on your website, and you have to request consent to store cookies on your visitor's device (small files that help your website recognise that visitor).
Thanks to Combell's SiteBuilder, there is no need to agonise over this issue, as the themes include a template for your privacy policy. And the cookie policy is automatically managed in the background. In addition, your SiteBuilder website is hosted on Combell servers that are located in Belgium, as required by the GDPR.
7. Extra features allow for seamless and continued growth
In the beginning, you may want to create a simple website covering your basic needs. But Combell's SiteBuilder packages also come with everything you need to further develop your website (see comparison).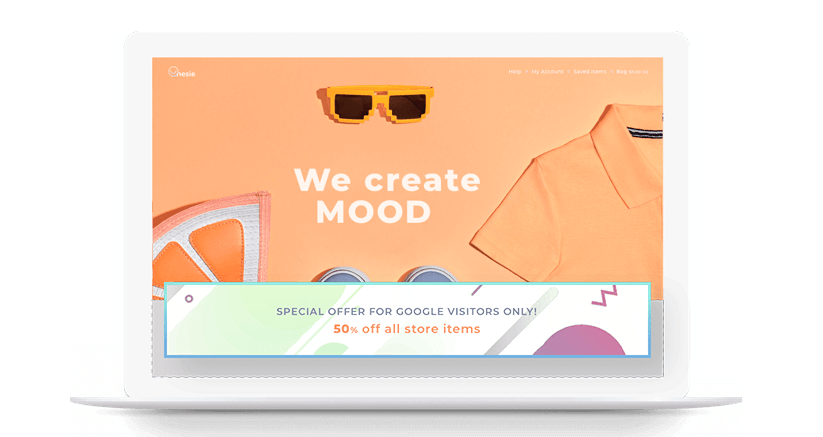 A few extra features that may be of help:
Customisation: A sort of IFTTT (If this then that) command makes it possible for a certain action to be taken when a certain condition is met.
Example:
Someone who visits your website for the first time will see a "Welcome" pop-up. When a visitor accesses your website for the third time, a "Follow us on Instagram" pop-up will appear. You can also wish all visitors a Merry Christmas from the 25th to the 31st of December... The possibilities are endless!
Expand your website using dynamic content: Show certain content (text or images) according to the wishes of your visitors.
Add a blog. Publish news articles using a blog so that your visitors regularly return to your website. By the way, a blog is ideal for your website's SEO, because search engines love up-to-date content.
Combell' SiteBuilder helps you build your ideal website, without any advertising, and at a very attractive price.
Combell's SiteBuilder vs. a "free" website builder
There are also other services that allow you to use a website builder for free, but what exactly is the difference with our SiteBuilder? Well, the answer is quite simple. First of all, the themes are very limited with a free tool. You also have no access to all the advanced features. Why? Mainly because "free" is usually not really free! Such a provider may e.g. place ads on your website, and if you do not want those advertisements, you have to go for a paid version. Often, it is also impossible to connect your own domain name – unless you pay an extra fee.
With Combell's SiteBuilder, you can build your ideal website, without any ads, at a very attractive price, depending on the SiteBuilder package you choose. Moreover, the registration of your domain name is free for the first year.
The benefits of Combell's SiteBuilder at a glance
Layout & user-friendliness:
More than 100 professional themes
Create and customise your layout using drag-and-drop
Automatically responsive for all devices
Support:
All the buttons come with a clear explanation
Extensive support pages filled with how-tos
Do you still have questions? The Combell helpdesk will help you further
Security:
Free SSL certificate ensuring SSL connection
Superfast SSD hosting in highly secure data centres
Log in to your website using 2FA (two-factor authentication)
Compliant with the GDPR and the Cookie Law
SEO tools
SEO tools included
Detailed statistics (ultimate and professional)
Lazy Loading: widgets and images are only loaded when displayed on screen, which dramatically speeds up the loading of the site
Free extra services offered with all packages
Free domain for the 1st year
Free mailboxes (number depending on package chosen), with unlimited number of e-mail addresses
90-day money-back guarantee!
Are you itching to get started? Let our beautiful themes convince you and order your Combell SiteBuilder website today!
 Check out Combell's SiteBuilder